This delicious frozen treat is the perfect dessert for a warm summer evening. It is cool and refreshing and has just the right amount of sweetness to make it very satisfying. Since you do not need an ice cream maker for this recipe, you can whip up a batch very quickly any time and it's a great way to use up leftover watermelon. It may be called Summertime Delight but this sorbet is so good, it's perfect for any time of the year! Once you get a hold of this watermelon sorbet recipe, you'll never want anything else for the summer.
So for this recipe, we need the freshest watermelon we can find in the market. One whole big watermelon will be enough for this sorbet. To have that refreshing and cooling taste, simply add more lime zest in your watermelon sorbet recipe. We also recommend adding a sprig of spearmint for an extra minty cooling feel.
What are you waiting for? Get those watermelons ready and start popping! If you're looking for more sorbet recipes, you are most welcome to try our pomegranate, blueberry, and peach sorbet.
How To Make Summertime Delight Watermelon Sorbet
Learn how to whip up a batch of watermelon sorbet for those hot, summer afternoons!
Ingredients
1

tbsp

apricot nectar

or orange juice

1

tbsp

lime zest

finely grated

1

tbsp

lime juice

2

mint leaves

½

cup

light corn syrup

¼

cup

sugar

3

lb

seedless watermelon
Instructions
Cut watermelon into small chunks, discarding the rind.

Place chunks in a blender and puree until smooth. In a large saucepan, mix 1 cup of the watermelon puree, the sugar, lime zest, lime juice, mint, and apricot nectar (or orange juice). 

Cook mixture over medium-low heat, stirring often, until simmering. Pour in the remaining watermelon puree and stir well.

Whisk in the salt and corn syrup until dissolved. Remove from heat and allow to cool for 10 minutes.

Pour the mixture into a freezer-safe container and freeze for 4 hours or until firm.

Scoop and serve. Enjoy your cooling sorbet in the summer heat!
Recipe Notes
If you freeze it overnight, l

et it sit at room temperature for 5 to 10 minutes before serving so that will be easier to scoop.
Nutrition Facts
Calories:
201
kcal
|
Carbohydrates:
48
g
|
Protein:
3
g
|
Fat:
1
g
|
Saturated Fat:
1
g
|
Sodium:
17
mg
|
Potassium:
310
mg
|
Fiber:
2
g
|
Sugar:
50
g
|
Vitamin A:
1136
IU
|
Vitamin C:
35
mg
|
Calcium:
23
mg
|
Iron:
1
mg
Commonly Asked Questions
Can I use other fruits aside from watermelon?
Yes! We love watermelon sorbet since it is light and refreshing. However, this recipe will work just as well with anything from mangoes to strawberries.

What can I use to substitute sugar?
If you are looking out after your sugar level, it is best to seek alternative sweeteners. You can buy some ready-made stevia powders from supermarkets or you can buy stevia plant and grind it then place in your mixture. Honey can be a good substitute as well.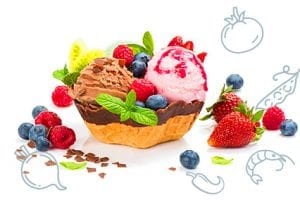 Conclusion
Sorbets are a healthier alternative to ice cream. Without the heavy cream, you can have a couple of extra servings without the guilt. Additionally, watermelon is a fantastic way to eat your water! Which is super important when you're sweating it all out during summer.