Although strudel is an Austrian dessert, it's simply the most perfect dessert to satisfy our sweet tooth, thus making its way to people's hearts and stomachs all around the world. In this recipe, we'll show you how you can recreate Spago's apple strudel turnover recipe in the comfort of your own kitchen.
All you have to do is get some fresh apples and follow this simple apple strudel turnover recipe. It's definitely fun to do and gives you absolutely delicious results. This apple strudel turnover is perfect if you want a sweet snack with a fruity twist! Serve this on children's parties and picnics and we guarantee you that everyone will absolutely love it.
For a uniquely creamy and sweet twist to turnover pastry, why not take a look at our Cream Cheese and Jelly Turnovers recipe? We guarantee you'll love it as much as this apple strudel turnover!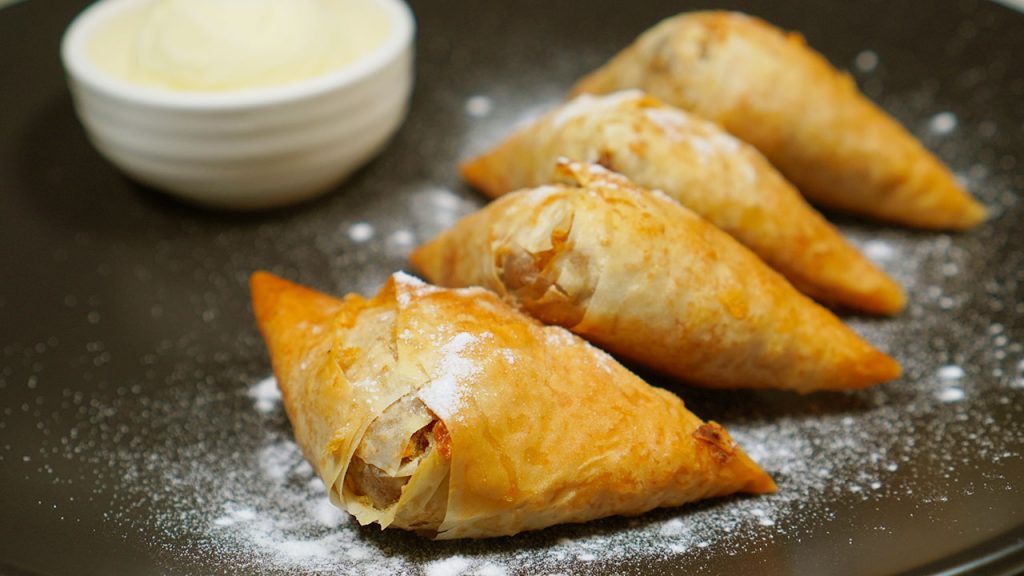 Spago's Apple Strudel Turnover Recipe
How To Make Spago's Apple Strudel Turnovers
Have a taste of Vienna with this sweet apple-filled layered pastry. It's crunchy goodness will make you yearn for more.
Ingredients
¼

tsp

ginger,

ground

½

tsp

cinnamon,

ground

½

cup

sugar

⅔

cup

butter,

unsalted, 5 ¼ oz

⅓

cup

water

1

tbsp

brown sugar

1

lb

Fuji apples ,

peeled and cut into ½ cubes, with lemon juice

1

tbsp

molasses,

mild flavored

2

tsp

breadcrumbs

confectioner's sugar,

optional

1

scoop

vanilla ice cream,

optional

phyllo pastry sheets
Instructions
In a bowl, mix together the ginger, cinnamon, and sugar. Set aside.

Melt the butter in a pan over medium-high heat. Add in water, brown sugar, and the cinnamon-sugar mixture, then mix well.

Add in the Fuji apples with lemon juice along with the molasses. Stir until dissolved.

Place the apple mixture into an ice cube tray and make sure that they are evenly placed. Freeze for 4 hours.

Trim the phyllo pastry sheets into 13 x 4-inch stacks.

Brush the sheet with melted butter and sprinkle at least 2 teaspoons of breadcrumbs.

Add the frozen apple cube.

Fold phyllo sheets flag style creating a triangle and enclosing apple cubes. Brush apple turnovers with melted butter.

Bake the strudel turnovers at 400 degrees F for 10 minutes.

Plate your apple strudel turnovers, garnish them with confectioners' sugar, and serve with a scoop of vanilla ice cream.
Recipe Notes
The pastry chefs at Spago make fresh strudel dough, but all you need is packaged phyllo here.

As an alternative for breadcrumbs, you can finely grind a crustless white sandwich bread in a processor, then toast the crumbs in a 350 degrees F oven for about 10 minutes until dry.

You'll need one 14-cube ice-cube tray for the filling.

If you don't have molasses on hand, it can be substituted with either honey or maple syrup. Personally, we prefer maple syrup and the depth of flavor that it brings as compared to honey as a substitute for molasses.

Ground ginger can be easily substituted with fresh ginger. However, dried spices are much stronger than their fresh counterparts. So be sure to use more. In this case, 1/4 teaspoon of ground ginger should be replaced with 1 tablespoon of fresh ginger.
Nutrition
Sugar:

22g

:

Calcium:

16mg

Calories:

229kcal

Carbohydrates:

24g

Fat:

15g

Fiber:

1g

Iron:

1mg

Potassium:

105mg

Protein:

1g

Saturated Fat:

3g

Sodium:

185mg

Vitamin A:

707IU

Vitamin C:

3mg
Nutrition Disclaimer
Frequently Asked Questions
What is the difference between phyllo sheets and puff pastry?
Phyllo sheets and puff pastries are both widely used for desserts. Puff pastry is basically thin dough wiped with butter, folded, added with another layer of dough and then butter. Upon baking, puff pastries become crisp and flaky with a rather airy texture and crunchy exterior. Meanwhile, phyllo sheets, as its name implies, is as thin as leaves. Unlike puff pastry, fats like butter or shortening are not used in its layers. Phyllo sheets are mostly composed of water and flour and become crispy without the airy texture once baked. Although similar, phyllo sheets and puff pastry cannot be used interchangeably.

How do I store my apple strudel turnovers?
You can either keep your apple strudel turnovers in refrigerators or freezers. When storing the turnovers in a refrigerator, make sure to keep them in an airtight container to prevent moisture and aroma from being absorbed. If you decide to keep your turnovers in the freezer, wrap them first in aluminum foil to prevent ice forming. Keeping the turnovers in the refrigerator can prolong its shelf life for up to a week while keeping them in the freezer can prolong its life for at least a month. To reheat the apple strudel turnovers, you have to preheat your oven to 200 degrees Fahrenheit and reheat the strudels for 15 to 30 minutes. Be careful of overheating. You won't want your strudel to undergo baking again.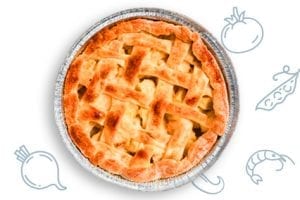 Conclusion
If we're being honest, the phyllo pastry sheets that this recipe calls for already saves you the trouble of making your own puff pastry. This gives even more reason for you to try out this quick and hassle-free apple strudel turnover recipe! Make them and we'd love to know what you think in the comments down below.