Halloween is just around the corner, so stock up some Halloween candies with our delicious gummy candy recipe! Contrary to what others think, Halloween candy is not just chocolates. Yes, chocolate may be a delicious staple for this creepy celebration. But it's time you ditch them and go for something a little different for your Halloween treat ideas!
Fill your spooky basket with some chewy and equally fun homemade gummies with our easy gummy candy recipe. The sweet and sour flavors of these gummy candies will surely make the spookiest night of the year more vibrant and exciting!
What's in our Homemade Gummies
This gummy candy recipe only comes with a handful of ingredients. And you don't have to worry about chomping on some unhealthy candies. 
Compared to other varieties, this candy recipe is made with real fruits! We will be needing frozen strawberries, raspberries, or blueberries for the fruity flavors. And you'll have a hint of tartness coming from the lemon or lime juice, as well as the citric acid. You will surely chew on a fruit gummy with a party of flavors!
To give your gummies that distinctive chew, we need to incorporate a gelatin powder. The result is an amazingly soft and chewy gummy candy! Aside from the gelatin powder, you may also add some cornstarch for the gummy body to make your gummies stable and chewier. 
Skip the store-bought versions. These homemade gummies are way more flavorful! And with only a few simple steps, you can recreate these chewable snacks in the comfort of your own home. 
If you love gummy candies as much as we do, try making Lemon-Lime Gummy Worms. They're also fun to make! 
How to Make Homemade Sweet and Sour Gummy Candy
Relish the spooky season with some homemade Halloween treats. Time to skip the off-the-rack versions this year! We'll show you how to make gummies at home. This gummy recipe is incredibly easy and healthy, just like our Sugar-Free Gummy Candy Recipe. 
This homemade sweet and sour gummy candy recipe is quick to prepare, so you'll be munching on some tasty treats in no time. The enticing combination of sweet and sour flavors, without a doubt, will make any holiday bash more lively.
First, if you are using frozen berries, make sure the berries are thawed before mixing them up with the other ingredients. Additionally, you can replace the water with milk for a creamier texture. To achieve the creamy consistency, whisk the milk in with the gelatin. And if you want to take your gelatinous treats to new heights, add a touch of vanilla or almond extract. We assure you, these Halloween sweets will be the star at your next Halloween party!
Customizing Your Gummy Candy for Halloween
What's more amazing about this gummy candy recipe is that it's so flexible. You can use all sorts of gummy molds to customize the shapes of your homemade gummies. You can even try different colors to make it more fun. 
Feel free to use the good old gummy bear molds to make the most adorable Halloween candy ever! Aren't gummy bears the cutest spooky treats? Moreover, you can experiment with gummy bear flavors. Just a tip: lemon, orange, and black cherry will surely be a hit! Creepy-crawly gummy worms are also perfect for Halloween. They make a terrifying topping for a delicious Wormy Swamp Punch, a Kid-Friendly Witches' Brew Punch, or as decoration for a Haunted Gingerbread House. But what's more frightening than crocodile-shaped gummy candies lurking in the corners of your Halloween trays?

Tip:
Spritz the molds with oil spray so
that
your gummies
will
come out of the candy molds smoothly and in perfect shape.
With our easy-to-follow recipe, your homemade Halloween treats will turn out soft, chewy, and deliciously addictive—just like the way gummies should be! 
Now, for more spooky sweet treats, check out our other Halloween treat recipes.
Homemade Sweet and Sour Gummy Candy Recipe Video
How To Make Homemade Sweet and Sour Gummy Candy
Satisfy your candy-craving with our sweet and sour gummy candy. These homemade gummies will make your Halloween celebration more fun and exciting with just a few ingredients and very easy steps!
Ingredients
For Sweet and Sour Gummy Candy:
2

cups

strawberries, raspberries and blueberries

⅓

cup

water

1

tbsp

lemon juice,

or lime juice

2

tbsp

honey

4

tbsp

gelatin powder,

unflavored
For Sugar Coating:
½

cup

sugar

3

tbsp

citric acid
Instructions
Sweet and Sour Gummy Candy:
Line a baking tray with cling film. Set aside.

Puree your chosen fruit until smooth.

Combine the pureed fruit, water, lemon or lime juice, and honey in a small saucepan. Bring to a simmer.

Remove from the heat. Add your gelatin gradually to avoid lumps while continuously mixing.

Return the mixture to the heat and bring it back to simmering temperature, until the gelatin has fully melted and the mixture turns glassy and smooth.

Strain the mixture through a sieve onto your lined baking tray. Remove any bubbles using either a toothpick or spoon.

Transfer to a chilled area and allow to set overnight, or for 8 to 12 hours.
Sugar Coating:
In a bowl, combine the sugar and citric acid.

Remove your candy from the fridge and cut into squares.

Toss your candy into the sugar coating. Make sure they are well dusted!

Serve and enjoy yummy Homemade Sweet and Sour Gummy Candy!
Recipe Notes
You can also make shaped sweet and sour gummy candy using a candy mold. After making the candy mixture, pour it into the greased candy mold and refrigerate.

Dust the candy molds and your finished gummies with cornstarch to prevent the candies from sticking together.

C

ornstarch

also

helps

prevent

the gummies

from

melt

ing

easily. 

Maple syrup or stevia are good alternatives for honey. Feel free to customize the sweetness to your liking. Ideally, adding 2 to 3 tablespoons of maple syrup to the liquid mixture will make your gummies sweet enough.  On the other hand, a few drops of stevia is already enough to sweeten your gummies. 
Nutrition
Calcium:

1mg

Calories:

20kcal

Carbohydrates:

4g

Fat:

1g

Fiber:

1g

Iron:

1mg

Potassium:

6mg

Protein:

1g

Saturated Fat:

1g

Sodium:

2mg

Sugar:

4g

Vitamin C:

2mg
Nutrition Disclaimer
Commonly Asked Questions
How do you preserve homemade gummy candies?
Homemade fruity gummy candies can last for 1 to 2 weeks when properly stored in a refrigerator. Place them in an airtight container or bag. On the other hand, storing the candy in an airtight container at room temperature will make them last for up to 5 days.
Do homemade sweet and sour gummy candies need to be stored in the refrigerator?
In most cases, there is no need to store them inside the fridge. Storing the gummies in the refrigerator may also cause them to become hard and clumpy, with the coating slimy. Placing them at normal room temperature is advised. But if you want the candy to last longer, then you may store them in the refrigerator.
I am vegetarian, are there any vegetarian-friendly alternatives to gelatin?
Yes! An all-natural gelatinous powder made from plants called agar powder is a great vegetarian-friendly substitute to gelatin! But replacing gelatin with agar may have a varying result. Agar is a little stronger than gelatin, so you need to use just a small amount. You will be needing just 2 tablespoons of agar powder to make your gummies firm and soft. Remember, you need to dissolve the agar in liquid. To do this, boil the liquid mixture until the agar is completely dissolved. Then, you can finally add it to the gummy candy mixture to get it to set.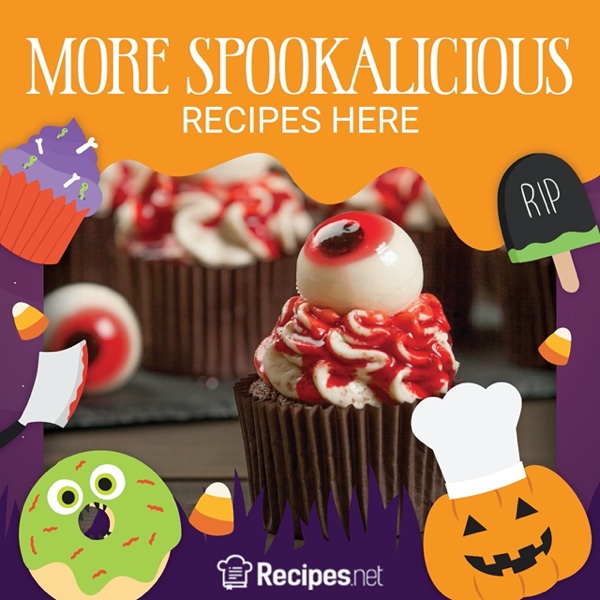 Conclusion
It's time for the gelatinous treats to shine this spooky Halloween season! Make your party more lively with our gummy candy recipe. Rest assured, these homemade sweet and sour gummies are more delicious than the store-bought ones!