You might feel guilty eating commercial sweet and sour gummy candies as most of them tend to have a lot of foreign and scary-sounding chemicals that might make you think twice about eating some. On the brighter side, there are a lot of healthy homemade sweet and sour gummy candy recipes that you can easily make and enjoy such as our gummy candy recipe here!
Gummy candy recipes are some of the people's go-to candy recipes to make because not only is it very easy to prepare, this recipe can be prepared so fast, your gummy candy cravings can be satisfied in no time!
Another great thing about making your own gummy candies is that you can get creative and experimental with all kinds of shapes and flavors, making it the best sugary and sour snacks to prepare and have! You can use all sorts of candy molds to make the gummies in fun shapes like this Sour Gummy Worms recipe which will surely brighten your kids's day.
How To Make Homemade Sweet and Sour Gummy Candy
Satisfy your sweet and sour gummy candy cravings with just a few ingredients and very easy steps!
Ingredients
3

envelopes

gelatin

unflavored

2

pkgs

jelly

each (Flavors: cherry, orange, lemon, lime)

1

cup

water

2

tsp

citric acid

½

cup

sugar

icing or regular
Instructions
In a saucepan, place the water and bring to a boil. Then, add the jelly and gelatin. Stir until it is properly dissolved.

Line a 8 x 8 baking pan with cling wrap. Then slowly pour the candy into the pan.

Let it chill in the refrigerator for about 20 minutes. 

Take the candy out from the fridge. Mix sugar and citric acid and toss in the gummies until well coated and let it set.

Cut it into 2-inch circles, or in any size and shape that you prefer and take a bite!
Nutrition Facts
Calories:
12
kcal
|
Carbohydrates:
3
g
|
Protein:
1
g
|
Fat:
1
g
|
Saturated Fat:
1
g
|
Sodium:
1
mg
|
Sugar:
3
g
|
Calcium:
1
mg
|
Iron:
1
mg
Commonly Asked Questions
How do you preserve homemade gummy candies? ?
Homemade gummy candies preserve their freshness and edibility for a day or two until they are chewy. For proper storage, place them in an airtight container or bag, and store them at room temperature.

Do homemade sweet and sour gummy candies need to be stored in the refrigerator?
In most cases, there is no need to store them inside the fridge. Storing them in the refrigerator may also cause them to become hard and clumpy and the coating slimy. Placing them at normal room temperature is advised.
I am vegetarian, are there any vegetarian-friendly alternatives to gelatin?
Yes! An all-natural gelatinous powder made from plants, agar powder is a great vegetarian-friendly substitute to gelatin!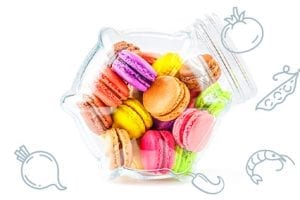 Conclusion
What's best about making this gummy candy recipe is that it doesn't contain all the preservatives that most store-bought candies have, making it the best guilt-free sugary snack!
You can serve these candies in parties as a fun dessert or snack, or even wrap them up with a pretty ribbon and present them as door gifts!