This limoncello cake recipe is for lemon and dessert lovers who like that fresh and citrusy element in their food! Striking a balance between sweet and sour, this dessert will surely satisfy your cravings! Moreover, the limoncello elevates the usual pound cake, and gives a deep, more complex flavour than plain old lemon.
What's so special about limoncello? If you still didn't know, limoncello is an Italian lemon liqueur made from lemon zest soaked in pure alcohol like vodka, which is then mixed with syrup. Yes, it's a hard liquor! But don't worry, if you use only a few drops, you won't be too affected by the alcoholic content. If you prefer your cake liquor-free, but still zesty, lemon-flavored recipes like the lemon lava cake are perfect for you! 
For a dessert that's slightly more grown-up than your usual sweet and sugary picks, try this bundt cake for a kick of limoncello. As it is a bundt cake, it is a very easy recipe! And of course, our limoncello cake recipe can always guide you through in the easiest way possible.
Limoncello Bundt Cake Recipe
Ingredients
½

cup

vegetable oil

¼

cup

flour
Instructions
Preheat oven to 350 degrees F.

Grease a 10-inch bundt pan with vegetable oil. Make sure every inch is well greased.

Then coat the pan fully with ¼ cup of flour.

In a large mixing bowl, mix all the ingredients for the cake. Mix them well until free from clumps.

Slowly pour the mixture in the cake pan.

Place in the oven, and bake it for 45 to 55 minutes.

When the cake is done, take it out of the oven and let it cool for 20 minutes.

While waiting for the cake to cool, melt butter and cook it with water and sugar. Bring it to boil for 3 minutes. Then return your pot from the heat and add in limoncello to make the glaze.

Pour the glaze over the cake, sprinkle some lemon zest or rainbow sprinkles for color, and it's ready to serve!
Commonly Asked Questions
What does the limoncello syrup taste like?
The limoncello has a very intense citrusy taste, but lacks the tartness of lemon. In fact, it tastes like an incredibly sweet syrup!

What is a good substitute for limoncello?
The Torani Lemon Syrup is a probably the closest non-alcoholic alternative to limoncello. It is thick, sweet, and syrupy. Otherwise, you can also substitute it by using lemon extract mixed with some sugar. However, using lemon extract with sugar might not get you the ideal sweet flavor you can get from limoncello.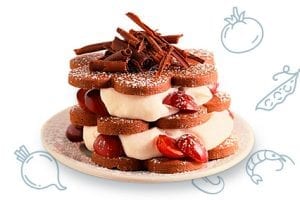 Conclusion
Easy to make and absolutely delicious, this boozy cake is perfect for parties and surely end every dining with a zing!