You don't need a time machine to get a taste of McDonald's Szechuan sauce, not with our delicious copycat recipe! That's right! In this recipe, we're bringing back one of McDonald's dipping sauces, which was discontinued but not forgotten. The popular American fast-food chain may have no plans of bringing back their well-loved take on Szechuan-style Chinese hot sauce. But you shouldn't feel left out since we have a copycat recipe that tastes just like it! 
What Is Szechuan Sauce?
First off, what exactly is Szechuan sauce? If you're confused about its oriental name, then don't be! Sichuan or Szechuan is simply a province in China whose cuisine is famous for its deep, bold flavors and their signature tingling "Szechuan heat". 
Szechuan Cuisine is very spicy thanks to the use of the famed Szechuan pepper. Thanks to its curious prickling sensation, this Chinese cuisine is served not just in China, but all over the world as well. 
Some of the most famous Szechuan recipes include the Szechuan chicken, also known as the Spicy Diced or Kung Pao Chicken. Others include Mapo Tofu, Szechuan hot pot, and of course, the iconic Szechuan sauce.
This delicious but hot sauce is actually one of the most well-known and loved Chinese sauces. So, it's no wonder why an American fast food restaurant like McDonald's would also make their own version of it! 
What Does Szechuan Sauce Taste Like
?
The original Chinese sauce is thick and has bold, savory flavors. As expected, it's spicy but with a hint of tangy sweetness. You will taste the soy sauce and vinegar ingredients in this delicious sauce. Although, we can safely say that the ginger notes are really the clincher.
Szechuan sauce is quite viscous, so this sauce can be used in many different ways. While the most common way to enjoy it is as a dip, others also use it for a marinade.
McDonald's Szechuan Teriyaki Dipping Sauce
A lot of young home chefs may only have heard of Szechuan sauce from the famous show Rick and Morty. The popular show unexpectedly mentioned McDonald's vintage sauce, which, back then, was long forgotten after it got discontinued in 1998. However, people became so curious about the sauce that McDonald's eventually brought it back in 2017 and 2018! 
But for those who don't know, McDonald's Szechuan sauce used to be a Teriyaki-like dipping sauce for their delicious chicken nuggets. One of McDonald's nuggets sauces, the Szechuan sauce was, sadly, only a limited edition condiment. It was only offered as part of a marketing effort for Disney's 1998 animated movie, Mulan.
In line with the movie's theme, McDonald's released their own take on a popular Chinese sauce, the Szechuan sauce. However, theirs was more of a crossover between Teriyaki sauce and the traditional Chinese hot sauce. To cater to kids, McDonald's version of the sauce was gooey, salty, and more sweet than spicy.
How To Make Szechuan Sauce Like McDonald's
Although the McDonald's sauce came back in 2017 and 2018, it was only sold in limited amounts and for a short time. However, no need to worry! You can make as much Szechuan sauce as you want with our copycat recipe!
The traditional recipe for this sauce has the famous Szechuan peppercorn and Szechuan spices. Hence in this recipe, it's better to include a mild dose of the original peppercorns for that mouth-numbing tingle. However, if you don't have the ingredient at hand, no need to fret. You can simply replace them with much easily obtainable alternatives.

Tip:
If you can't get your hands on authentic Szechuan peppercorns, you may use crushed red pepper flakes, black pepper, or regular peppercorns instead. Also, if you're making this for the kids, just use a small pinch of any of the alternative ingredients.
Our copycat sauce is incredibly fast and easy to make! In case you end up with leftovers, you can just bottle them up in a clean mason jar. Also, it's not only great as a dipping sauce and marinade! They're good for flavoring up your Chinese stir fry as well. Try it on our Garlic Bacon Bok Choy for a more savory taste!
And for an epic nostalgia trip, dip your own homemade McDonald's inspired Chicken Nuggets into some delicious Szechuan sauce. They'll also work just as great with Mcdonald's Buttermilk Crispy Tenders.
Now, what are you waiting for? Let's make that delicious, Chinese sauce!
How To Make Copycat McDonald's Szechuan Sauce
Taste the savory and slightly spicy flavors of McDonald's take on the famous Chinese Szechuan sauce. It's both fast and easy to make and can be paired with lots of dishes.
Ingredients
1

cup

water,

plus ½ cup water for cornstarch mixture

½

cup

soy sauce

⅓

tbsp

sesame oil

2

tbsp

ginger paste

1

tbsp

garlic,

minced

6

tbsp

sugar,

brown or granulated

1

pinch

salt

¼

tsp

ground Szechuan peppercorns

¼

tsp

ground coriander

¼

tsp

ground black pepper

2

tbsp

cornstarch

3

tbsp

rice wine vinegar

1

tsp

apple cider vinegar

1

tbsp

lime juice
Instructions
In a medium-sized saucepan, add all the ingredients except for the lime juice, corn starch, apple cider vinegar, and rice wine vinegar.

Bring the mixture to a boil over medium heat. Stir constantly for about 4 to 5 minutes.

Reduce the heat and let the mixture simmer for another 2 to 3 minutes, stirring constantly.

In a bowl, combine the cornstarch with the ½ cup of water. Mix until a slurry forms.

Reduce the heat of the saucepan to low, and pour the slurry mixture. Continue mixing for around 2 minutes, until the slurry thickens the mixture.

Remove the saucepan from the heat. Add the lime juice, apple cider vinegar, and rice wine vinegar.

Using a whisk, mix thoroughly until the ingredients have been fully incorporated into the mixture.

Let the sauce cool before serving.
Recipe Notes
In case you want to store some of the sauce for later, let it cool completely first before putting it in a mason jar. You can also use other jars, as long as it has a lid.
If you want a spicier sauce, you can double the amount of ground Szechuan peppercorns, or crushed red pepper flakes.
If you want a sweeter sauce, you can add a bit of maple syrup to act as an additional sweetener.
Nutrition
Calcium:

9mg

Calories:

125kcal

Carbohydrates:

25g

Fat:

1g

Fiber:

1g

Iron:

1mg

Potassium:

61mg

Protein:

3g

Saturated Fat:

1g

Sodium:

1636mg

Sugar:

19g

Vitamin C:

2mg
Nutrition Disclaimer
Commonly Asked Questions
When did Szechuan sauce come out? When is McDonald's bringing back their Szechuan sauce?
The McDonald's dipping sauce originally came out in 1998. They brought it back in 2017 and 2018, albeit for a brief period of time and in limited stock. However, you don't have to miss out on this sauce as long as you have this copycat recipe!
How to store McDonald's-inspired Szechaun sauce?
Place the sauce in a mason jar, or any jar with a lid, and store it in your refrigerator. It will be good for up to 2 weeks. Remember to keep the lid tightly sealed!
Which is spicier, Hunan Cuisine or Szechuan cuisine?
Hunan cuisine, or Xiang cuisine, is also another popular style of cooking Chinese food. Like Szechuan, Huan is famous for its spicy food. While the former has their peppercorns, Hunan has the Mala spice. Both Hunan and Szechuan dishes are spicy, but they're different in terms of the overall taste. Hunan cuisine has a more dry and tongue-numbing heat, while Szechuan food is usually both sweet and spicy.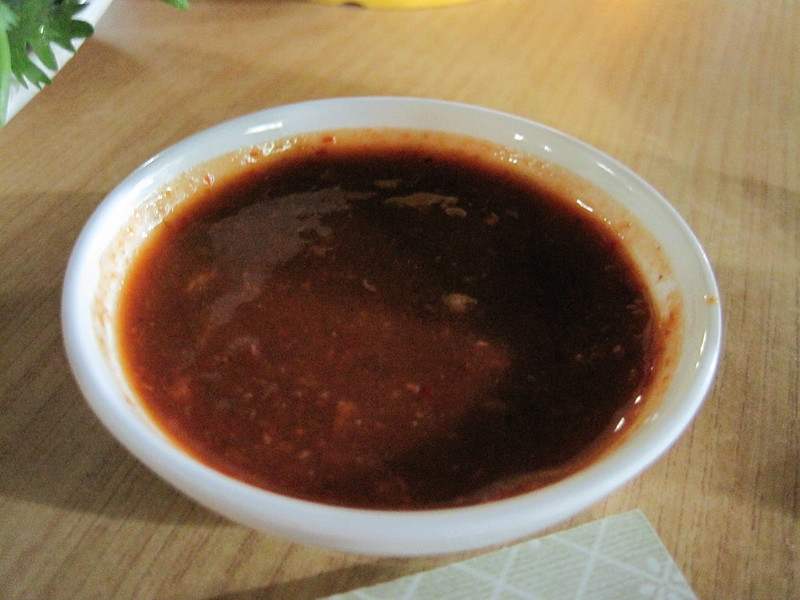 Conclusion
You don't need a time machine to taste McDonald's famous Szechuan sauce! With our copycat recipe, you're sure to have a go-to dipping sauce for your yummy chicken nuggets.
Related Dip, Sauce & Condiment Recipes