Eating out is definitely a luxury, but when it comes to pigging out on some wings, it's hard to beat devouring these delectable nibbles in the comforts of your own home. This easy and simple recipe could very well be your go-to guide. Whether you're whipping a large batch or just enough for one for a relaxing night in, this will become your go-to recipe.
We love this recipe and how the tang of the spices is balanced perfectly by the mellow flavors of the dill pickles. Additionally, it's the perfect companion to binge on while you binge watch your favorite series. You can make these as a snack or a side dish to a fat, juicy burger. Enjoy these fried pickles with a side of ranch, or a side salad to balance it out.
How To Make Buffalo Wild Wings Copycat Fried Pickles
The blend of spices making your tastebuds come alive, and mellow it out with the tang from the fried pickles. It's the perfect companion to binge on your favorite series.
Ingredients
2

cups

dill pickles

sliced and drained

1/2

cup

flour

1/2

tsp.

Italian herbs

2

tsp.

cajun seasoning

1/2

tsp.

cayenne pepper

sea salt

to taste

1/2

cup

water

Vegetable oil

for frying
Instructions
Heat 1 inch of oil to 375 degrees in a large frying pan.

In a bowl, sift all of the dry ingredients for the batter and then slowly stir in the water.

Mix until the batter is a smooth consistency.

Pat the pickles dry with a paper towel.

Dip each slice in the batter, coating well.

Use a slotted spoon to fish them out of the batter and then fry in the pan until golden brown (1-2 minutes).

Remove the fried pickles with a slotted spoon.

Cool and drain on paper towels.

Serve immediately with a ranch or ketchup!
Nutrition Facts
Calories:
139
kcal
|
Carbohydrates:
29
g
|
Protein:
4
g
|
Fat:
1
g
|
Saturated Fat:
1
g
|
Sodium:
1256
mg
|
Potassium:
211
mg
|
Fiber:
3
g
|
Sugar:
2
g
|
Vitamin A:
1455
IU
|
Vitamin C:
1
mg
|
Calcium:
68
mg
|
Iron:
3
mg
Commonly Asked Questions
Can I Use Whole Pickles With This Recipe?
Yes! You can opt to use whole dill pickles instead of slicing them if you prefer more pickle to fried coating ratio. However, personally, we find the crunch that comes with coating individual slices of pickles is that much more satisfying! 
Can I Bake Instead Of Fry My Pickles?
If you're looking for a healthier alternative, go ahead and coat your pickles in the batter as per the recipe. Additionally, sprinkle on some breadcrumbs for extra crunch that you will lose from baking instead of frying. Place coated pickles on parchment paper on a baking tray and bake till golden brown. About 10 to 15 minutes at 350F.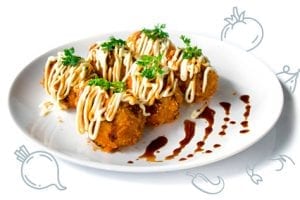 Conclusion
Honestly, all-you-can-eat buffalo wings in the comfort of your own home, you can devour these goodies anyway you want, how messy you want. Never mind having a bunch of table napkins, we highly recommend preparing a wet towel just at table-side and you won't trouble yourself cleaning the TV remote or your phone. Have your friends over for a watching party with this dish to accompany you.