Elevate your happy hour at home with this Paloma recipe! A traditional Mexican sipper, the Paloma is made with grapefruit soda, tequila, and lime juice. It's fizzy, refreshingly tart, and it definitely deserves a spot in your roster of
tequila cocktails
. Make a pitcher of this enticing drink at your next backyard or pool party!
Requiring just a few minutes of your time, this
Mexican drink
can easily be mastered by everyone. This Paloma cocktail recipe uses just two basic Paloma ingredients after all, which are tequila and grapefruit soda. Such a refreshing boozy drink is meant to be enjoyed in a tall highball or collins glass. Feel free to fill up the glass with ice cubes to boost this drink's refreshing factor!
What's in a Paloma Cocktail?
Like most cocktail drinks, this easy Paloma recipe features three important components: the base spirit, the modifier, and a handful of flavorings. Here's what's in our Paloma drink:
Tequila

– The main spirit used in a

Paloma cocktail

is tequila. In this recipe, we used Blanco, an un-aged type of tequila. But you can also use white or dark rum, gin, or brandy in place of the tequila.

Grapefruit soda

– It softens the sharp taste of the base spirit, enhancing the overall flavor of the cocktail. You can make your Paloma

with Fresca

,

Squirt

, or

Jarritos

.

Fresh lemon juice

– The

Paloma cocktai

l gets its fruity, tart flavor from freshly-squeezed lemon juice (or lime juice). 

Grapefruit juice

– It will intensify the grapefruit flavor of the cocktail. While you can easily buy bottled grapefruit juice, we suggest juicing the fruit yourself for this

Paloma cocktail recipe

.

Granulated sugar

– If you fancy a sweet-tasting Paloma, add sugar or simple syrup before shaking the tequila mix. It's optional, so just leave it out if you like the taste of the

traditional Paloma recipe

better.

Coarse sea salt

–

Wet the rim of the tall highball glass, then

rub with coarse sea salt or kosher salt for a more pleasurable drinking experience. Avoid using iodized salt; its intense flavor does not blend well with cocktails!
What Does Paloma Taste Like?
The Paloma cocktail is bittersweet, sour, and salty, all at the same time. It also has a distinct alcoholic taste, making it one of the best tequila mixed drinks around. It might just be your next favorite tequila mix! 
The lime juice gives this Paloma drink a sour and sharp flavor. The grapefruit soda tastes just like a natural fresh grapefruit, but with a more intense acidic flavor. This makes the drink citrusy and refreshingly good for a hot summer's day. Tequila Blanco adds even more to this, lending a citrusy taste with strong peppery and mildly sweet notes to the cocktail. All things considered, it's the best Paloma recipe to tickle your guests' taste buds at your next party
Tips for Making Paloma Cocktail
The Paloma drink is a breeze to prepare for a next-level happy hour. Here are some helpful tips for making Palomas: 
Use high quality ingredients

. To make a great

Paloma cocktail

, you need premium ingredients. From the base spirit to the juices and garnishes, make sure you use the best and freshest you can find. And don't forget to use good ice for a stunning visual appeal!

Use freshly-squeezed grapefruit juice

. Fresh grapefruit juice will give this drink a blast of refreshing taste. Not only does it boost the flavor, but freshly-squeezed grapefruit juice is healthier as well!

Use Blanco tequila that's made with 100 percent agave

.

One of the best drinks with tequila

, this

Paloma recipe

calls for Blanco tequila (or silver tequila). Make sure to check if the bottle is labeled 100 percent agave for better flavor. 

Add a pinch of salt to the drink itself

. Incorporating a pinch of salt into the tequila mix before shaking will bring out the flavor of the grapefruit and lime juice.

Don't forget to wet the rim of the glass

. You have to moisten the lip of your highball glass, so the salt or the sugar will stick better. You can use grapefruit juice or lemon juice. Or, just rub a lime wedge around the rim.

Play around with the ingredients to suit your taste preference

. Having the freedom to play with the flavors allows you to make a fantastic drink that you can truly enjoy. Agave nectar or simple syrup will be lovely additions if a sweet

Paloma cocktail

appeals to you.

Like we mentioned above, just add the sweetener to the tequila mix before shaking.

You can also squeeze in extra lemon for extra tartness, or combine the salt with Tajin for a spicy spin. 
Other Must-Try Paloma Cocktail Variations
The Paloma cocktail is beloved by many because of its versatility. Here are some variations that you may want to try:
Spicy Paloma Cocktail

– Spicy and refreshing at the same time, this cocktail is one of the best

tequila drinks

out there. Enjoy this

tequila Paloma drink

made with grapefruit, boozy tequila, serrano, and agave nectar.

Pomegranate Paloma – Upgrade your happy hour with this Paloma drink recipe! Make a stunning red drink with pomegranate juice and white tequila.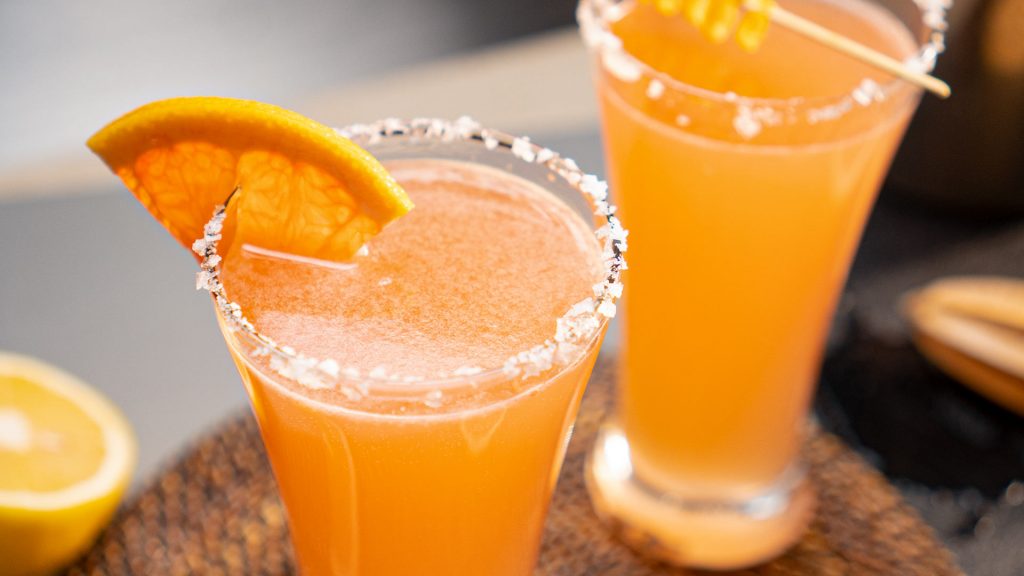 Paloma Cocktail Recipe
How To Make Paloma Cocktail
Combine grapefruit soda, grapefruit juice, lime juice, and tequila to make a classic Mexican Paloma cocktail. Serve this bittersweet and refreshingly sour mix at your next at-home happy hours!
Ingredients
1

grapefruit,

preferably seedless

coarse sea salt,

for rim

4

oz

tequila,

(4 shots) preferably silver tequila

4

oz

grapefruit soda,

(4 shots) add more as needed

1

oz

lemon juice,

(1 shot) or lime juice

1

tsp

granulated sugar,

for rim, optional

¼

cup

ice cubes
Instructions
Peel off thin strips of zest from your grapefruit for garnish.

Slice the grapefruit in half and squeeze its juices out. Strain the liquid and discard any solids. You will need 4 shots (roughly 4 ounces) for this recipe.

Pour the salt on a small plate.

Wet the rim of the glass using what's left of your grapefruit. Then, dip the rim of the glass in the plate of salt. Set aside again in a chilled area.

Add the following into your cocktail shaker: tequila, grapefruit soda and juice, lemon or lime juice, sugar, and ice cubes. Shake to combine.

Hold the bar strainer over your shaker, and carefully pour the drink into your chilled and rimmed glass until it's ¾ full. You can add your remaining grapefruit juice or soda into your glass to fill it up, if preferred.

To garnish, swirl a grapefruit zest into your cocktail pick. Then, place it either on the rim of your glass or dipped into the glass.

Serve and enjoy!
Recipe Notes
You can also rim your glass with brown sugar to lend a sweet caramel taste to the drink.
Nutrition
Sugar:

11g

:

Calcium:

30mg

Calories:

196kcal

Carbohydrates:

31g

Fat:

1g

Fiber:

2g

Iron:

1mg

Monounsaturated Fat:

1g

Polyunsaturated Fat:

1g

Potassium:

189mg

Protein:

1g

Saturated Fat:

1g

Sodium:

2mg

Vitamin A:

1473IU

Vitamin C:

45mg
Nutrition Disclaimer
Frequently Asked Questions
What is the difference between a Paloma and a margarita?
The difference between Paloma and margarita lies in how they are sweetened. They both have the same base consisting of tequila and lime juice. However, a Paloma recipe uses grapefruit soda and fresh grapefruit juice. On the other hand, a traditional margarita relies on an orange liqueur, like Cointreau and triple sec. Palomas are also usually less sweet than margaritas.
What is the best tequila for Paloma?
Blanco tequila, also known as silver tequila, is the best tequila for Paloma. It's the unaged form of tequila that's widely used in making margaritas and other sweet and sour mixes. This tequila has citrusy and slightly peppery notes, perfect for Palomas! The aged Reposado tequila is another good option if you're leaning towards a sweet and slightly caramel-like taste. Remember, the overall taste of your cocktail will vary depending on your choice of spirit. However, you can also use smoky Mezcal if you're out of tequila. Keep in mind, though, that Mezcal and tequila have varying flavor profiles. Go ahead and choose the best spirit that suits your taste!
What if I don't have grapefruit soda?
If you don't have grapefruit soda, you can use a regular club soda along with grapefruit syrup or grapefruit juice. Or, simply combine sparkling water with simple syrup, agave nectar, or honey.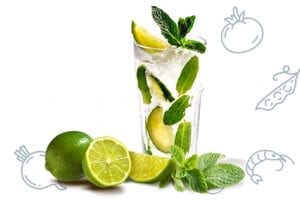 Conclusion
If you're looking for easy alcoholic drinks to make at home, this Paloma recipe is right up your alley! Made with grapefruit soda, grapefruit juice, lime juice, and tequila, this cocktail is sour and refreshing at the same time. Oh, and it's fun and easy to mix up – perfect for clubbing, parties, and dates!