Recreate and indulge in a glass of Paloma, a famous Mexican summer cocktail, with this easy-to-mix Paloma recipe. Serve this bittersweet, sour, and salty cocktail at upcoming pool parties!
You can serve this cocktail drink with fresh seafood and crunchy tacos. Try this with our Easy Fish Tacos.
What Is Paloma Cocktail?
The main spirit used in this cocktail is tequila. The Paloma cocktail is very similar to Margaritas in which they are both a mix of tequila, lime, salt, and ice. But instead of using orange liqueur for its base, this paloma recipe uses grapefruit soda giving this a whole new blast of refreshing taste.
In this Paloma cocktail recipe, there are 3 important components to have and these are as follows:
Base

– You can use white or dark rum, gin, brandy or tequila. Tequila is used in many cocktail drinks. In this recipe, we used Blanco, an un-aged type of tequila, that gives your cocktail a citrusy and smoother agave taste. Blanco became widely used in making Margaritas and other sweet and sour mixes. 

Modifier

– To soften the base of our cocktail mix, you have to add fruit juices, aromatic wines, or other syrups.

Flavoring

– This is where

our

grapefruit soda pours. There are tons of grapefruit soda brands to choose from, such as Ting, Grapefruit Italian Sparkling Soda, Spindrift Sparkling Grapefruit, and many other store-bought ones.
What Does Paloma Taste Like?
This Paloma cocktail recipe only consists of very few ingredients. It has a distinct alcohol taste and thanks to these components, an ice-cold Paloma cocktail will be your next favorite tequila mix.
The lime juice gives this Paloma drink the key taste of being sour and sharp. The grapefruit soda tastes just like a natural fresh grapefruit but with its more intense acidic flavor. This makes the drink citrusy and refreshingly good on a hot summer's day. Since the tequila Blanco is used in this recipe, it offers a tanginess with strong peppery and mildly sweet flavors to the cocktail. 

Tip:
If you've run out of grapefruit soda, you may recreate this recipe using a regular club soda instead, along with a grapefruit syrup or grapefruit juice.
Other Must-Try Paloma Cocktail Variations
Summer tequila cocktails are popular in almost all parts of the world and experimenting with new flavors to blend and mix is just another way to enjoy this boozy drink.
Now that you've got all the components for this cocktail, here are some alternatives to this standard Paloma cocktail recipe that you may want to try.
Serrano-Spiced Paloma Cocktail – This cold and refreshing cocktail is spicy but light at the same time. Enjoy this tequila-based drink with serrano and agave nectar.
Summertime Cocktail Paloma  – This recipe calls for another mix of soda and grapefruit too. The only difference is we used a grapefruit syrup instead of the grapefruit soda in this recipe. It gives you a better control of sweetness and flavor intensity.

Tip: If you don't want to use kosher or sea salt on the rim, you can use brown sugar instead. Brown sugar will also give a mellow caramel taste to your Paloma cocktail.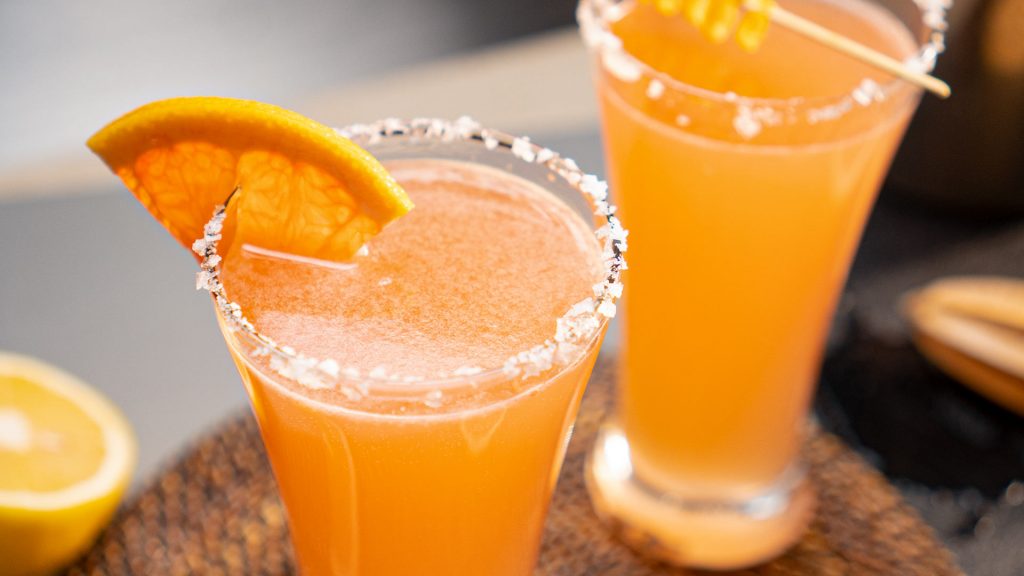 Paloma Cocktail Recipe
How To Make Paloma Tequila Cocktail
A glass of this Paloma Tequila Cocktail is perfect for your thirsty hours. Serve this bittersweet and refreshingly sour mix at your next party.
Ingredients
4

oz

tequila,

(4 shots) preferably silver tequila

4

oz

grapefruit soda,

(4 shots) add more as needed

1

oz

lemon juice,

(1 shot) or lime juice

1

grapefruit,

seedless preferably

1

tsp

granulated sugar,

for rim (optional)

¼

cup

ice cubes

coarse sea salt,

for rimming

chilled glass of your choice
Instructions
Thinly peel off the zest of your grapefruit for garnish.

Slice the grapefruit in half and squeeze off its juice. Strain off the liquid and discard any solids. You will need 4 shots (roughly 4 ounces) for this recipe.

Pour the salt on a small plate.

Wet the rim of the glass using the remains of your grapefruit then dip the rim of the glass in the plate of salt. Set aside again in a chilled area.

Add the following into your cocktail shaker: tequila, grapefruit soda and juice, lemon or lime juice, sugar, and ice cubes. Shake to combine.

Place a bar strainer onto your shaker and pour the drink into your chilled and rimmed glass until it's ¾'s full. You can add your remaining grapefruit juice or soda into your glass to fill it up if preferred.

To garnish, swirl a grapefruit zest into your cocktail pick and place it either on the rim of your glass or dipped into the glass. Serve and enjoy!
Nutrition
Sugar:

11g

:

Calcium:

30mg

Calories:

196kcal

Carbohydrates:

17g

Fat:

1g

Fiber:

2g

Iron:

1mg

Monounsaturated Fat:

1g

Polyunsaturated Fat:

1g

Potassium:

189mg

Protein:

1g

Saturated Fat:

1g

Sodium:

2mg

Vitamin A:

1473IU

Vitamin C:

45mg
Nutrition Disclaimer
Commonly Asked Questions
What type of Tequila should be used for making Paloma?
In this recipe, we used Blanco for its citrusy and slightly peppery notes which is great for Palomas! However, you can use other types of tequila such as Mescal for a smoky and sour-bitterish flavor. You may also consider using Reposado for a sweet and slightly caramel-like taste. The overall taste of your cocktail will vary depending on your choice of tequila, too. So, go ahead and choose the best that suits your taste!
What grapefruit should be used to coat the rim of the glass?
You can use any grapefruit available in your country. You can have Oro Blanco that has a sweet taste and green skin, a red grapefruit with a slight bitter flavor, or the pink grapefruit for that mild and tangy taste.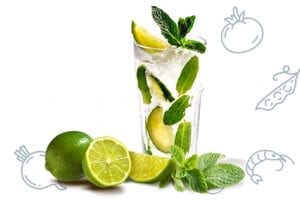 Conclusion
Cocktails are party night-savors. When you simply want to have fun on a girls' night out and just want to hit the floor or spend the whole night talking with your friends, a sip of this amazing paloma cocktail is a must. Its sweet and sour boozy taste is the perfect drink for clubbing, parties, and dates.
Topics: