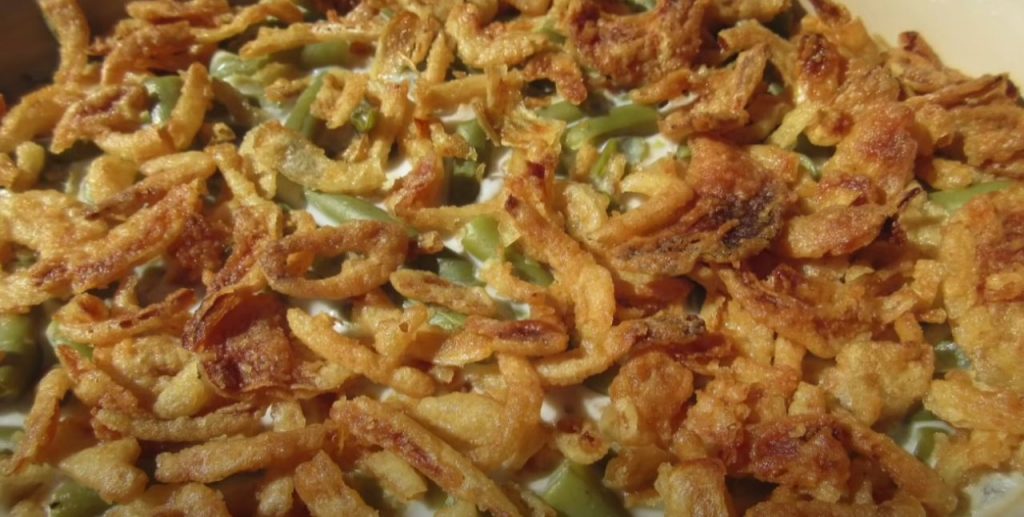 Stovetop Green Bean Casserole Recipe
How To Make Stovetop Green Bean Casserole
Cook a tasty side with this green bean casserole in a creamy sauce made with broth and sour cream. It's made with mushrooms and finished with crispy onions.
Instructions
Prepare a large bowl of ice water.
Add green beans to a large pot of boiling water and cook for 3 minutes. Then strain the green beans into the bowl of ice water.
Add butter and mushrooms to a large skillet on medium-high heat and cook for about 6 to 8 minutes until seared and browned.
Add in garlic, salt, and pepper and stir.
Add in flour and stir for about 30 seconds until flour is absorbed.
Add in broth, Dijon mustard, heavy cream, and sour cream, and whisk well until the sauce is smooth.
Let cook for 6 to 8 minutes until thickened then add in the green beans to coat.
Cook for 2 to 3 minutes until sauce is a bit more thickened and beans are well coated.
Top with crispy onions. (To make them a bit crispier, microwave them on a single layer for 20 seconds before adding to the pan).
Nutrition
Monounsaturated Fat: 

7.71g
Polyunsaturated Fat: 

1.21g