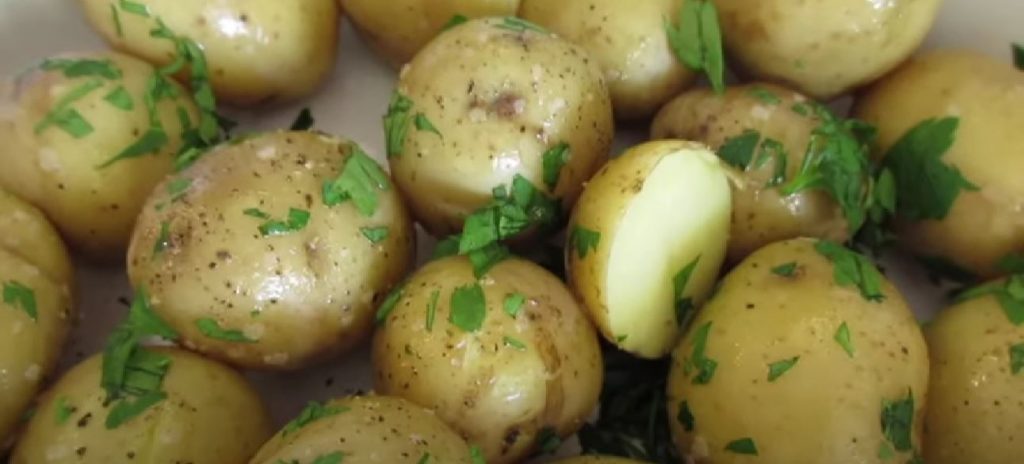 Steamed Potatoes Recipe
How To Make Steamed Potatoes
Amp up your side dish game with this steamed potatoes recipe! Tender potatoes are made tastier using green onions, garlic, and parsley.
Ingredients
1½

lbs

baby potatoes

2

tbsp

green onions

2

cloves

garlic

2

tbsp

fresh parsley

3

tbsp

extra-virgin olive oil

sea salt and freshly ground black pepper,

to taste
Instructions
Set up a steamer. Fill with 1-inch of water and place over medium-high heat.

For even cooking, make sure to buy potatoes that are all relatively the same size. Wash the potatoes and place them into the steaming basket. Sprinkle with a pinch of sea salt.

Once the water is simmering, place the basket over the pot and cover it with a lid. Steam for about 20 minutes until tender and cooked through.

While the potatoes are steaming, mince the garlic. Heat the olive oil and garlic in a small saucepan over low heat until fragrant. Set aside.

Finely dice the green onions and chop the parsley.

Once the potatoes are cooked through, remove them from the steaming basket and place them into a large bowl. Add the olive oil/garlic mixture, along with the green onions and parsley.

Season with salt and pepper to taste and toss to coat. Transfer to a serving bowl and serve. Enjoy!