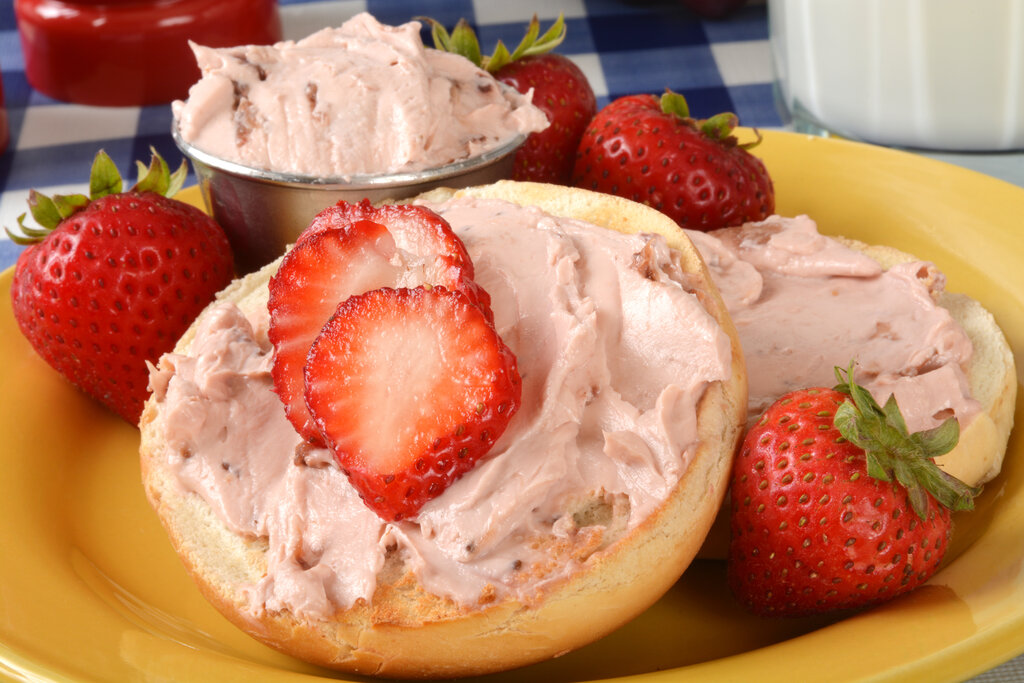 Strawberry Cream Cheese Recipe
Recently, I've been craving some flavored cream cheese spread for my breakfast bagels. Other people may like salty and savory flavored spreads like or , but not me. I always preferred the sweet and tangy taste of cream cheese on my soft and doughy bagels. That's why I'm experimenting with other kinds of flavors to switch up my usual breakfast routine. I found out that they sold strawberry cream cheese in Walmart and I tried it out myself.
It was a delicious mix of tangy and fruity with a hint of sweetness. I've been using the spread so much that I ran out already. That's why I decided to try and make my own homemade strawberry cream cheese so it's more convenient for me. It was really easy to make this flavored cream cheese since you'll only need to thoroughly mix the ingredients. For my recipe, I used only 3 ingredients: cream cheese, powdered sugar, and strawberries. I recommend using fresh or frozen strawberries rather than those inside a can or fruit cup.
It's also best to use powdered sugar or confectioner's sugar for this recipe. Using regular sugar would make the cream cheese gritty and bumpy since not all of the sugar granules will dissolve properly. You can also use other alternative sweeteners like honey or agave syrup for a much sweeter strawberry cream cheese flavor. Or, add in more fruity notes with some orange zest.
Once I had all of the ingredients, I used a kitchen aid mixer to perfectly blend everything together. Keep mixing the ingredients until it's the right consistency of creamy and light. You can also use a food processor or blender if you have one on hand. I mixed for about a few minutes and then transferred it to an airtight container. I chilled it first before consuming it, but this is an optional step. I just like my cream cheese a little bit cold when I spread it on my bagel.
My strawberry cream cheese recipe turned out really delicious. Honestly, you don't need to go to a bagel store to buy a flavored strawberry bagel or purchase those Philadelphia bagel chips with an accompanying dip. My recipe tastes just as good as those in the grocery store if you ask me! I can even turn it into a pink strawberry cream cheese frosting if ever I need it when I'm baking. I just add in softened butter and vanilla extract, and mix to create delicious frosting.
I truly enjoyed smearing this creamy, light, and fluffy strawberry cream cheese all over my bagels! Since I had it for breakfast, I paired it with milk, and boy was it divine. Though I think it's also a great spread to serve alongside tea sandwiches. The next time I have guests over for a delightful afternoon tea time, I'm definitely sharing this homemade spread with them.
How To Make How To Make Strawberry Cream Cheese
Make breakfast extra sweet with this simple and tasty strawberry cream cheese recipe made with fresh strawberries, cream cheese, and sugar.
Ingredients
8

oz

cream cheese,

(1 package)

2

tbsp

powdered sugar,

or confectioner's sugar

1

cup

strawberries,

fresh or frozen (thawed)
Instructions
Let the cream cheese soften.

Mash the strawberries, mix together with the cream cheese, and then add the sugar.

If desired and available, use a kitchen electric mixer, food processor, or blender for a faster and easier process.

Serve over bagels or white bread, and enjoy!
Nutrition
Calories: 

147.75kcal

Fat: 

13.02g

Saturated Fat: 

7.30g

Monounsaturated Fat: 

3.27g

Polyunsaturated Fat: 

0.58g

Carbohydrates: 

6.14g

Fiber: 

0.51g

Sugar: 

5.06g

Protein: 

2.41g

Cholesterol: 

41.58mg

Sodium: 

138.27mg

Calcium: 

41.12mg

Potassium: 

90.98mg

Iron: 

0.25mg

Vitamin A: 

138.60µg

Vitamin C: 

14.90mg