German goulash is a savory beef stew that's comforting and downright tasty. It's one of my favorite dishes because the beef cubes, onions, and a blend of herbs and spices come together perfectly to make such an enticing dish. Just the sight of this goulash is enough to make me grab a piece of bread and dig right in! And not only that, because this delicious comfort food carries loads of flavors with minimal preparation. 
Out of all the many goulash recipes out there, the German version is one of my favorites. What makes it special? Well, it's quite similar to the traditional Hungarian goulash because these two versions have almost the same base. However, my German goulash notably lacks the potato component. That said, it has a much thicker consistency, so it's personally a lot more inviting. German goulash is also different from the famous American version because it doesn't have elbow macaroni noodles.
My German goulash recipe starts with lean beef. If I were you, I'd use trimmed beef chuck. Some versions call for ground beef, but as a nod to the traditional goulash, I sliced the meat into cubes. 
Apart from the beef, onions are also an important element in my goulash recipe. I also followed the usual one to one ratio of beef and onions when making this German stew. Since my goulash soup recipe calls for two pounds of beef, I also used the same amount of yellow onions. Now, that might seem like a lot of onions to you, but don't worry! As the onions cook, their sharp and pungent taste would be reduced. 
My homemade goulash also gets its delicious flavors from a blend of spices and herbs. I used garlic, caraway seeds, marjoram, sweet paprika, and bay leaves. This enhances the taste of the beef broth. And of course, a filling beef stew wouldn't be as thick and filling without a touch of tomato paste. Then, I added a splash of red wine vinegar to add a satisfying zing to my German soup. Other recipes, however, rely on dry red wine to intensify the taste of the stew. 
What I adore about this beef goulash recipe, besides the easy preparation, is its flexibility. You can easily play around with the ingredients to make a dish that suits your palate. For example, carrot and celery are always welcome additions in soups and stews, so feel free to toss in a handful of slices if you want. You can also add mushrooms or bacon to your goulash. Or, swap the beef for pork or veal! 
I cooked my stew in the oven, but you can also throw it together in the crockpot or slow cooker, on the stovetop, and in your Instant Pot. Either way, you have to simmer the beef stew for 2 hours or more. To make it even richer and thicker, I cooked my German goulash soup for another hour without the lid. Just simmer until it's as thick as you like. And don't forget to stir the goulash occasionally to keep it from burning and sticking to the pan.
The old-fashioned German goulash is usually served with spaetzle (a traditional German-style egg noodles). Its savory taste also shines through when paired with dumplings or served over mashed potatoes. But you can also never go wrong with a simple slice of nice, crusty garlic bread.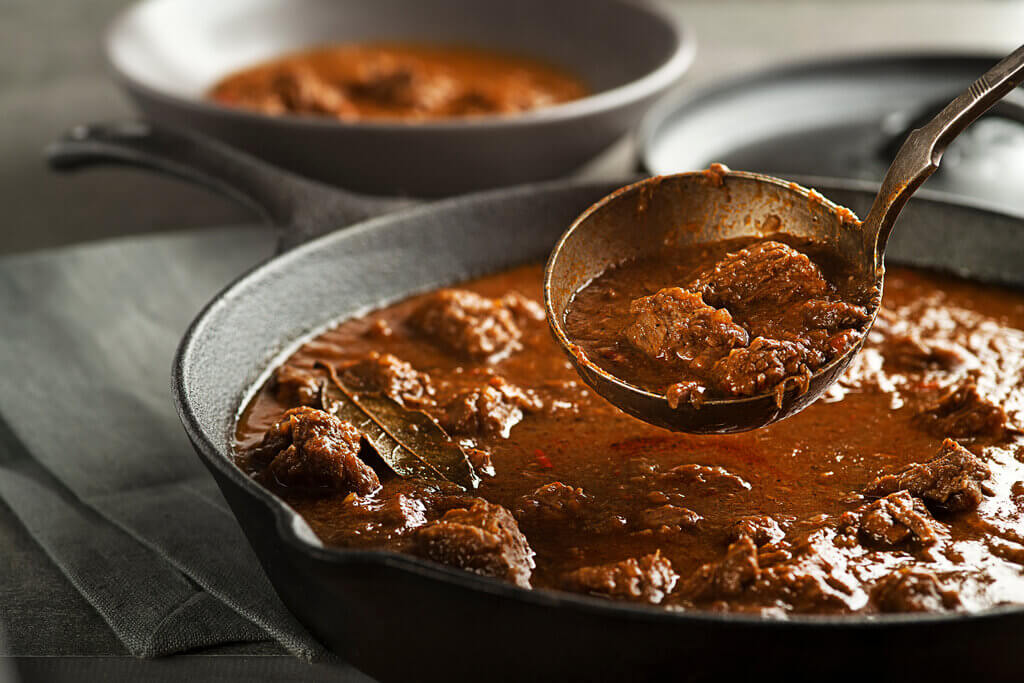 German Goulash Recipe
How To Make German Goulash
Have a taste of Germany with this rich and hearty German goulash. It's meaty and onion-y, with a tomato-flavored sauce. Serve over mashed potatoes or egg noodles to achieve a filling comfort food!
Ingredients
2

lb

yellow onions,

(about 6-8 medium onions)

50

g

clarified butter,

(or regular butter)

2

lb

lean beef,

preferably veal or trimmed chuck

3

garlic cloves

1

tsp

caraway seeds

1¾

cup

beef broth

3

tbsp

red wine vinegar

2

tbsp

sweet paprika

2

bay leaves

2

tsp

dried marjoram

2

tbsp

tomato paste

1

tsp

kosher salt,

plus more to taste

¼

tsp

ground black pepper,

plus more to taste
Instructions
Peel and chop the onions very finely. Set aside.

Heat the butter in a roasting pan over medium heat. Add the onions and cook until golden brown, about 30 minutes. Stir frequently.

In the meantime, trim the beef off any fat and sinew, then cut the beef into about 1-inch pieces. Set aside.

Peel and chop the garlic. Mince it together with the caraway seeds using a knife.

Once the onions are ready, add the beef broth to the roasting pan, along with red wine vinegar, paprika, meat, bay leaves, garlic, caraway seeds, marjoram, and tomato paste.

Mix and bring to a gentle simmer. Turn the heat down to low and cover the pan. Let the mixture simmer on the stovetop until the onions have mostly disintegrated and the beef is tender. This takes anywhere from about 90 minutes to 2 hours.

For a thicker consistency, cook uncovered or partially covered for another 1 hour. Once the goulash is thick enough, cover and continue cooking until done.

Season the German goulash with salt and pepper. Then, remove the bay leaves.

Serve this hearty beef stew while still hot. Enjoy!
Recipe Notes
Add a dash of cayenne pepper to the dish for a slight kick.

If using the oven, preheat to 350 degrees F. Then, proceed to cooking the goulash. Let it simmer for 1 more hour until the beef is tender and your stew is rich and thick.
Nutrition
Sugar:

7g

:

Calcium:

67mg

Calories:

362kcal

Carbohydrates:

17g

Cholesterol:

115mg

Fat:

17g

Fiber:

4g

Iron:

5mg

Monounsaturated Fat:

6g

Polyunsaturated Fat:

1g

Potassium:

904mg

Protein:

36g

Saturated Fat:

9g

Sodium:

799mg

Trans Fat:

1g

Vitamin A:

1240IU

Vitamin C:

13mg
Nutrition Disclaimer