Level up your Halloween dinner party meals by making some fun and tasty Halloween jello shots! Jello shots are always a great addition at parties and it's no different at Halloween. A batch of these little concoctions is enough to get everyone giddy.  While the kids get their fill of Halloween candies, the grown-ups can enjoy these wickedly good Halloween shots. 
This Halloween jello shots recipe is easy to follow, and can be made in bulk and in advance. If you love jelly shots as much as the next person, try serving these shots with some candy corn jello shots!
What's in Our Halloween Jello Shots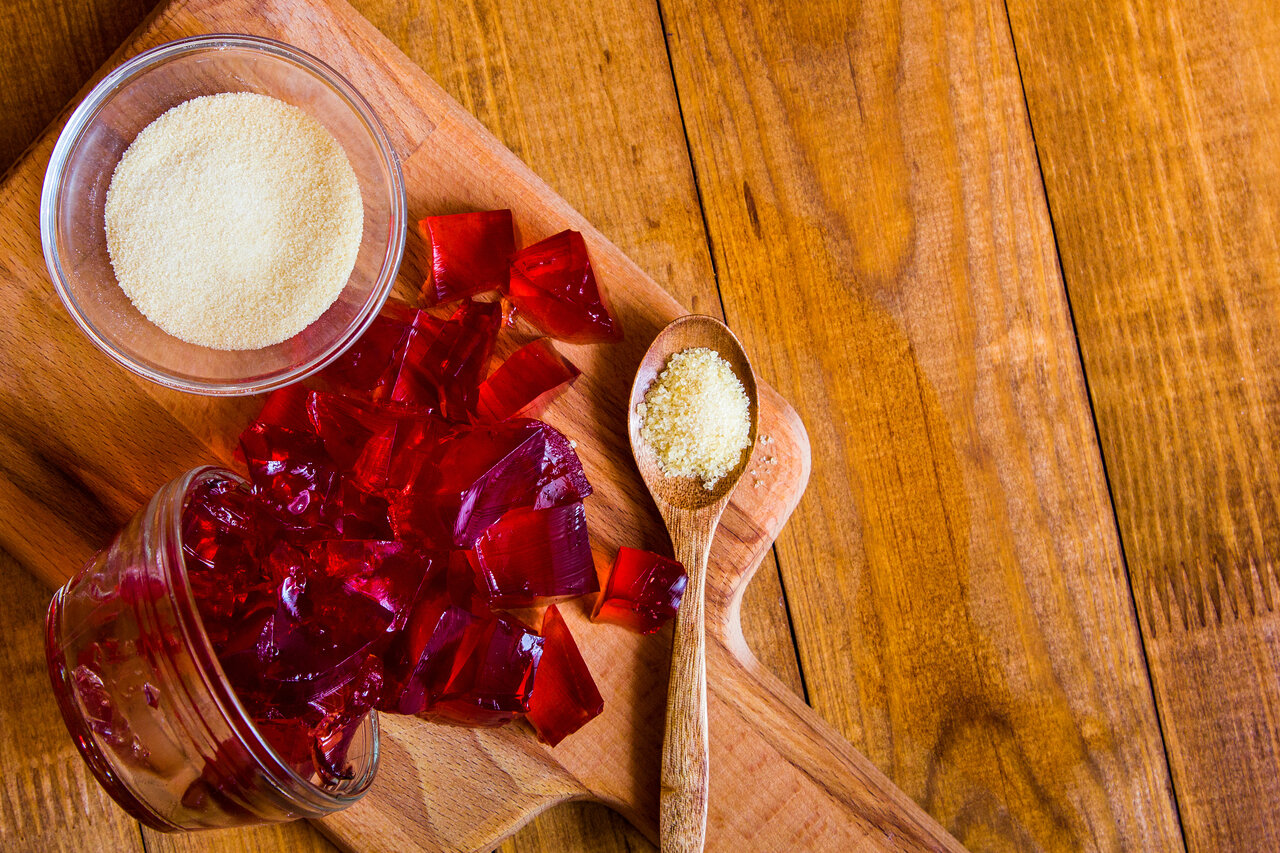 Besides costumes, the fun decorations, parties, and treats. Halloween jello shots are something that the adults look forward to. When you're throwing a Halloween party, you'll want to make a few batches of these. They are guaranteed to be a huge hit and you'll be spooked at how quickly they disappear from the buffet table. 
Here are the ingredients you need to make the perfect vodka jello shots:
Peach Jello

– A 3-ounce size box of peach-flavored Jello mix. But feel free to opt for other flavored jellos like apple or orange. Or do a mix of all three for layered shots!

Water

– Boiling water to prepare the jello mixes. 

Peach Vodka

– While this recipe calls for peach-flavored vodka, plain vodka or any other you have available will work. Rum is also a great liquor alternative.

Optional toppings – Get creative by finishing your jello shots off with whipped cream and sprinkles. Make it extra spooky with gummy worms, colored sanding sugar, or even some crushed Oreos.
Tips for Making Halloween Jello Shots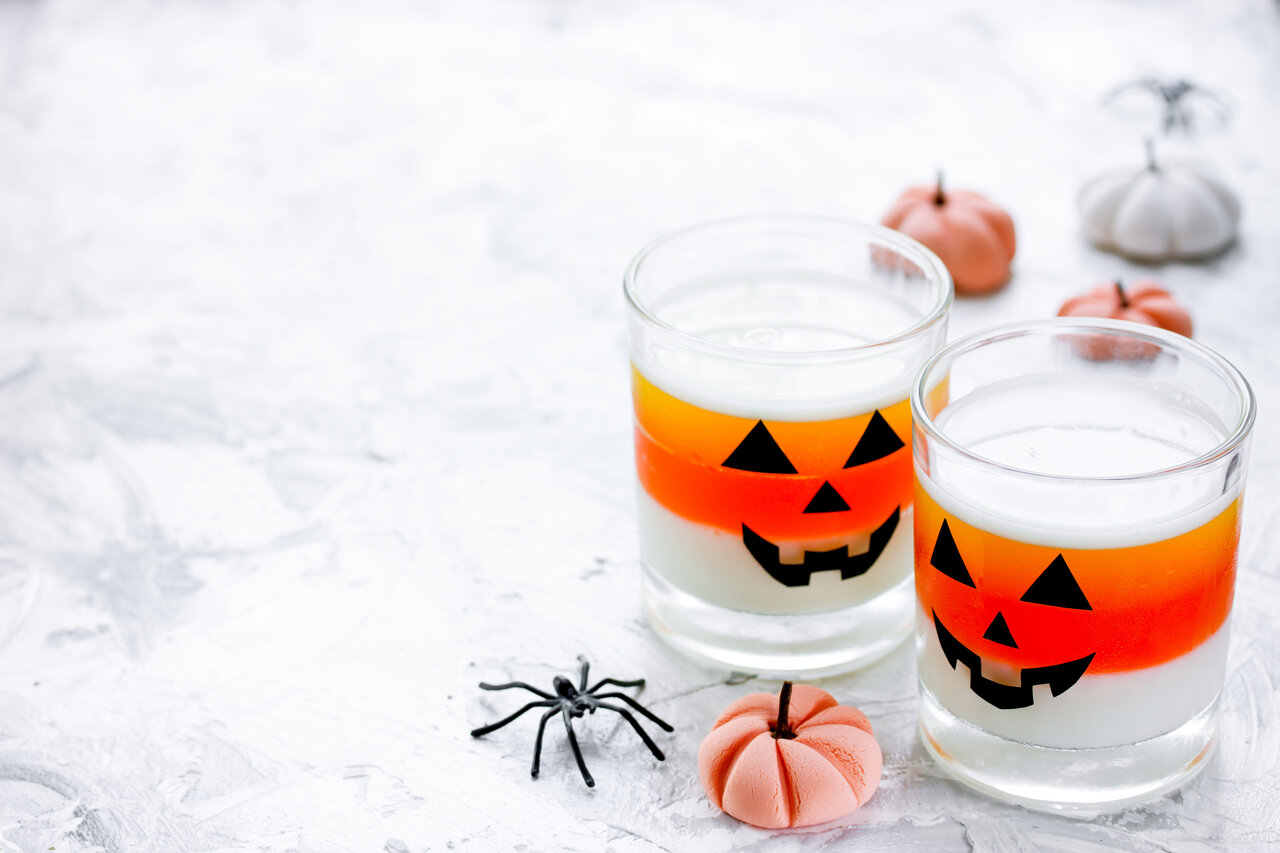 Honestly, what's not to love about jello shots? This Halloween-themed jello shots recipe is easy to make. Although you will have to allow a bit of time for them to set, the process itself is relatively simple. There's little room for error with jello shots. But to be sure, below are some tips and tricks on how to make jello shots with vodka.
Layer jello shots.

When layering colors, refrigerate each layer for at least 30 minutes or until solid before adding the next one. Then, allow the entire shot to set for at least two hours before serving. 

Use cold ingredients

. To lessen your chilling time, pour chilled vodka and ice cubes into the dissolved jello mixture. Then, pour the jello vodka mixture into molds and refrigerate them immediately. 
Grease your shot glasses.

Spritz some cooking oil onto the glasses and use a paper towel to absorb any excess at the bottom. Make sure to spread lightly to cover the insides. Pour in your jello mixture and let it set. 

No shot glasses? Serve them à la jello jigglers instead.

 Pour your mixture into a lightly-greased baking dish, then cut them into squares or use cookie cutters. Or for a unique Halloween food idea, try serving the jello shots in syringes!

Experiment with your jello shots

. Start with the basics, then play with different alcohol and flavor combinations. You can also decide how potent you would like your jello shots. The standard ratio is to use 1 cup of water and 1 cup of alcohol to 1 box of jello. But you can adjust it depending on the potency you would like to achieve.
Try infusing your vodka with other flavors.

There are many herbs and spices that go well with alcohol. Basil has a mild and slightly sweet flavor that pairs well with vodka, gin, or rum. Mint, on the other hand, is sweet and refreshing and works with almost any liquor. Make sure to infuse your alcohol before mixing it into your gelatin. 
If you love this recipe, you'll certainly love other Halloween cocktail recipes! Make your Halloween parties extra spooky with a serving of this Witches' Brew Punch and some red Blood Cocktail.
Frequently Asked Questions
What is the best liquor to use for jello shots?
Vodka is a neutral spirit which makes it a great liquor to use for jello shots. White rum is also a great option, so are other spirits like gin, tequila, whiskey, and brandy. But unlike vodka which allows the flavor of jello to shine, these liquors may infuse more of their essence into the jello shots.
Can you get drunk off jello shots?
Yes, but it may take a while. As far as the amount of alcohol, jello shots should have less alcohol than a standard cocktail. An ounce of alcohol would equal approximately four jello shots, so you would need to shoot a lot of them to get drunk.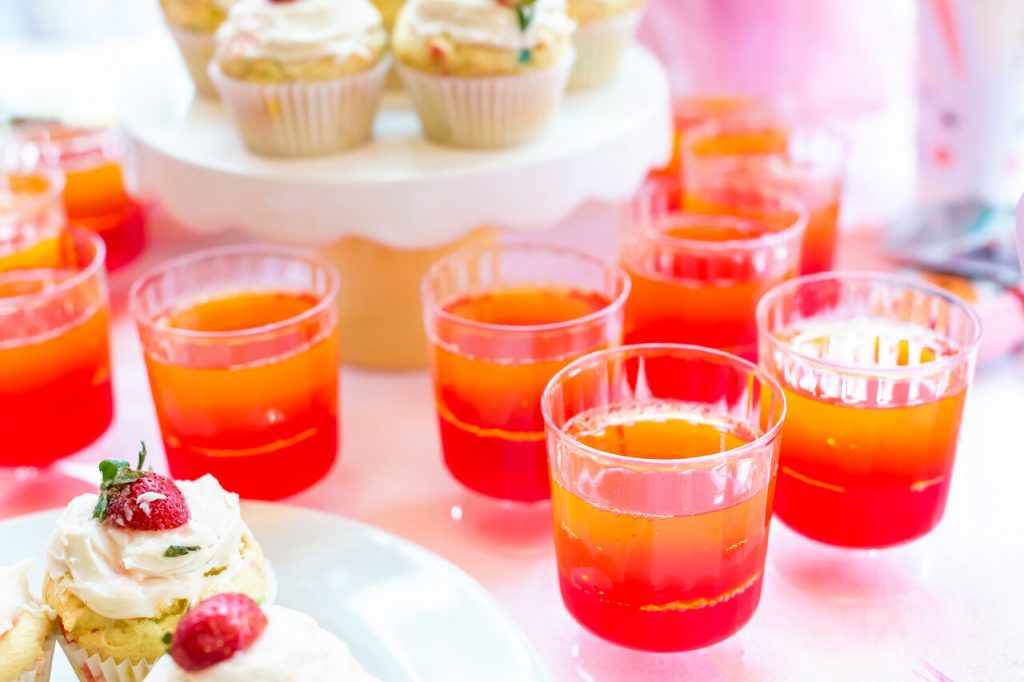 Halloween Jello Shots Recipe
How To Make Halloween Jello Shots
Looking for the perfect Halloween jello shots? Then this peach-flavored blend of jello and vodka might be your perfect strong and sweet match.
Ingredients
3

oz

peach jello,

(1 box)

1

cup

water

1

cup

peach vodka

peach rings
Instructions
Boil the water. Once boiling, pour in peach jello.

Mix well. Pour in peach vodka.

Pour into cups.

Place peach rings on the side of the cups by cutting one side.

Place in the refrigerator until jello hardens.

Serve with more of your desired toppings, and enjoy!
Recipe Notes
Feel free to make it ahead of time! But keep in mind that jello shots are best enjoyed fresh and can only last in the fridge for up to 3 to 5 days.
Nutrition
:

:

Calcium:

1mg

Calories:

154kcal

Carbohydrates:

42g

Protein:

3g

Sodium:

1mg
Nutrition Disclaimer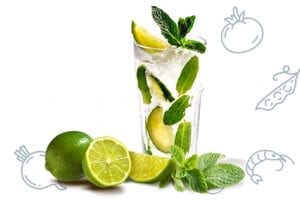 Conclusion
It's not an adult Halloween party without jello shots. This recipe makes perfectly layered Halloween jello shots made with peach-flavored vodka. It's a fun and boozy Halloween treat that's easy to make and sure to be a huge hit that it will get everyone tipsy and excited!
Topics: