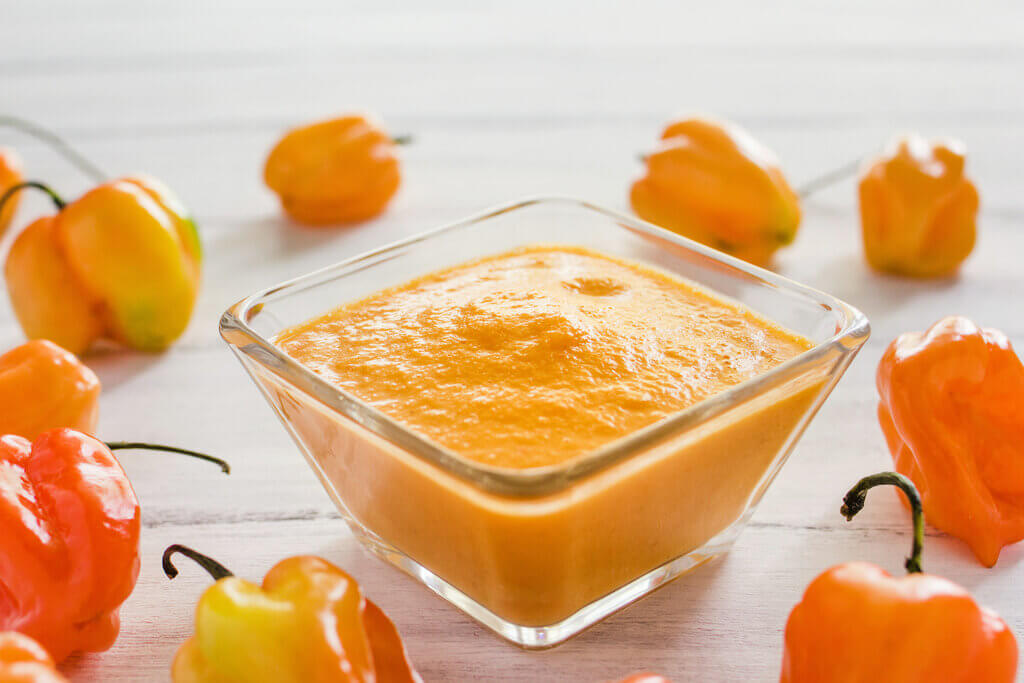 Habanero Hot Sauce Recipe
Buffalo chicken salad? Yes, please. Chili con carne? Oh, definitely yes! Obviously, I'm a HUGE fan of spicy food. I have probably tried all kinds of hot sauces just to spice up my taco Tuesdays. And don't even get me started on jalapeno poppers! Any dish that will leave a fiery taste in my tongue and make my eyes water, really. That's why when I discovered this habanero hot sauce recipe, I was beyond excited!
Habanero peppers, the heat source of this hot sauce, packs a serious punch with hints of sweet and smoky flavors. They contain high levels of capsaicin, a chemical compound that makes peppers hot. And similar to the Scotch bonnet, habaneros also have a heat level between 100,000 to 350,000 Scoville Heat Units on the Scoville scale. Long story short, habanero peppers are SUPER HOT! Well, they're less spicy than ghost peppers. But still, habaneros have that delicious exploding taste. Perfect for those who can handle the heat!
My version of habanero sauce has the perfect balance of sweet-spicy and tangy palate. Apart from habanero peppers, I also used some aromatics, such as chopped onion and garlic. This hot sauce also has zesty notes courtesy of the lime juice, white vinegar, and tomato. If you don't have white vinegar on hand, feel free to use distilled vinegar. Although if you ask me, I'll go for apple cider vinegar to give the hot habanero sauce a fruity and tart flavor. A few teaspoons of sugar or sweet fruits would also be a lovely sweetening addition to balance out the heat. That said, even mellowing out this sauce won't turn it into a habanero salsa. It's still gonna be too spicy for chips!
Some people would roast the garlic and peppers in the oven or a skillet. Others prefer cooking all the ingredients at once. But my habanero hot sauce recipe begins with cooking the carrots, onion, and garlic in olive oil. Once they were cooked through, I transferred them to a blender. Then, I added the habaneros, vinegar, and tomato. When preparing the habaneros, I made sure I was wearing rubber or latex gloves. NEVER ever dare touch these hot peppers with your bare hands!
I've found that you can pair habanero sauce with just about any dish. Bland chicken wings are definitely not my thing, so I always accompany them with this homemade hot sauce. Some days I drizzle my grilled steak with homemade hot sauce. And some days, I feel like dipping my favorite chips into this spicy sauce. I don't know about you, but I really like it HOT, so I try to incorporate slices of habanero peppers in my dish just to get my spicy food fix. If you think you're ready for such a mouth-numbing experience, then you should learn how to make this hot sauce right away!
How To Make Habanero Hot Sauce
Spicy with underlying tanginess, this habanero hot sauce recipe is the best way to boost your dishes, from chicken wings to flat iron steak. Simply cook together habanero peppers, vinegar, lime juice, and carrots.
Ingredients
1

tbsp

olive oil

1

cup

carrots,

chopped

½

cup

onion,

chopped

4

garlic cloves,

minced

5

habanero peppers

¼

cup

water

¼

cup

lime juice

¼

cup

white vinegar

1

tomato

salt and ground black pepper,

to taste
Instructions
In a saucepan, heat the olive oil over medium heat. Then, add the carrots, onion, and garlic. Simmer for about five minutes until the carrots are tender.

Next, pour the mixture into a blender or a food processor. Add the water, habanero peppers, lime juice, white vinegar, and tomato. Blend until the condiment reaches a smooth consistency. Add a dash of salt if you want.

Transfer the mixture to the saucepan and let it simmer for another three to five minutes.

Serve and enjoy!
Recipe Notes
Only use fresh habanero peppers for this sauce or any habanero recipes. Fresh ones should be firm and have a smooth and glossy surface.

Before cutting the habanero peppers, rinse them first under running water to remove any dirt.

To give your dish an intense red hue and extra heat, add a dash of paprika.

Strain the habanero sauce using a fine mesh strainer if you prefer a smoother sauce with a thinner viscosity. Doing so will remove the chunks in your condiment.
Nutrition
Calories: 

130.62kcal

Fat: 

5.11g

Saturated Fat: 

0.79g

Monounsaturated Fat: 

3.33g

Polyunsaturated Fat: 

0.71g

Carbohydrates: 

20.71g

Fiber: 

5.82g

Sugar: 

9.18g

Protein: 

3.15g

Sodium: 

863.94mg

Calcium: 

60.36mg

Potassium: 

660.43mg

Iron: 

1.18mg

Vitamin A: 

392.38µg

Vitamin C: 

173.11mg