Copycat Marie Callender's Lattice Peach Pie Recipe
Recipes.net Team
Published
March 14, 2020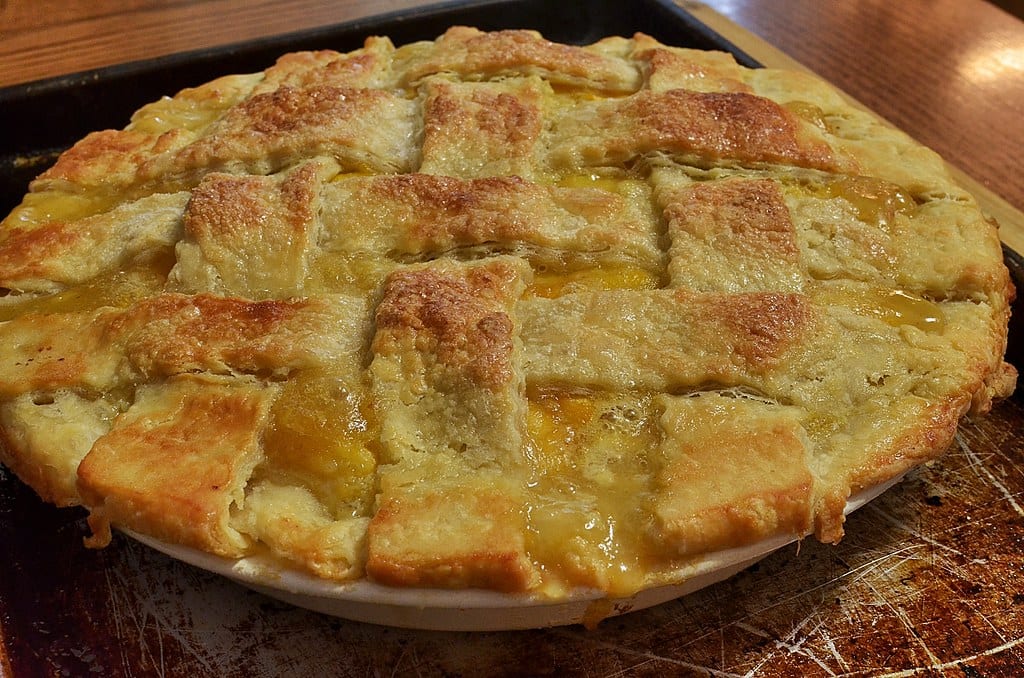 This peach pie recipe is everything that you want a peach pie to be. It is a delicate pie with sweet peach flavors that really shine through. The nutmeg in the filling adds a nice touch of flavor that makes this pie extra special.
How To Make Copycat Marie Callender's Peach Lattice Pie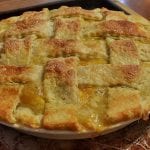 Filling:
5 cups canned peaches (drained)
½ cup all purpose flour
¾ cup granulated sugar
1 tsp vanilla extract
¼ cup cold milk
1 tsp salt
1 tsp ground cinnamon
Melted coconut oil (for glazing)
Crust:
½ cup very cold coconut oil
6 – 10 tbsp iced cold water
½ tsp salt
2 cups all purpose flour (plus more for dusting)
To serve:
Start with the pie crust. Sift together flour & salt into a bowl.
Add coconut oil chunks. Using a fork, mix until it forms crumbs.
Gradually add 1 tbsp iced cold water at a time, while gently mixing with a fork. Keep adding water until the dough starts to clump together, stopping before it gets too wet & sticky.
Lay a plastic wrap onto your work area. Transfer the dough onto the plastic wrap & divide the dough into 2 balls. Wrap both tightly until it forms a disk.
Let both doughs rest in a chilled area for at least 2 hours, no more than 4 hours.
Flour your work surface, & unwrap 1 disc of pie crust onto it.
Using a rolling pin, gently roll from the center of the dough onto its edges. Continuous rolling to various directions until it forms a circular shape & it is 2-inches larger than your pie plate.
Gently lift the rolled dough onto a 9-inch pie plate, leaving at least 1-inch dough excess dough on its edges for fluting.
If any cracks form, mend by lightly pinching them together then smoothing it out.
Using a fork, press on its edges for decoration. Trim any excess dough & set aside excess dough for future use, & the filled pie plate chilled.
Preheat oven to 420 degrees Fahrenheit.
For the filling, combine all ingredients together until fully incorporated. Fill up your pie plate with the mixed peaches.
Roll out your second disc of pie dough until you achieve a wide circle. Using either a knife or pizza cutter, slice ½-inch pieces of dough & place them on top of your pie dish.
To form the lattice pattern, lay down dough strips one way, then start in the middle going towards the opposite direction, alternating every other strip between pulling back & overlapping. Trim any pie dough that remains & set aside.
Brush the lattice top with coconut oil to glaze & sprinkle with ground cinnamon.
Bake the pie first for roughly 20 minutes, then lower your oven temperature to 350 degrees Fahrenheit and bake until pie turns golden brown, roughly 45 minutes.
Transfer the baked pie onto cooling racks & allow to cool down. Serve cold with ice cream.
How To Make Copycat Marie Callender's Peach Lattice Pie
Preparation Time:
1

hr
15

mins
Cooking Time:
1

hr
10

mins
Total Time:
2

hrs
25

mins
Ingredients
Filling:
5

cups

canned peaches,

drained

½

cup

all purpose flour

¾

cup

granulated sugar

1

tsp

vanilla extract

¼

cup

cold milk

1

tsp

salt

2

tsps

ground cinnamon,

divided

Melted coconut oil ,

for glazing
Crust:
½

cup

very cold coconut oil

6 - 10

tbsp

iced cold water

½

tsp

salt

2

cups

all purpose flour,

plus more for dusting
To serve:
Instructions
Start with the pie crust. Sift together flour & salt into a bowl

Add coconut oil chunks. Using a fork, mix until it forms crumbs

Gradually add 1 tbsp iced cold water at a time, while gently mixing with a fork. Keep adding water until the dough starts to clump together, stopping before it gets too wet & sticky

Lay a plastic wrap onto your work area. Transfer the dough onto the plastic wrap & divide the dough into 2 balls. Wrap both tightly until it forms a disk

Let both doughs rest in a chilled area for at least 2 hours, no more than 4 hours

Flour your work surface, & unwrap 1 disc of pie crust onto it

Using a rolling pin, gently roll from the center of the dough onto its edges. Continuous rolling to various directions until it forms a circular shape & it is 2-inches larger than your pie plate

Gently lift the rolled dough onto a 9-inch pie plate, leaving at least 1-inch dough excess dough on its edges for fluting

If any cracks form, mend by lightly pinching them together then smoothing it out

Using a fork, press on its edges for decoration. Trim any excess dough & set aside excess dough for future use, & the filled pie plate chilled

Preheat oven to 420 degrees Fahrenheit

For the filling, combine all ingredients together until fully incorporated. Fill up your pie plate with the mixed peaches

Roll out your second disc of pie dough until you achieve a wide circle. Using either a knife or pizza cutter, slice ½-inch pieces of dough & place them on top of your pie dish.

To form the lattice pattern, lay down dough strips one way, then start in the middle going towards the opposite direction, alternating every other strip between pulling back & overlapping. Trim any pie dough that remains & set aside

Brush the lattice top with coconut oil to glaze & sprinkle with the remaining ground cinnamon

Bake the pie first for roughly 20 minutes, then lower your oven temperature to 350 degrees Fahrenheit and bake until pie turns golden brown, roughly 45 minutes

Transfer the baked pie onto cooling racks & allow to cool down. Serve cold with ice cream
Nutrition
Calcium:

32mg

Calories:

503kcal

Carbohydrates:

78g

Cholesterol:

1mg

Fat:

19g

Fiber:

4g

Iron:

3mg

Potassium:

313mg

Protein:

7g

Saturated Fat:

16g

Sodium:

588mg

Sugar:

36g

Vitamin A:

435IU

Vitamin C:

8mg
Related Pies & Pastries Recipes