A cup of our favorite ice cream would immediately turn a bad day into something better and comforting. That's the magic with this addicting comfort food. It gives us energy, stimulates our brain and satisfies our craving. Not to mention there are tons of ice cream flavors out there.
Imagine if we turn your favorite flavor such as grapes into a thick and creamy soft serve. Because today, we're going to show you an easy-to-make recipe for a homemade grape ice cream. You can even make this for your favorite milkshake!
Easy Homemade Grape Ice Cream
We all want a sweet, creamy, and cold scoop of our favorite flavored ice cream at home. It's the ultimate go-to of anyone who needs a break. So, every time we want to grab a spoon, we want to have our ice cream readily available in our freezer. Especially, if it's grape flavored ice cream that is uniquely fresh in our taste buds.
Even if we add too much sugar to this sweet grape flavor, it won't overwhelm our palate. Grapes have a naturally fresh and sweet taste. Mixing this fruit to make a grape flavor ice cream recipe works perfectly to complement the mild sweetness of the milk and heavy cream. It also goes well with the sourness of the lemon juice. Making a distinct yet simple exquisite ice cream flavor.
So, if you're ready to make this easy homemade grape ice cream, let's get started.
Tips In Making No-Churn Grape Ice Cream
No ice cream machine needed. Yup, you heard that right. This homemade grape ice cream would only need your basic kitchen utensils. But, to make it easier for you, here are some tips to make a no-churn grape ice cream.
Chill your ice cream container first.

While you're picking up other ingredients, wash and prepare your ice cream container ahead of time and put it in the freezer to give it a good chill. A metal or glass container works best for ice cream.

Check every 40 minutes and give it a good mix.

After making the mixture, the last step would be to put it in the freezer, but make sure to check on your ice cream every 40 minutes and mix it again using a clean spoon. Do this up to 3 to 4 times until it thickens.

Use heavy cream.

If you want to achieve that thick and smooth consistency, use heavy cream. Heavy cream has a higher fat content than other milk so it won't turn into something icy when chilled.

Use plastic to cover your ice cream. Since we're going to put our ice cream inside the freezer, it's important to cover the container with plastic so that it won't crystallize or icy texture won't form.
How To Make Homemade Grape Ice Cream
Satisfy your cravings with this delectable homemade grape ice cream. Enjoy the sweet, smooth, and thick spoonfuls of your favorite comfort food.
Ingredients
3

cups

sugar

3

lemons,

juiced

24

oz

grape juice

1

pint

whipping cream
Instructions
Mix grape juice and whipping cream in a large bowl.

While mixing, pour in the lemon juice and sugar.

Mix until sugar is totally dissolved.

Pour into the ice cream container.

Freeze for a good 40 minutes.

Serve a scoop or two.
Nutrition
Calcium:

59mg

Calories:

557kcal

Carbohydrates:

93g

Cholesterol:

81mg

Fat:

22g

Fiber:

1g

Iron:

1mg

Potassium:

190mg

Protein:

2g

Saturated Fat:

14g

Sodium:

28mg

Sugar:

88g

Vitamin A:

885IU

Vitamin C:

22mg
Nutrition Disclaimer
Commonly Asked Questions
How do you thicken the consistency of the ice cream?
Some use 1 to 2 egg yolks to thicken the consistency of the ice cream. If you don't want to use eggs, you can opt for a 2 tablespoon of cornstarch or ½ cup of cream cheese, with the same measurements as the rest of the ingredients we used in this recipe.

What can you substitute for heavy whipping cream in making ice cream?
If you don't have whipping cream or heavy cream, you can use whole milk or any high-fat milk to add to the mixture.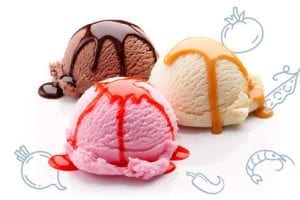 Conclusion
Make your favorite grape-flavored ice cream at home with this easy recipe, and have this comfort food cold ready at your fridge. Enjoy a thick and creamy serve of this luscious dessert anytime you crave it, or when you just simply need a break.
Related Ice Cream Recipes