The Waffle House restaurant has a variety of delicious dishes to offer for breakfast, lunch, and dinner! They have sandwiches, burgers, side dishes, and even dessert pies. But they're most famous for their breakfast Waffle House menu dishes which serve their signature fluffy waffles. These famous waffles are delightful to eat because of their crisp exterior blending perfectly with a fluffy and tender interior. It's even better with the added toppings that you can change to match your taste! Enjoy these tasty Waffle House waffles on their own, or pair them with some savory breakfast dishes like this classic scrambled eggs for a filling meal.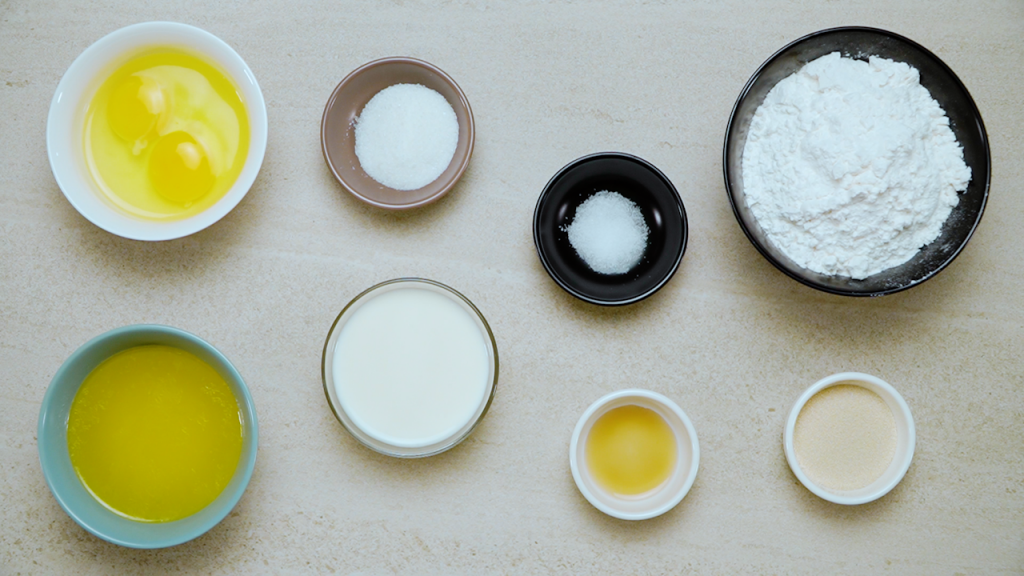 Tips for Making Waffle House Waffles Extra Delicious
Waffles are the perfect quick meal to eat when you're rushing in the morning, or looking for a quick afternoon snack. With this easy waffle recipe, you can skip ordering from a Waffle House delivery service, and just recreate your own tasty Waffle House waffles at home. Make them extra appetizing with some of our helpful tips below: 
Separate the egg whites from the yolks for a fluffier waffle.

If you want extra fluffy waffles, then doing this simple step would greatly improve the tender fluffiness of the waffles beneath their crisp exterior. Beat the egg yolks first before adding it to the batter, and then whip the egg whites until stiff peaks form. Add the whites into the final batter and gently fold using a spatula. 
Don't over-mix or aggressively mix the batter.

When mixing the wet and

dry ingredients

, make sure that you use a rubber spatula or spoon to gently stir and fold the batter. Use gentle motions until the batter is smooth. An over-mixed batter will produce a chewier and less fluffy waffle texture. The key is really just to be patient!
Avoid lifting the lid too early

as it can ruin your waffle. Usually, waffle irons have a light or sound indicator so use that as reference. But, if you don't have one, then check the steam. When steam stops coming out from the sides, the waffle should be done. 
Try mixing in some buttermilk.

Buttermilk is a good way to add flavor to your waffles. It has more fat than regular milk so it also helps with improving texture. Alternatively, you can also use half buttermilk and half regular milk for a combination of crispy and fluffy.

Upgrade Your Waffle House Waffles to The Next Level
Adding in toppings or pairing these waffles with sides is also another delicious way for you to fully enjoy these homemade Waffle House waffles. Make each bite extra special by garnishing it with some sweet topping ideas. Or, turn it into a full meal by pairing it with savory side dishes. Try out some of our suggestions for a complete waffle experience. 
Besides the softened butter, maple syrup, or honey toppings, recreate a Waffle House special by smearing peanut butter instead to make their Peanut Butter Chip Waffle. You can also try adding in a scoop of ice cream or plain yogurt. Then, sprinkle some powdered sugar, granola or chopped nuts on top for added flavor and crunch. Fresh fruits also work well if you want a subtle tangy and sweet taste for your waffles. You can also try adding in a fruit compote like this berry compote, which is a delicious fruit sauce made from combining together fresh fruit pieces with sugar. 
Lastly, experiment with some of our savory side dishes. Try making a classic English breakfast pairing. Instead of french toast or a grilled cheese sandwich, serve these waffles with scrambled eggs, crispy fried bacon, and hash browns. Having waffles for lunch? Slice up some avocados and serve with a fresh mango salsa for a tangy and fruity meal combination.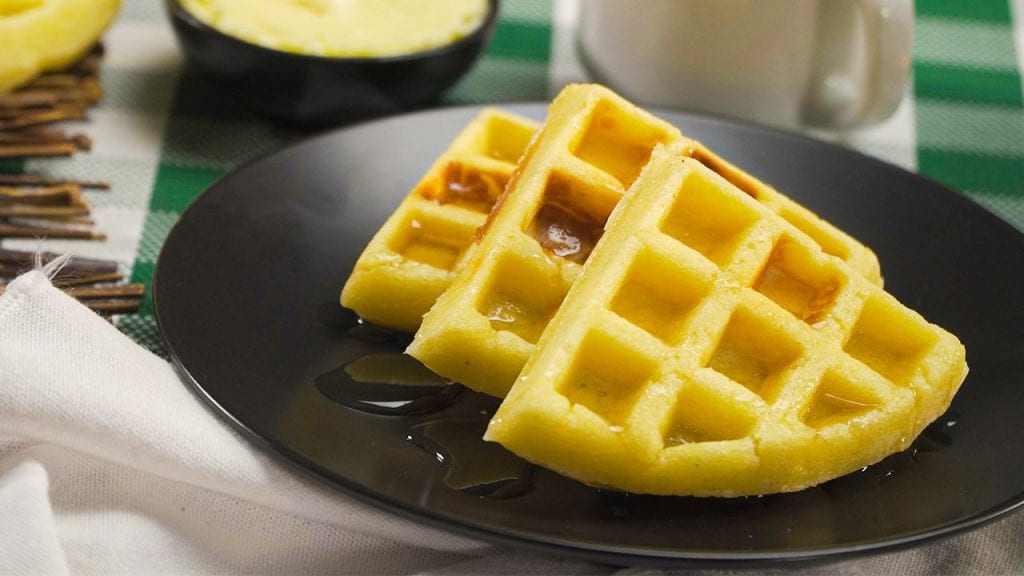 Copycat Waffle House Waffles Recipe
How To Make Copycat Waffle House Waffles
Make breakfast fun with this copycat Waffle House waffles recipe! Enjoy the crisp yet fluffy taste of homemade waffles, topped with your favorite sweet or savory toppings.
Ingredients
3

cups

all-purpose flour

1

cup

unsalted butter,

melted

½

cup

warm milk

4

eggs

2

oz

active dry yeast

1½

tbsp

granulated sugar

2

tsp

vanilla extract

½

tsp

salt

cooking spray
To Serve:
2

tbsp

pancake syrup,

or honey, or maple syrup, per serving

¼

cup

unsalted butter,

per serving
Instructions
Combine the warm milk, sugar, and yeast in a large bowl. Whisk until the sugar has dissolved. Set aside in a warm area, best if covered with a clean moist towel. Allow the yeast to foam up for roughly 30 minutes.

In a smaller bowl, sift together the flour and salt. Set aside.

Once the yeast foams up, add the eggs, melted butter, and vanilla extract. Whisk until evenly incorporated.

Fold the sifted flour mixture into the wet mixture until evenly incorporated. It will now form a soft dough.

Cover with a damp cloth and set aside in a warm area. Allow the dough to rise and double in size for at least 1 hour.

While waiting, preheat the waffle iron over medium heat and grease with cooking spray

Portion roughly ¾ cup of the wet dough into the waffle iron. Allow to cook on both sides for roughly for 3 to 5 minutes, depending on the manufacturer's directions.

To assemble, stack roughly 2 to 3 pieces of waffles. Either scoop or pipe the butter atop, then drizzle with pancake syrup. Serve and enjoy!
Nutrition
Sugar:

3g

:

Calcium:

40mg

Calories:

675kcal

Carbohydrates:

60g

Cholesterol:

211mg

Fat:

43g

Fiber:

4g

Iron:

4mg

Potassium:

211mg

Protein:

14g

Saturated Fat:

25g

Sodium:

253mg

Trans Fat:

2g

Vitamin A:

1344IU

Vitamin C:

1mg
Nutrition Disclaimer
Frequently Asked Questions
Are Waffle House waffles Belgian?
No, they are not. If you've ever been to Belgian waffle restaurants, you'll notice that they are usually square in shape. Belgian waffles also have extra large and deep grid pockets to hold up more syrup or toppings. On the other hand, the Waffle House waffles are circular in size which is the typical shape for American-style waffles.
Are pancake and waffle mix the same?
No, they are not the same. Both mixes contain eggs, flour, milk, and a leavening agent. However, waffle batter is thicker than pancake batter. It has more sugar, fat, oil or melted butter in it. That's why if you're planning to buy or make your own Waffle House waffle mix , you'll notice that the higher sugar and fat content helps in creating a crispy, and golden waffle. The sugar caramelizes and the fat cooks off to make it extra crisp and delicious.

How do you reheat homemade waffles?
Reheat homemade waffles using the oven. If it's frozen, thaw the waffles first and then place on a baking sheet lined with parchment paper. Preheat the oven to 350 degrees F, and bake for 10 to 15 minutes, depending on the number of waffles you're reheating. Bake until they're crispy or warmed through. Afterwards, remove from the oven and serve with butter, syrup or fresh fruit toppings once again.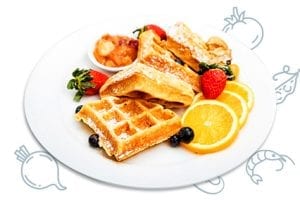 Conclusion
You won't need to look for the nearest Waffle House to enjoy crispy yet tender waffles at home! With this quick and easy copycat Waffle House waffles recipe, you can make your own light and fluffy waffles. Add delicious toppings of your choice, and enjoy!