Crepes are one of my favorite desserts to make. Every time I'm craving a quick dessert, I make homemade fruit crepes since they're so easy to prepare. Lately, I've been making strawberry crepes as my after-meal dessert snack. I used to eat a lot of IHOP strawberry crepes, but I decided that I wanted to try making my own. What's great about my strawberry crepe recipe is the sweet and thick strawberry filling. I made it by blending fresh and frozen strawberries with sugar. This delicious pureed strawberry crepe filling is the highlight of this appetizing dessert. 
It's so easy to make the strawberry crepe filling. First step is to buy a mix of fresh and frozen strawberries. Of course, you have to thaw the frozen strawberries first before using them. I used an immersion blender to really achieve that perfect puree consistency. And then, I mixed in the sugar and the remaining fresh strawberries. I started with the frozen ones first since they produced a sweeter and juicier strawberry sauce. The fresh strawberries, meanwhile, gave the filling a smooth texture. This perfect combination of frozen and fresh berries is a secret crepe filling recipe of mine. 
After I made the filling, the homemade crepes were next. This was even easier because it had kitchen-friendly ingredients. All I did was combine and mix, then I cooked a thin layer of batter on a skillet. Wait for the crepe to brown and dry a little before removing them from the heat. 
Last step is assembling your homemade strawberry crepes. This is where the fun part begins. When making sweet fruit crepes, you can always choose your own toppings afterwards. I listed some of the optional toppings you can include in the recipe list. After I filled the crepes with pureed strawberries, I rolled them up and added a dollop of whipped cream on top. 
Feel free to mix and match your favorite crepe toppings. Try mixing in blueberries to make strawberry and blueberry crepes. Or, you can even make a cream cheese crepe filling to mix with the strawberry puree for added flavor and creaminess. There's just so much you can do with these thin yet flavorful stuffed crepes. Make theme creamy, sweet, or fruity!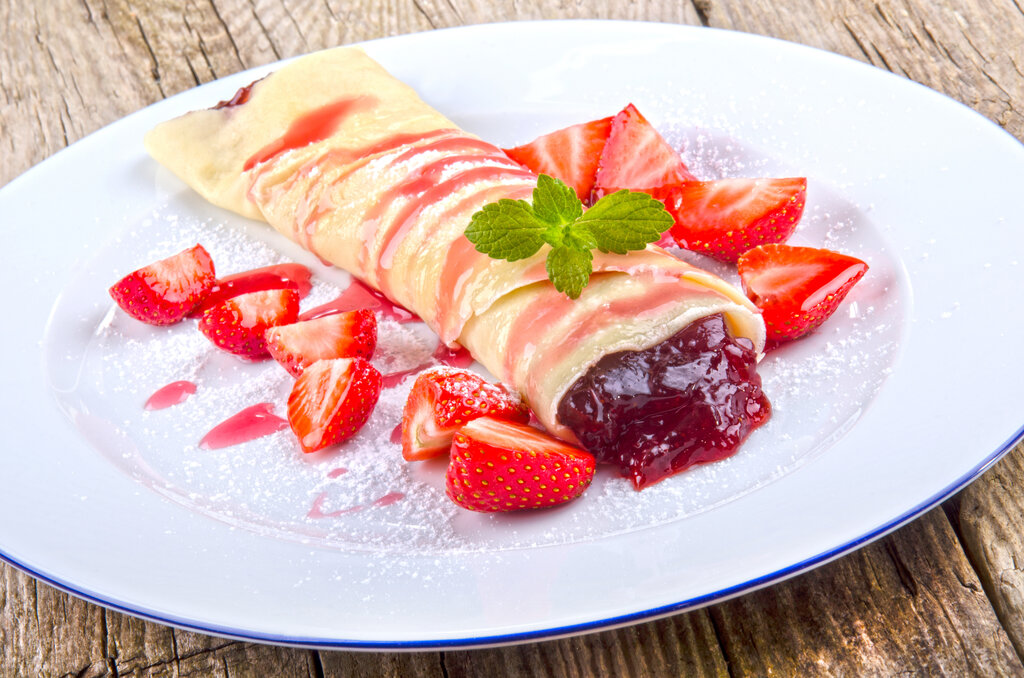 Strawberry Crepes Recipe
How To Make Strawberry Crepes Recipe
You can't go wrong with these strawberry crepes for a tart and heavenly treat. Get ready to indulge in tender homemade crepes oozing with pureed strawberry filling.
Ingredients
For Strawberry Filling:
2

cups

strawberries,

frozen, sliced, and thawed, plus additional 3 cups of fresh

2

tbsp

sugar

½

tsp

orange zest,

optional
For Crepes:
2

tbsp

butter

2

cups

milk

2

large eggs

1

tsp

vanilla

1

tsp

sugar

½

tsp

salt

1½

cups

all purpose flour
Optional Toppings:
whipped cream,

or ice cream

powdered sugar

chocolate syrup

sliced fruit pieces,

(strawberries, fresh berries, bananas, kiwis)
Instructions
Strawberry Filling:
Using an immersion blender, gently puree thawed strawberries in a large mixing bowl.

Stir in sugar, orange zest if using, and fresh sliced strawberries.
Crepes:
Heat milk and butter in the microwave in a glass or plastic measuring cup or bowl or in a small saucepan, just until butter melts.

Add warmed milk and melted butter, eggs, vanilla, sugar, and salt to blender jar, cover and blend until smooth. Add flour and blend until smooth.

Place a fine-mesh strainer over a large bowl and strain out any lumps.

Heat an 8-inch skillet or crepe pan over medium heat and lightly coat with butter or cooking spray.

For each crepe, pour ¼ cup batter into the center of the skillet and immediately rotate the pan until the batter covers the bottom of the skillet in a thin layer.

Cook for approximately 1 minute until lightly brown and the top begins to dry out. Flip and cook for an additional 30 seconds.

Repeat with remaining batter. Stack completed crepes on a plate.

Fill each crepe with strawberry filling and roll up. Serve topped with whipped cream. Enjoy!