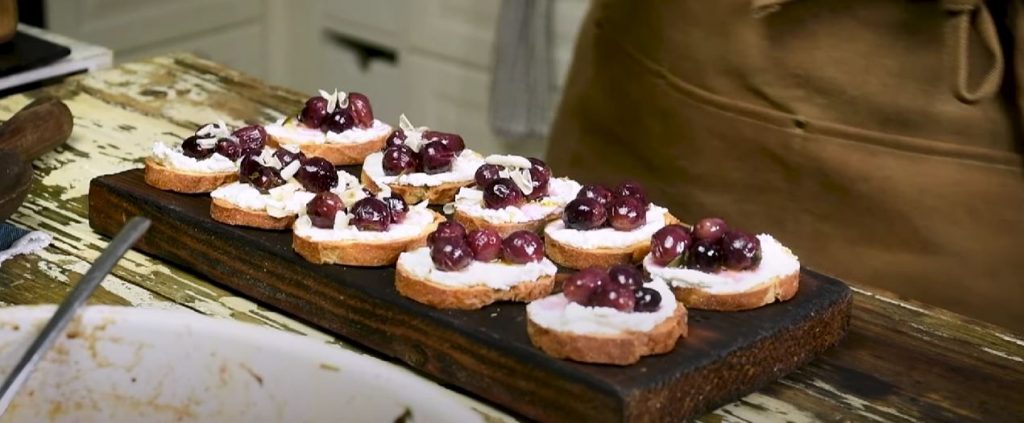 Roasted Grape Crostini with Brie Recipe
How To Make Roasted Grape Crostini with Brie and Fresh Thyme
Crunchy and savory crostinis are toasted to golden-brown perfection and topped with sweet and tangy grapes. Brie gives added umami to this grape crostini.
Instructions
Preheat oven to 400 degrees F with racks in the top third and lower third of the oven.
Line a large rimmed baking sheet and a small rimmed baking sheet with parchment paper for easy cleanup.
Brush olive oil lightly over both sides of each slice of bread. Arrange the future toasts in a single layer on the large baking sheet.
Remove all stems from the grapes. Transfer the grapes to the small baking sheet, toss them with about 1 tablespoon olive oil and then season them with a light sprinkle of salt and pepper.
Place the grapes on the upper oven rack and the toasts on the lower. Set the timer for 20 minutes.
Slice the brie into long, 1/4-inch wide strips, then slice them into smaller strips to fit the crostini.
Top each toast with enough brie to roughly cover the surface, followed by grapes. Finish the crostini with a light sprinkle of pepper and fresh thyme leaves.
Nutrition
Monounsaturated Fat: 

10.61g
Polyunsaturated Fat: 

3.67g