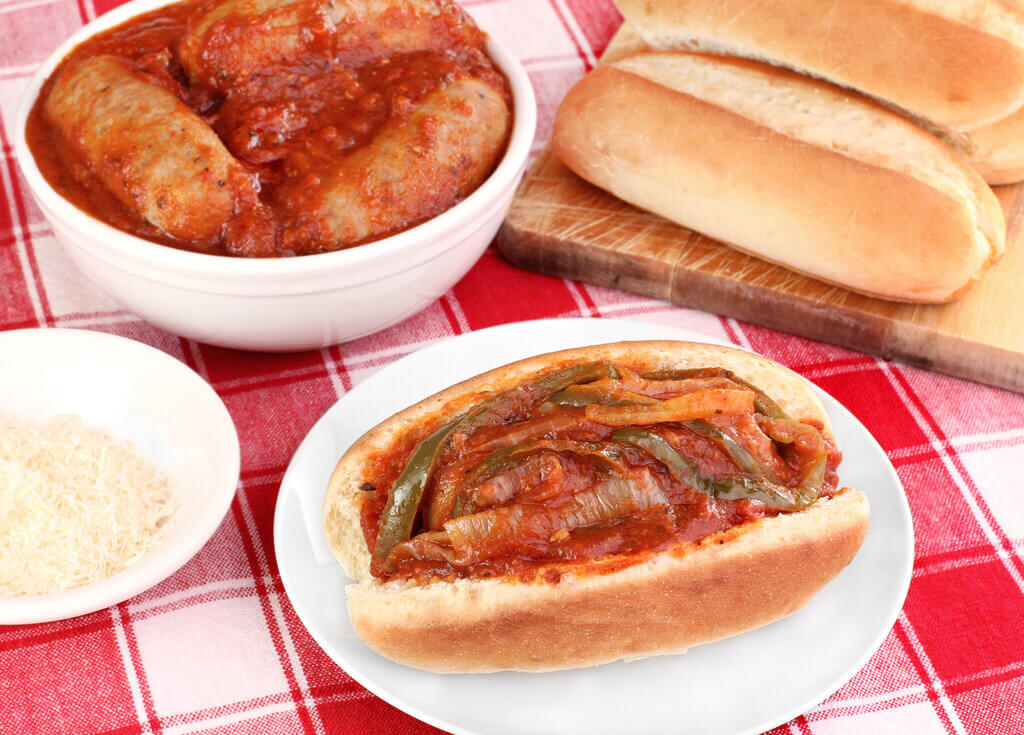 Sausage, Pepper, and Onion Sandwiches Recipe
This sausage, peppers, and onions sandwich exudes spicy and savory flavors in every bite. The mash-up of juicy sausage, caramelized onions, and tender peppers stuffed in a hoagie roll is simply sublime. Add a generous amount of seasoned sauce, and you get yourself an incomparable sausage sandwich to tickle your taste buds!
There's just something utterly irresistible about sausage with peppers and onions all cooked together. It's one of my go-to Italian sausage recipes when I want to please my palate with a party of flavors. In the past, though, I only served it over pasta and rice. But Italian sausage and peppers with onions are also good when stuffed into bread!
My sausage, peppers, and onions recipe is the embodiment of deliciousness because it brings together flavorful ingredients in just one pan. You'll need five pounds of Italian sausage—my recipe would be good for a crowd of 25 guests. But feel free to adjust the quantity if you want. You can use either hot or sweet Italian sausage, or a combination of both just to give your guests options.
I also prepared, dare I say, the best thing that could ever happen in an Italian sausage sandwich: a flavored sauce. Highly recommended! There's nothing quite like the delicious bite of authentic Italian sausages cooked with a sauce that consists of tomato sauce, whole tomatoes, and crushed tomatoes. Adding garlic powder, Italian seasoning, and onion powder made it even more flavorful than it already was! I also stirred in a dash of sugar to up the sweetness a bit. Of course, a sprinkle of grated Parmesan cheese is always a welcome addition. If hot sausage sandwiches appeal to you, then, by all means, add red pepper flakes.
My version used green bell peppers. But if you want to make your sausage, peppers, and onions sandwich more pleasing to the eyes, use different-colored bell peppers. The natural sweetness of caramelized onions also shines in this sausage sandwich recipe. As for the bread, I opted for Italian hoagie buns. But you can use your preferred bread, provided they are of the same length as the sausages and can hold up to this ingredient-stuffed sandwich.
Making crave-able sandwiches with sausage, peppers, and onions is so straightforward. It only requires 15 minutes of prep. For a really fantastic texture, I started with searing the Italian sausages until they browned, creating the most delicious pan juices at the same time. Then, I cooked the sauce, along with the seasonings, in a large saucepan. Oh, and don't forget to sprinkle the sauce with cheese! I nestled the cooked sausages on top with the bell peppers and onions and let it cook for 6 hours.
When it's done, I came back to Italian sausages, caramelized onions, and tender bell peppers soaked in a flavorful sauce. You can even toss the Italian sausage links, onions, and sliced bell peppers into the crockpot or slow cooker and go about your day. Smoked and grilled sausage, peppers, and onions sandwich is also an option if you're having a barbecue party.
You can never go wrong with this Italian sausage and peppers sandwich. Whether you're in a dinner rut or having tailgate and game-day parties, it just fits the bill. Grated cheese and fresh parsley would be a delightful finishing touch.
How To Make Sausage, Pepper, and Onion Sandwiches
Bring together juicy Italian sausages, caramelized onions, and tender bell peppers in one delicious bite. It's a vibrant dish to perk up your weeknight dinners and parties!
Cooking:
6 hours 15 minutes
Total:
6 hours 30 minutes
Ingredients
5 lb Italian sausage links

28 oz whole tomatoes, (2 cans) peeled

28 oz tomatoes, (1 can) crushed

29 oz tomato sauce,(1 can)

¼ cup parmesan cheese,grated

1 tbsp garlic powder

1 tbsp Italian Seasoning

1 tbsp white sugar

1 tbsp onion powder

4 large green bell peppers, thickly sliced

3 large onions, thickly sliced

25 Italian-style hoagie buns, (6 inch)
Instructions
Cut the sausages apart into individual links, if necessary. Then, place them into a large skillet over medium heat, and brown them on all sides. Set the sausages aside, reserving the pan drippings.

Pour the whole tomatoes, crushed tomatoes, and tomato sauce into a large saucepan with a lid. Stir in the grated Parmesan cheese, garlic powder, Italian seasoning, sugar, and onion powder.

Bring the mixture to a boil, then add the cooked sausages, pan drippings, green peppers, and onions.

Reduce heat to low, cover, and simmer for about 6 hours until the vegetables are very tender and the sauce has thickened. Serve on Italian hoagie buns.
Recipe Notes
You can also use a French baguette for your sausage peppers and onions sandwich.

Tomato paste is also a brilliant addition to the sauce.

Adding red wine vinegar will give the sauce a bit of tang.
Nutrition
Calories: 

460.57kcal

Fat: 

30.76g

Saturated Fat: 

10.89g

Monounsaturated Fat: 

13.91g

Polyunsaturated Fat: 

4.10g

Carbohydrates: 

27.76g

Fiber: 

3.56g

Sugar: 

4.87g

Protein: 

18.18g

Cholesterol: 

69.96mg

Sodium: 

1097.72mg

Calcium: 

96.95mg

Potassium: 

588.21mg

Iron: 

2.99mg

Vitamin A: 

34.93µg

Vitamin C: 

35.02mg