Many of us find that it is much harder to stick to a healthy diet during the colder months. This can be blamed on the fact that most salads are neither warm nor comforting. However, this recipe gives you warm, comforting, and waistline-friendly all in one. What more could you ask for?
How To Make Classic Warm Goat Cheese Salad
Ingredients
For Goat Cheese Salad:
1 1/2

cup

mixed fresh herbs

basil, oregano, chervil, parsley, thyme, or mint

1 1/2

 log-shaped fresh creamy goat cheeses

16 to 18 oz. total weight

salt

freshly ground black pepper

1 1/2

cup

coarse dried breadcrumbs

such as Japanese panko

9

cup

mixed baby salad greens

rinsed and thoroughly dried

extra-virgin olive oil, for frying
For Mustard Vinaigrette:
1 1/2

tbsp

dijon mustard

1 1/2

tbsp

finely chopped fresh herbs of your choice

1 1/2

tbsp

sherry vinegar

or red wine vinegar

salt

freshly ground white pepper

1 1/2

cup

extra-virgin olive oil
Instructions
First, prepare the goat cheese: Spread the fresh herb mixture, along with the salt and pepper, in whatever combination you like, on a clean plate.

Roll the goat cheese in the herbs to coat completely, reserving a Tbs. or two of herbs for a garnish. With a sharp knife, cut the goat cheese crosswise into 4 or 6 equal pieces.

Spread the breadcrumbs on another plate and dredge the goat cheese pieces in the crumbs to coat them completely. Set aside. Put the baby greens in a salad bowl and set aside.

Prepare the Mustard Vinaigrette: Combine the mustard, herbs, vinegar, and a little salt and pepper in a small bowl. Whisking continually with a small wire whisk, slowly drizzle in the 1 1/2 C. of olive oil to form a smooth, creamy emulsion.

Taste the dressing and adjust the seasonings to taste with more salt and pepper and, if necessary, mustard and vinegar.

Add to the salad bowl enough of the vinaigrette to coat the leaves lightly. Toss thoroughly. Divide the leaves among 6 large salad plates or 4 dinner plates.

Heat a nonstick saute pan over medium-high heat until very hot. Add enough of olive oil to the pan to coat the bottom. Reduce the heat to medium.

Add the cheese slices and saute them until the breadcrumbs are deep golden brown, about 1 minute per side, turning them gently with a spatula.

Top each salad with a slice of hot goat cheese. Garnish the cheese with the reserved herbs. Serve immediately.

Yield: 6 servings as an appetizer, 4 servings as a main course.
Nutrition Facts
Calories:
56
kcal
|
Carbohydrates:
1
g
|
Protein:
1
g
|
Fat:
6
g
|
Saturated Fat:
1
g
|
Sodium:
51
mg
|
Potassium:
83
mg
|
Fiber:
1
g
|
Sugar:
1
g
|
Vitamin A:
1264
IU
|
Vitamin C:
20
mg
|
Calcium:
23
mg
|
Iron:
1
mg
Commonly Asked Questions
What can I substitute goat's cheese with?
If you can't get your hands on goat's cheese or are just not a big fan of the taste, you can substitute firm goat's cheese in this recipe with feta cheese. It is thought to be one of the best substitutes and gives you the same texture you would find in firm goat's cheese.
What is a good substitute for sherry vinegar?
Other than red wine vinegar, you can also opt to substitute sherry with apple cider vinegar. It gives you those same sour flavors that you look for in sherry or red wine vinegar.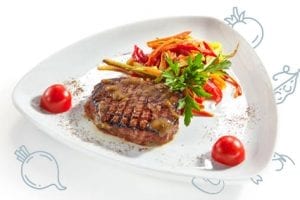 Conclusion
With this recipe, you've got no excuse for packing on those winter pounds. Warm salads can be just as satisfying as a stew and depending on your favorite stew, it is most likely much lower in calories.