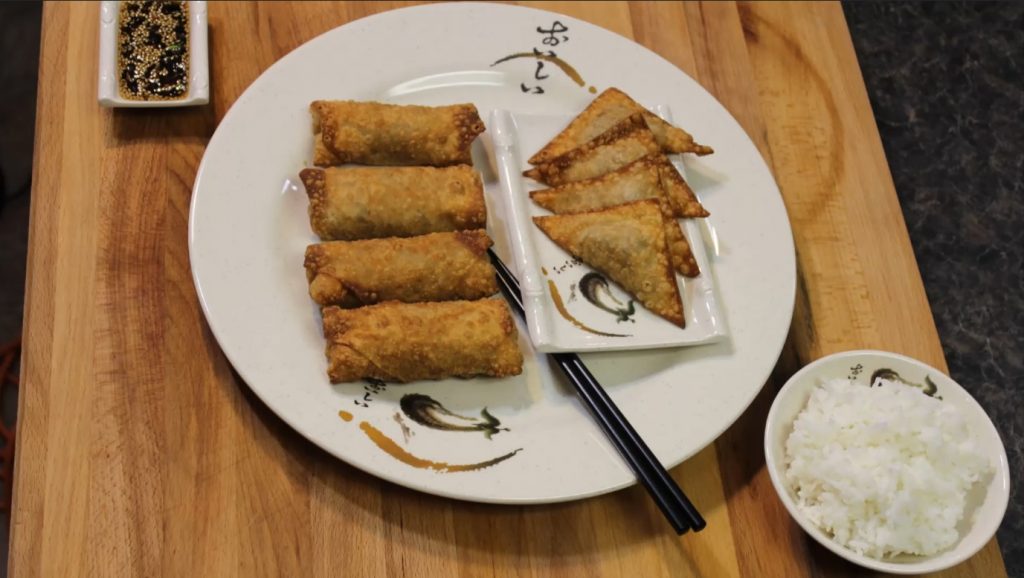 Yaki Mandu Recipe
Served with a flavorful dipping sauce, enjoy fried Korean dumplings with this yaki mandu recipe, made with ground beef, carrots, and cabbage.
Ingredients
1

lb

ground beef

1½

cups

vegetable oil,

for frying

½

cup

green onions,

finely chopped

½

cup

cabbage,

finely chopped

½

cup

carrot,

finely chopped

½

cup

garlic,

minced

4

tsp

sesame oil,

divided

1

tbsp

sesame seeds,

toasted, plus additional 1 tsp for sauce

½

tsp

monosodium glutamate,

such as Ac'cent®

salt and ground black pepper,

to taste

2

eggs

16

oz

wonton wrappers,

(1 package)

3

tbsp

soy sauce

2

tsp

rice wine vinegar
Instructions
Heat a large skillet over medium-high heat. Cook and stir beef in the hot skillet for 5 to 7 minutes until browned and crumbly; drain and discard grease.

Heat vegetable oil in a separate skillet over medium heat.

Mix green onions, cabbage, carrot, garlic, 1 tablespoon of sesame oil, 1 tablespoon of sesame seeds, monosodium glutamate, salt, and pepper into ground beef mixture; cook and stir for 5 to 10 minutes until liquid is evaporated and vegetables are tender. Transfer beef mixture to a bowl and mix in 1 egg.

Crack the remaining egg into a bowl and beat well.

Hold 1 wonton wrapper in the palm of the hand and brush a thin layer of beaten egg on 1 edge. Scoop about 1 teaspoon of beef mixture into the center of the wrapper. Fold wrapper in half, corner to corner, to make a triangle and pinch the edges shut, crimping with the fingers to make a seal. Press the air out by cupping the fingers over the dumpling in the palm and pressing lightly.

Fry wontons in the hot oil for 2 to 3 minutes until 1 side is browned. Flip and cook for 2 to 3 minutes until another side is browned. Transfer wontons to a paper towel-lined plate to drain using a slotted spoon.

Whisk soy sauce, rice wine vinegar, remaining sesame oil, and the remaining sesame seeds together in a bowl until dipping sauce is smooth. Serve alongside wontons.