Each bite of this fried fish is packed with a harmonious blend of flavors from a coating of herbs and spices and a delightful crackle that'll satisfy your fried food cravings! This tried-and-true fried flounder recipe is perfect if you're looking for a dish that's satisfying, healthy, and easy to make.
We classify this as an ideal lazy day entrée or snack. In a few simple steps, you'll be able to whip up a batch of these fried flounder fillets without breaking a sweat. Don't worry if you don't have flounder fillets on hand. Use any of your favorite whitefish as a substitute! Pair your fried fish with a crisp citrus drink like our mojito infused with ginger and mint to add a bit of zest to get the best meal experience.
What Does Fried Flounder Taste Like?
Flounder isn't rare by any means as it's a type of flatfish that's available all over the world. What makes this fish special is its mild flavor that even non-fish eaters could enjoy.
For this fried flounder recipe, we use a blend of herbs and spices to enhance the slightly sweet flavor of the fillets. We add equal parts paprika for a bit of heat and salt for a pinch of briny flavor. The slight sweetness from the onion powder should also come through to balance out the flavors. Aromatics come into play with equal parts of pepper, dried oregano, and thyme to mask the scent of the fish. This blend should carry notes of mint, as well as a pungent earthiness brought by the herbs.
Fried flounder is a great alternative to fried meat, too. It'll give you the same satisfaction of crispiness and flavor, without much of the bad cholesterol. Despite not being as nutrient-packed as other fishes, flounder is low in saturated fat and it has omega-3 which is beneficial to your heart. It also helps that our recipe only calls for pan-frying, not deep-frying. Studies have shown that deep-frying fish causes it to lose most of its nutrients.
Tips on How to Cook Flounder
Fish is a delicate ingredient to work with, and flounder is even more so. If you don't handle this flatfish properly, you might end up with mushy fish flakes instead of the ideal crispy fish fillets. Steer clear of this fishy disaster with our tips below:
Thaw the flounder properly
It's always a good idea to thaw out any frozen ingredient before cooking just like our flounder. Flounder can be very mushy if it's cooked directly out of the freezer. The fish may also not be able to turn crispy if it's seeping with water. We suggest allowing the fillets to sit at room temperature for a while until they are completely unfrozen before coating with seasoning and flour. You might also want to pat the fillets dry with a paper towel or clean kitchen towel to make sure that you achieve that crunchy golden-brown exterior.
Don't Overcrowd The Pan
It can be tempting to fry all of your fillets at once thinking that it would be quicker, but overcrowding your pan is never a good idea. Having too many fillets cooking at once could lower the temperature of your oil. Not only would it take more time, but your fish will also absorb more oil.
Fried Flounder Dip Options
While fried fish is great by itself, having your favorite dip on the side won't hurt. In fact, it could make for a more pleasurable dining experience. Your crispy fish fillets could benefit from a smothering of creamy sauces.
Probably the most obvious dipping choice for fried fish is tartar sauce. It's made of a combination of mayonnaise, pickles, pickle juice, and onion. A dab of this creamy and tangy concoction should balance out a piece of your savory fish fillets.
If you love the taste of garlic, you'll surely enjoy dipping your fried flounder into an aioli dipping sauce. It'll still give you that creamy satisfaction but compared to tartar sauce, aioli is less tangy and it's more pungent and spicy because of its garlic component.
If you'd rather not have a sauce with a creamy consistency, make a pesto dip instead. Smear this sauce onto your fried flounder fillets for a more aromatic and herbaceous flavor explosion.
Side Dishes For Fried Flounder
Nothing beats a pairing of fried fish fillets with a side of warm crispy potatoes. We recommend having your fried flounder with baked french fries. This combination should give you that classic fish and chips feel.
For more flavor bursts, you can also add our rich cabbage slaw on the side. The creaminess and slight sweetness of the slaw should complement the saltiness of the pan fried flounder and baked potato fries.
How To Make Pan-Fried Flounder
This pan fried flounder is crispy and packed with flavor, satisfying for fish and non-fish lovers alike!
Ingredients
2

lb

flounder ,

fillets

½

tbsp

paprika

½

tbsp

kosher salt

¼

tbsp

black pepper,

freshly ground

¼

tbsp

onion powder

¼

tbsp

dried oregano

¼

tbsp

dried thyme

½

cup

all-purpose flour

2

tbsp

extra virgin oil
Instructions
Pat the fish fillets dry.

Season fillets with paprika, salt, ground black pepper, onion powder, dried oregano, and dried thyme.

Coat the fillets with flour.

Warm oil in a large skillet over medium heat.

Add fish to the pan and cook for 4 minutes on each side or until flaky and well browned.

Serve warm and enjoy.
Recipe Notes
Allow the flounder fillets to defrost completely before you pat it dry and start cooking. This will lessen the oil splatters when you start frying it.
Nutrition
Calcium:

41mg

Calories:

188kcal

Carbohydrates:

9g

Cholesterol:

68mg

Fat:

8g

Fiber:

1g

Iron:

1mg

Potassium:

265mg

Protein:

20g

Saturated Fat:

1g

Sodium:

1030mg

Sugar:

1g

Trans Fat:

1g

Vitamin A:

83IU

Vitamin C:

1mg
Nutrition Disclaimer
Commonly Asked Questions
How do I store fried fish?
Store the fish fillets in a container and place them inside the fridge. This is the best option if you plan on using the fish in 3 days' time. Generally, cooked fish stays good in the fridge for 2 to 3 days. If not, you can put the fish in the freezer. This method should keep your fish good for about a month.
How do I reheat fried fish?
You can reheat it either in the oven or on the stovetop. For the oven method, place the fried fish fillets on a baking tray and cook it in the oven that has been preheated at 350 degrees F. Leave it in the oven for 10 to 15 minutes. For the stove option, you should use a skillet that's been heated on high. Add some oil and fry the fish on the skillet, and allow it to cook for 2 to 3 minutes. You should check for the internal temperature of the fish for both methods. It's ready if it reaches 145 degrees F.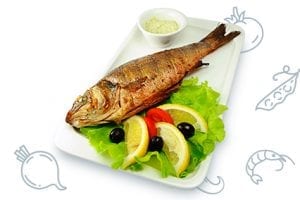 Conclusion
Whether you love or hate the taste of fish, this pan fried flounder recipe should be up your alley. Get the healthy nutrients of fish with just a tinge of fishy flavor and a burst of flavor from the herbs and spices.
Related Pan-Fry & Skillet Recipes