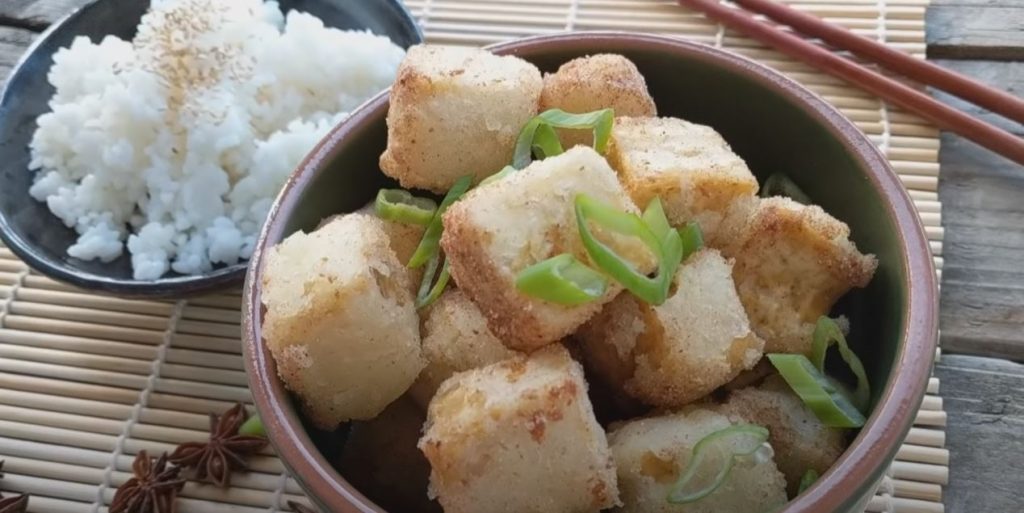 Five Spice Tofu with Sesame Noodles Recipe
How To Make Five Spice Tofu with Sesame Noodles
Sesame noodles are already good on their own, but this recipe takes them up a notch by serving them with five-spice tofu for a flavor-packed dish.
Ingredients
For Five Spice Tofu:
For Toppings:
For Sesame Noodles:
Instructions
Slice the block of tofu into ½-inch slabs.  Lay some paper towels or a clean tea towel on a flat surface, and place the slabs side by side on top of the paper towels.
Cover with another layer of paper towels, then place a cutting board on top of the tofu, and stack a bunch of heavy cans or pots or whatever can be safely balanced on the cutting board.
Let the tofu drain for at least 15 to 30 minutes.
Whisk together the hoisin, rice vinegar and five spice powder until combined.  Set aside.
Sesame Noodles:
Cook pasta al dente according to package instructions in a large stockpot of generously-salted water
Meanwhile, as the pasta is cooking, whisk together the soy sauce, rice vinegar, sesame oil, ground ginger, chili garlic sauce, garlic powder and black pepper together in a bowl until combined.
Once the pasta is ready, drain it. Then immediately toss the pasta with the sauce and green onions until combined.
Remove the paper towels and slice the tofu into ½-inch cubes.  Heat the oil in a large non-stick sauté pan over medium-high heat.
Add the tofu and sauté for 8 to 10 minutes, flipping and tossing the tofu every 2 or so minutes, until it is crispy and browned.  Remove pan from heat, add hoisin sauce, and toss until combined.
 Serve the sesame noodles topped with the tofu, sprinkled with toasted sesame seeds and thinly-sliced green onions for garnish.  Enjoy!!
Nutrition
Monounsaturated Fat: 

4.71g
Polyunsaturated Fat: 

3.14g
Topics: