The corn dog is perfect for picnics, weekend snacks, and parties. A trip to the park is not complete without having some juicy hot dog on a stick. With this corn dog recipe from Hot Dog on A Stick, you no longer have to go out to satisfy your cravings for corn dogs.
Follow these easy steps and you can now have the flavorful and filling snack at the comfort of your own home. This corn dog recipe will be a piece of cake once you figure out the steps. In time to come, you can even take on different versions of this summer classic! Give it a cheesy twist by adding some cheese or go for different substitutes to your ingredients for different flavors and textures. 

Tip: For more great taste, pile a lot of ketchup and mustard on top. Mayonnaise and Thousand Island dressing works just as well!
Top it off with a condiment of your choice, serve it with juice or soda, and there you have it. A perfect companion to home movie marathons and house parties! Pair it with some Buffalo Wings and Homemade Chips for the ultimate party indulgence. 
Copycat Hot Dog On A Stick Corn Dog Recipe
Ingredients
3

cups

Pancake mix

1

cup

yellow cornmeal

1

whole egg

beaten

10

oz

soda water

cold

4

pieces

hot dogs

jumbo

Canola oil

for frying, with extra if needed
Instructions
Combine flour and cornmeal into your large mixing bowl. Stir to combine.

Gradually add your beaten eggs and water, until it forms a smooth batter.

Transfer the batter in a chilled area, cover it, and allow it to rest for at least 1 hour.

Heat about three inches of canola oil in a deep saucepan to about 375 degrees F.

While your oil is warming to frying temperature, begin skewering your hot dogs with skewer sticks. Insert sticks about ⅔ of the way into each hotdog.

Get a tall glass and pour in your batter. This makes it easier to coat your hot dogs.

Dunk each hot dog into the batter and then carefully drop each into the hot oil. Allow the batter to coat the entire hotdogs and drip any excess batter.

Let cook for about two to three minutes or until the outside is a deep golden brown color.

Repeat this process for the remaining hot dogs.

Use your tong to get your hot dogs off the deep saucepan. Make sure to strain out the remaining oils before serving.

Serve warm with ketchup and mustard dipping sauces.
Commonly Asked Questions
How do you get the batter to stick to the hot dog?
If there is an instance that you're having trouble sticking your batter onto your hot dogs, simply dust a bit of flour all over your hot dogs. This trick allows the batter to stick so long as you give it a good mix. You're then ready to fry it into your crunchy snacker. 
What kind of sausages does Hot Dog on a Stick use?
It can depend on your preference: instead of a Frankfurter, you can use Kielbasa or a Hungarian sausage.  Commonly used meats are beef and turkey which you can choose based on your preference. Feel free to experiment with this recipe on other sausages once you get the hang of making it!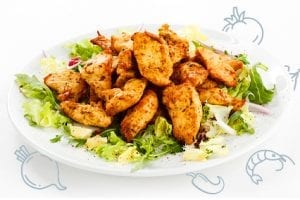 Conclusion
There you have it, the copycat hot dog on a stick recipe. We told you it's going to be easy. Whether or not you are an amateur or an expert in cooking, you can make this undoubtedly scrumptious snack.