Lusciously refreshing and decadent, this chocolate milkshake is a dream for every chocoholic. The marriage of chocolate ice cream, chocolate milk, and chocolate sauce makes this cooling drink a medley of chocolatey goodness. Enjoy it with a serving of french fries on the side for the perfect diner-inspired combo!
This sweet beverage is totally satisfying, you won't expect how simple it is to whip up. Simply toss the ingredients into the blender and top the finished drink with chocolate shavings. As if all that isn't incredible enough, this milkshake recipe is also ready in just 5 minutes. We promise that this will be the best and easiest chocolate milkshake recipe you will ever try.
Tips for Making Chocolate Milkshake
It's no doubt that a glass of milkshake makes the warm afternoons more bearable. That said, here are the best tips on how to make a chocolate milkshake with ice cream so that it comes out thick, creamy, and perfect every single time.
Chill the glass first

. Put the glass in the freezer for about 30 minutes before pouring in the milkshake. If the glass is chilled, the beverage will stay nice and cold much longer. 

Let the ice cream sit out for a few minutes before blending.

Before adding the ice cream into the blender, thaw it first for around ten minutes to soften it a bit. We highly suggest not skipping this step, as softened ice cream is easier to blend! It helps make a deliciously thick milkshake. 

Use fresh and good-quality ingredients.

For a truly decadent taste, make use of good-quality ice cream that's perfectly smooth and soft. Also, a high-quality chocolate syrup is sure to give your drink a rich chocolate flavor. 

Don't use ice for your milkshake.

To achieve that luscious smoothness, skip the ice. Adding ice to the milkshake will only make it watery. But feel free to toss in a handful of ice cubes if you're after icy

milkshakes

.

Rim the glass with colored sugar or sprinkles.

Make your

homemade milkshake

more fun and vibrant by rimming the glass with colorful elements! To make sure that sprinkles, sugar, and other add-ons stick to your glass, dip its mouth in milk first.

Get creative with the toppings.

Not a fan of a colorful rim? A milkshake crowned with whipped cream is always a classic! Mini marshmallows, nuts, graham crackers, and perhaps even a big scoop of ice cream are delightful milkshake toppers, too.

Customize the recipe to make a vegan chocolate milkshake

. Simply blend frozen bananas, non-dairy milk (almond milk, rice milk, or coconut milk), cocoa powder, and vegan ice cream. There are also approximately 400 to 500 calories in a regular chocolate shake, whereas the vegan version usually contains 300 or less. So, if you're trying to reduce your calorie intake, make yourself a glass of vegan chocolate shake instead!
Chocolate Milkshake Variations You'll Love
If you're into experimenting and trying different flavors out, then you're in luck! Here are some chocolate milkshake recipes that will surely delight your taste buds:
Cocoa Milkshake

– Enjoy a glass of this chocolate milkshake

with cocoa powder

on a warm afternoon. With the four kinds of chocolate, you can only imagine how rich and decadent this cocoa shake is!

Strawberry Banana Chocolate Milkshake – Imagine eating chocolate-covered strawberries in milkshake form. Coupled with an added creaminess from the banana, this is a must-try chocolate, strawberry, and banana milkshake!
Oreo Milkshake

–

This recipe combines two of our favorite things: vanilla ice cream and Oreo cookies. Just blend the cookies and ice cream with milk to make this delightful version.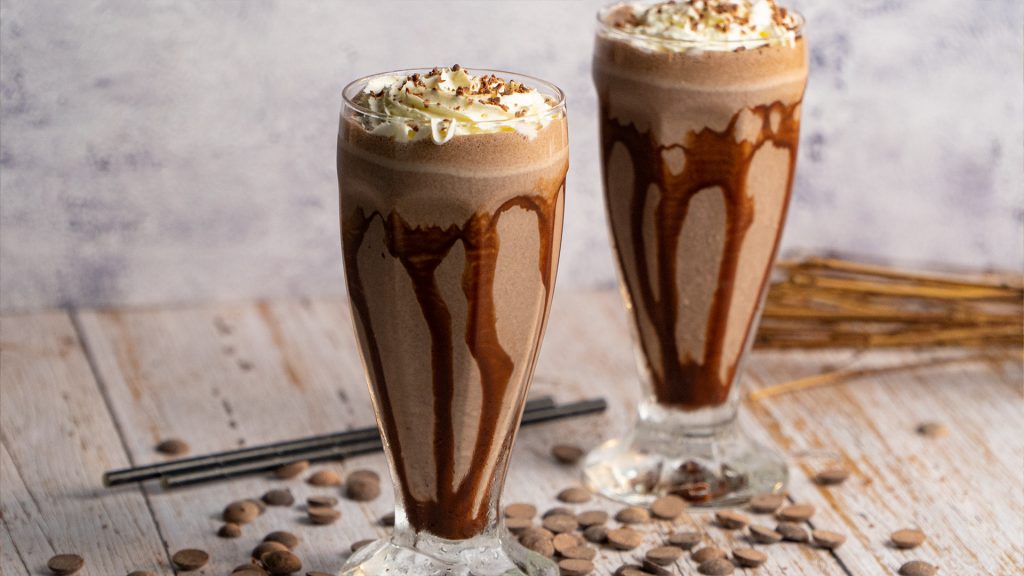 Chocolate Milkshake Recipe
How To Make Chocolate Milkshake
Indulge in this chocolate milkshake made with ice cream, milk, and chocolate sauce. Serve this up with burger and fries and recreate the whole retro diner experience.
Ingredients
1

cup

chocolate ice cream,

or vanilla ice cream

½

cup

whole milk,

or chocolate milk

4

tbsp

chocolate sauce

milk chocolate,

shaved, optional for topping
Instructions
Add all the ingredients except for the shaved milk chocolate to the blender.

Cover and blend until smooth and well-mixed.

Pour into chilled glasses and serve immediately with shaved chocolate if preferred. Enjoy!
Nutrition
Sugar:

16g

:

Calcium:

83mg

Calories:

156kcal

Carbohydrates:

23g

Cholesterol:

15mg

Fat:

6g

Fiber:

1g

Iron:

1mg

Monounsaturated Fat:

2g

Polyunsaturated Fat:

1g

Potassium:

182mg

Protein:

3g

Saturated Fat:

4g

Sodium:

102mg

Vitamin A:

187IU

Vitamin C:

1mg
Nutrition Disclaimer
Frequently Asked Questions
How can I make a chocolate milkshake without ice cream?
If you want to make a chocolate milkshake without ice cream, simply blend frozen bananas, cocoa powder, milk, your preferred sweetener, and plenty of ice cubes. The bananas will surely give this version that heavenly and creamy texture that milkshakes are known for. You can also replace ice cream with ice milk (iced milk) combined with pure milk and cocoa powder.
How can I make a chocolate milkshake without a blender?
To make a chocolate milkshake without a blender, just shake all the ingredients up in a mason jar. Another option is to mix everything in a bowl and whisk until they're well combined. Regardless of your desired method, be sure to shake or whisk until the mixture has a smooth and creamy consistency. Then, pour the mixture into a tall glass right away. Lastly, crown your homemade milkshake with a dollop of whipped cream or chocolate curls, and enjoy!
How can I make a thick chocolate milkshake?
To make a thick chocolate milkshake, you can replace the milk with heavy whipping cream. You can also add frozen avocados or bananas to easily make the blended mixture creamier without overpowering the taste. Mixing a simple cornstarch slurry with warmed milk can do the trick too. Feel free to use any of these techniques to make thick homemade milkshakes!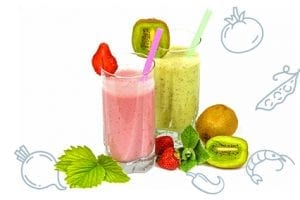 Conclusion
Relish the decadent sweetness of this chocolate milkshake on a scorching day. It consists of all delicious things: chocolate ice cream, chocolate milk, and chocolate syrup. Pile on the milk chocolate shavings, marshmallows, or any of your desired milkshake toppers, and enjoy!