You don't have to be a bartender to make this Mexican mule. Featured in our list of top tequila cocktails, this mule drink is a fairly easy cocktail to make with 5 as its magic number: 5 ingredients in 5 minutes. You make this aromatic drink by simply blending spicy ginger beer, lime juice, and tequila. The acidity comes from the bright lime with a surprise of jalapenos for a slight heat. Truly a harmony of flavors you shouldn't pass up!
Tips on Making Mexican Mule
This Mexican mule cocktail recipe is actually a tequila version of Moscow mule, which uses vodka. Spice up your gatherings by making this in your own home bar! Meanwhile, here are some helpful tips in making it:
Ginger beer or ginger ale? Ginger ale will actually work for this cocktail recipe but without the zing and tanginess of ginger beer. So it gives you a sweeter, softer version of this drink. On the other hand, your

drinks with

ginger beer

will turn out fizzy and bold with a full flavor as they should be! 
Mix the beer mule only right at the moment you will serve it.

It's best consumed fresh and

ice cold

because it's when it's the fizziest!
If you want it on the sweeter side, you can add a splash of brown sugar syrup.

It's just equal parts of sugar and hot water mixed together until all the sugar is dissolved.
Add other ingredients to make it more fun!

You can add some cranberry seeds, mandarin orange slices, or an olive, for instance, for something to chew on. Additionally, a splash of orange liqueur will boost its fruity flavor.
More Ginger Beer Cocktails to Try
Here are more spicy ginger beer drinks that you can serve at your next party:
Cranberry Mule

— A combination of fresh cranberries, vodka, lime, and rosemary, this sweet cocktail is a great choice to serve at a girls party.
Ginger Mule

— It's a citrusy and refreshing spiced ginger mule made with citrus vodka, parfait amour, ginger beer, and lime juice.
Ginger Shandies

— Made with Hoegaarden beer, lemon, and mint sprigs, shandies it's spicy, refreshing, and also good for gut health.
Ginger Beer Mojito

— Mint leaves, lime juice, rum, and ginger beer. Whip em up together in your cocktail shaker, and you have a nice light cocktail to enjoy.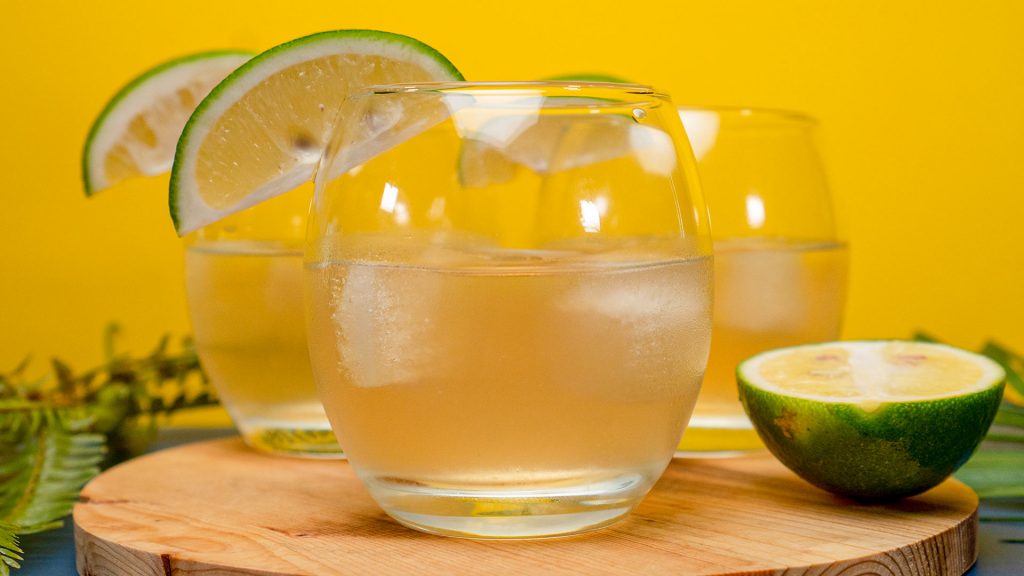 Mexican Mule (Tequila Mule) Recipe
How to Make Mexican Mule (Tequila Mule)
This 5-ingredient Mexican mule will change the way you drink Moscow mule. You get to enjoy a tangy flavor from the lime juice and a lot of ginger beer. In 5 minutes, you get to relax with a glass of Tequila mule cocktail!
Ingredients
3

oz

tequila,

(3 shots), preferably Blanco

6

oz

ginger beer,

(6 shots), or ale

1

oz

lime juice,

(1 shot)

ice cubes,

as needed
For Serving:
1

pc

lime wedge,

per serving
Instructions
Halfway fill 3 rock glasses with ice.

Pour 1 shot of tequila in each glass and divide the lime juice into ⅓ each.

Top it off with 2 shots of your ginger beer each. Stir to combine.

Garnish with a lime wedge each and knock back a drink of Tequila Mule!
Nutrition
Sugar:

5g

:

Calcium:

3mg

Calories:

87kcal

Carbohydrates:

6g

Fat:

1g

Fiber:

1g

Iron:

1mg

Polyunsaturated Fat:

1g

Potassium:

13mg

Protein:

1g

Sodium:

4mg

Vitamin A:

5IU

Vitamin C:

3mg
Nutrition Disclaimer
Frequently Asked Questions
Why are mule drinks in copper cups?
A lot of people usually serve mule drinks in copper mugs because it is believed that copper mugs keep drinks cold. Actually, this is not true. Copper mugs are great conductors of temperature, meaning they copy the temperature of whatever you put in them whether hot or cold. So, since copper mugs get cold easily, they give a unique cold sensation when you drink from them. Plus, they're cute!

What alcohol is in a Mexican mule?
It's tequila. While there are different variants of tequila available, which tequila to use for making Mexican mules is a matter of personal preference. Go for tequila blanco if you prefer a milder flavor. On the other hand, tequila reposado will give you a stronger, more pronounced flavor.

Is mule a girly drink?
Mule became a popular ladies drink in a lot of countries. It's considered a girly drink because it's light, sweet, and served in pretty cocktail glasses.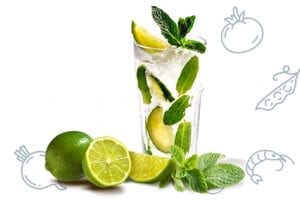 Conclusion
Now you don't have to go to the bar to enjoy good mixed drinks. Have fun at your weekend parties at home by making your own Mexican mule cocktail! It's fizzy, citrusy, and refreshing in every sip.