How To Make Eggless Pecan Pie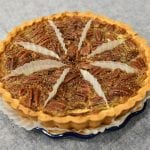 1 1/2 cup pecan pieces (or halves)
1/2 cup bread flour (sifted)
1/2 cup sugar
1 cup water
1/4 cup butter
1 tbsp dark molasses
1/4 cup condensed milk
1 tsp vanilla
2 tsp dark rum
1 pie shell (8 inches, baked)
Place pecan pieces or halves on cookie sheet and toast in a 375 degree oven about 15 minutes or until crisp and slightly browned.
Mix flour and 1/4 C. sugar together with fork until smooth. Bring water, butter, remaining 1/4 C. sugar and molasses to a boil in a saucepan. Add sugar and flour mixture and whisk vigorously.
Bring back to a boil over medium high heat and cook until thickened and clear, about 3 minutes.
When the filling is cooked, add the 1/4 C. condensed milk along with the vanilla flavoring. Add rum and nut pieces.
Stir together and pour this filling into the pie shell. Allow to cool and set before cutting.
How To Make Eggless Pecan Pie
Advertisement
Continue Reading Below
Ingredients
Crust:
2¼

oz

cake flour

2¼

oz

all purpose flour

2

tbsps

agave syrup

3

tbsps

vegetable oil

¼

tsp

salt
Filling:
2½

oz

roasted cashew nuts

¾

cup

any plant-based milk of your choice,

preferably coconut milk

3

tbsps

rum or bourbon

5

tbsps

syrup sweetener of your choice,

preferably agave syrup

4

tbsps

sugar substitute of your choice,

preferably erythritol

1¼

tbsps

cornstarch or tapioca starch

2

tsps

vanilla extract

3½

oz

pecan nuts
Pie assembly:
To serve:
Vanilla ice cream

Ground cinnamon to garnish
Instructions
Preheat your oven to 350 degrees Farenheit. Grease & line a baking tin, preferably square-shaped

Combine all your ingredients for the crust until evenly incorporated. Transfer to the lined baking tin. Press the dough slightly to stick into the cake tin.

For the filling, combine all ingredients (except for the pecan nuts) into a blender or food processor & puree until smooth.

Transfer pureed mixture into a saucepot, add your pecan nuts, & gently stir. Bring mixture to a simmer until thickened, roughly 5 minutes

Pour the hot thickened mixture into the cake tin. Gently press to spread out evenly.

With the remaining pecan nuts, arrange each neatly next to each other on top of the thickened mixture. Take your time with this, the better arranged the nuts are, the more presentable this will be.

Transfer to a preheated oven & bake at 350F for 30 minutes, or until a cake tester comes out clean

Transfer the cooked pie to a cooling rack & allow to cool down completely before slicing

Slice into your preferred portions. Place a scoop of ice cream on top & sprinkle with ground cinnamon. Serve
Advertisement
Continue Reading Below
Advertisement
Continue Reading Below
Advertisement
Continue Reading Below
Topics:
Advertisement
Continue Reading Below
Related Pies & Pastries Recipes
Advertisement
Continue Reading Below