You might have encountered countless drinks and desserts with orange marmalade which is often mistaken as orange jam. What we love about this all-around preserve is that you can use it in making sweet and savory dishes, from a marmalade pound cake to a glazed pork roast. Here's an easy recipe to help you ease your cravings. And who knows? Maybe you'll be inspired to make scrumptious recipes using this sweet fruit preserve.
Tips on Making Orange Marmalade
Our orange marmalade recipe is already very easy to make. But you can't have too many ways to bring the best flavors out of this simple orange spread. So here are a few tips that we'd like to share in making this recipe:
Seville oranges are best

used in making an English orange marmalade recipe. However, pick the kind of oranges depending on your preference. Aside from Seville, you can also use seedless and sweet oranges.

Cut your orange peels uniformly

so they will soften evenly. They need to be soft before adding to the sugar, which stops the softening process.

Soak the orange peels in water overnight

to soften the pith. This white lining under the skin of oranges will give you a perfect balance of bitter-sweet flavor, which is the standard of a good marmalade, especially when simmered slowly. The abundance of

pectin

in the pith is also what helps set the gooey consistency of your

homemade preserve

.

Adding more pectin is not necessary

. The seeds and orange pith already have tons of pectin. If you want to use another pectin substitute to avoid a runny texture for your spread, simply add more fruit peels, sugar, or cornstarch.

Let your marmalade set. Don't use it right away after cooking. It takes pectin a maximum of two days to sit and give your spread a clear and sticky consistency.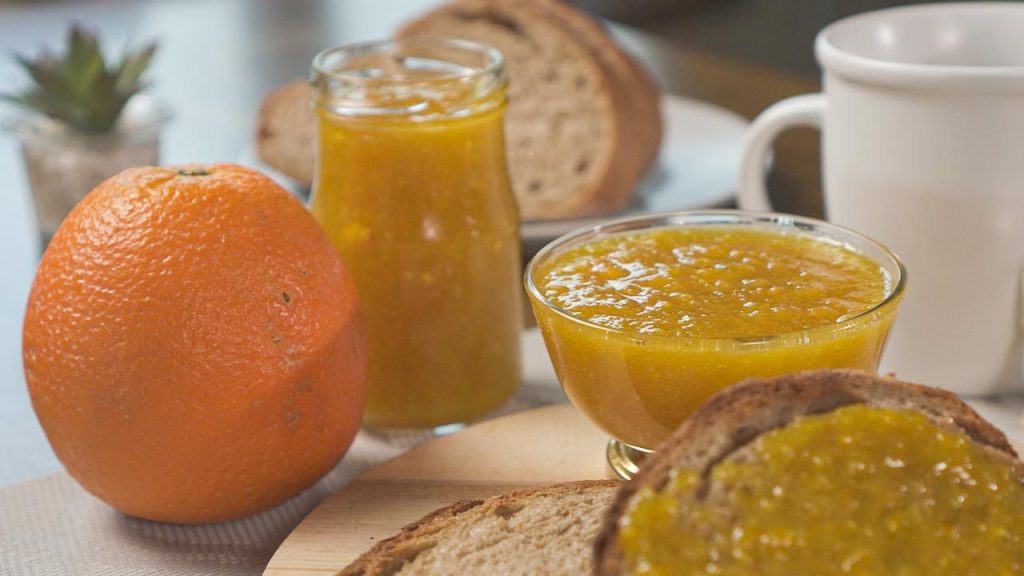 Easy Orange Marmalade Recipe
How To Make Easy Orange Marmalade
Get yourself a jar and fill it up with this sweet, tangy, and zesty orange marmalade, made with 100% orange preserves and sugar from peel to fruit! Enjoy pairing it with tons of flavorful dishes and desserts.
Ingredients
1

lb

oranges,

seedless, washed

2

lb

erythritol,

or any similar sugar substitutes

water,

as needed
Instructions
Slice the oranges into medium disks, then stack the orange portions and slice them further into fourths.

Place the orange slices into a stockpot, and add enough water to cover the oranges.

Bring the pot to a boil, and cover. Continue boiling for about 15 minutes, or until the oranges can easily be mashed with a fork.

Remove the cooker from the heat and add the sugar substitute. Stir it in until it melts.

Turn the heat back up and bring the contents to a boil for 5 minutes. Measure the temperature of the mixture. It should reach 212 degrees F.

Using a ladle or wide funnel, pour the contents into sterilized jars. Make sure that the tops of the jars are loosely screwed.

Wash the stock pot then line the bottom with a soaked towel.

Place the jars onto the rack or steamer basket, preferably. Make sure that the jars don't touch one another. Otherwise, you can also place the jars on top of the soaked towel.

Then, fill the stockpot with water to soak the jars. Afterward, bring it to a boil and cover. Once it does, turn the heat down to medium and allow the contents to cook for 10 minutes.

Lastly, turn off the heat and remove the lid. Lift the jars out and place them onto a clean towel for cooling. The jars will emit a popping sound as they do so. This means that the jar has been sealed correctly and can be stored outside of the fridge.

Feel free to use your spread to make your favorite sandwiches. Enjoy!
Recipe Notes
This recipe makes 2 to 3 jars that are ⅔ cup or 7 ounces each.
Nutrition
Sugar:

21g

:

Calcium:

91mg

Calories:

107kcal

Carbohydrates:

49g

Fat:

1g

Fiber:

5g

Iron:

1mg

Potassium:

411mg

Protein:

2g

Saturated Fat:

1g

Vitamin A:

510IU

Vitamin C:

121mg
Nutrition Disclaimer
Commonly Asked Questions
What is the difference between jam and marmalade?
Marmalades are usually citrus fruits boiled with water along with their peels or zest, using sugar as the sweetener. The favor is a balance of bitter and sweet. On the other hand, jams are fruits boiled in water and sugar. It solidifies because of the natural pectin that fruits produce.
How do you take the bitterness out of orange marmalade?
The thick white part beneath the orange peels is called pith and removing them before boiling the fruit and peels will neutralize the bitterness. This leaves you only the sweetest taste for your orange spread.
Does marmalade go bad?
It's a fruit preserve so it doesn't spoil instantly. You can keep an unopened jar of marmalade for one year if stored properly. But first, remember to let it cool before you put it in a jar. Once the jar is opened, your spread will only last for up to three months.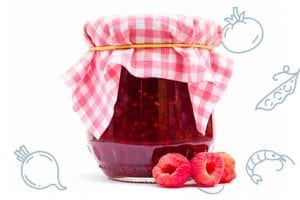 Conclusion
This easy orange marmalade will be an all-around star in your home. Incorporate this thick and sweet jam into almost all of your meals from breakfast sandwiches to your dinner steak and turn your home-cooked meals into something even more delicious.
Topics: