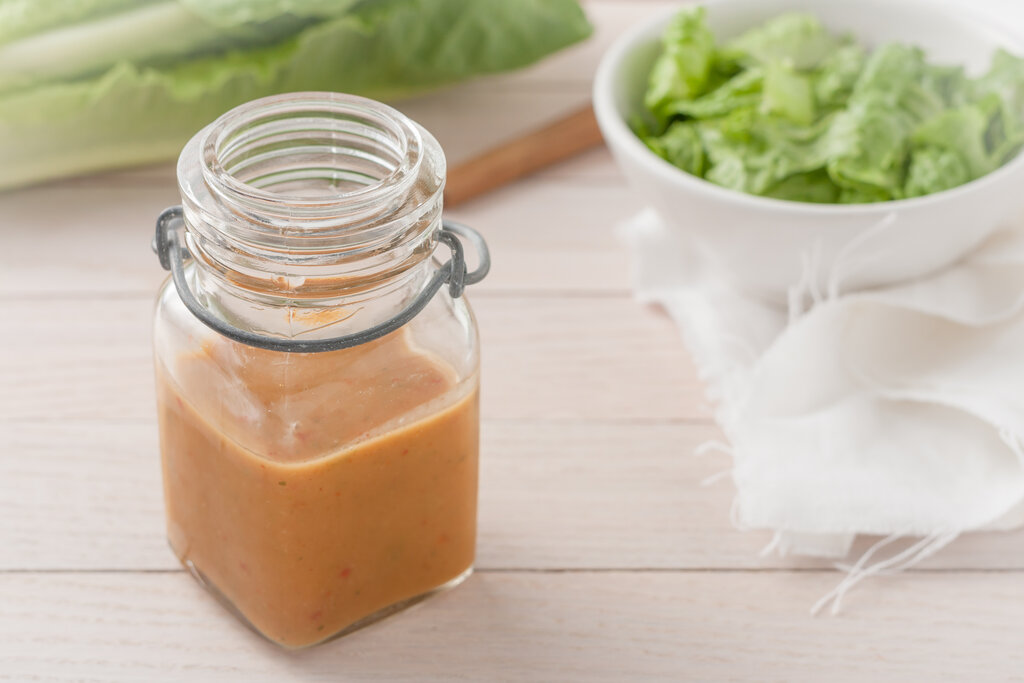 French Dressing Recipe
A green, leafy salad is much more appetizing when it's drenched in a delicious, sweet, and tangy dressing. I'm a bit picky when it comes to the rich flavor of my dressings. That's why I have a habit of making homemade salad dressings. Recently, I made French dressing which elevated the taste of my salads. It was also really easy to make since you don't need to cook or bake anything. Simply mix and store it properly to enjoy anytime.
I've noticed that homemade dressings have a more complex and distinct taste than store bought versions. That's why it's important to me that I get to experience this difference in taste, texture, and flavor. Lately, I've been pairing my salad recipes with French dressing. It's more of a cream-like dressing which is different from the oil-based texture of a French vinaigrette. Don't get the two dressings confused!
So, what is French dressing? Well, there are actually two kinds of French dressing recipes: , and the regular creamy French salad dressing. I personally prefer the regular kind since its flavor attaches more to the leafy greens. And since it has a creamier texture, it can also be used in sandwiches or as a dipping sauce for cheese tortilla chips (which I tried and it tasted wonderful).
Now, for my recipe: the French dressing ingredients contain simple pantry staple ingredients. I used a food processor to smoothly blend all of the ingredients. You can also use a blender, if you have one. This French dressing salad needs to have a creamy consistency so the ketchup ingredient is important. Some people would even add mayonnaise so it's extra creamy, but I prefer using ketchup instead. It has the best taste, and a more well-rounded flavor when blended with the white vinegar, celery seed, chili powder, dried mustard, onion powder, and paprika. After that, store it in an airtight container, and enjoy it anytime.
I usually pair a Mexican with french dressing. What's wonderful about this homemade French dressing is that its sweet and tangy taste is more suitable for a variety of Tex-Mex dishes. I also tried dipping nacho chips in it, and pouring it over a baked potato. It tasted really delicious. I've added it on sandwiches as well as a substitute for mayonnaise, and it made it extra flavorful.
How To Make How To Make French Dressing
Upgrade your salads, chips, or sandwiches with this flavorful homemade French dressing recipe made of pantry staple spices and powders.
Ingredients
1

cup

granulated sugar

⅔

cup

ketchup

½

cup

light olive oil

½

cup

white vinegar

½

tsp

celery seed

½

tsp

chili powder

½

tsp

dried mustard

½

tsp

onion powder

⅛

tsp

paprika

salt,

to taste
Instructions
In a food processor or blender, add sugar, ketchup, olive oil, white vinegar, celery seed, chili powder, dried mustard, onion powder, paprika, and salt to taste.

Process until smooth, and store in an airtight container. Place in the refrigerator for up to 4 days.
Nutrition
Calories: 

120.35kcal

Fat: 

6.79g

Saturated Fat: 

0.94g

Monounsaturated Fat: 

4.94g

Polyunsaturated Fat: 

0.73g

Carbohydrates: 

15.38g

Fiber: 

0.08g

Sugar: 

14.62g

Protein: 

0.14g

Sodium: 

93.69mg

Calcium: 

3.85mg

Potassium: 

32.24mg

Iron: 

0.13mg

Vitamin A: 

4.30µg

Vitamin C: 

0.44mg