It's not as popular as the juicy fried chicken, but chicken gizzard can be very delicious prepared the right way. This is especially true for this inexpensive but scrumptious Fried Chicken Gizzard Recipe!
Fried chicken gizzards are a popular dish from Southern cuisine. One important ingredient that's key to making tender gizzards is rich buttermilk. Using that to marinate the chicken parts give you a plateful of oh, so irresistible gizzards.
Luckily, this recipe is very easy to do and quite affordable, too. Like all Southern dishes, you can expect this dish to be perfectly deep-fried and seasoned with the best spices. So, get your pans and ingredients ready! Let's make a classic, fried chicken gizzard meal.
What is Chicken Gizzard?
What are gizzards, exactly? Chicken gizzards are tough muscled organs found in a chicken's digestive tract. They are very similar to stomachs in terms of looks, location, and function. They look like a second stomach and can be found at the end of the digestive tract. And like the stomach, gizzards also help birds process the food it eats.
They may not be the most sought-out after part of the chicken. However, various cultures and cuisines actually use these chicken organs in all kinds of delicious dishes. Some gumbo recipes use them to add texture and flavor to the dish. In fact, you can always add yummy gizzards to your Chicken and Seafood Gumbo for a meatier and tastier stew!
But you won't find them in just Southern cuisine. Gizzards are also served in parts of Africa and Southeast Asia as street food and added in Mexican soup. Even Europeans use this tasty chicken muscle in their salads and pies.
What Do Chicken Gizzards Taste Like?
Gizzards have a unique taste, similar to dark chicken meat found in the chicken legs. Like them, gizzards have a rich, deep flavor to it. However, it's the texture that really defines this muscle. It has a very chewy and tough texture, almost rubbery to an extent. However, if prepared and cooked right, the muscles can loosen up and become a lot more tender.
How to Cook Fried Chicken Gizzard
Before cooking your meal, don't forget to clean the gizzards well to make sure it's clear of any debris. Head on down to our Commonly Asked Questions (CAQ) section for instructions on how to clean your gizzards.
After cleaning your gizzards, it's time to deep fry them for an irresistible crunch! Usually, the best way to cook gizzards and make them tender is slowly and under low heat. This lets the tissues loosen up and become a lot softer. Meanwhile, cooking them in high heat does the opposite, giving you a rubbery, leather-like texture.
So, won't deep-frying the gizzards make them tough to chew? Luckily, we have a secret ingredient that solves this issue for us, and it's the amazing buttermilk! As mentioned, cooking gizzards slowly and on low heat is the best way to loosen up its tissues. However, marinating them in a buttermilk bath does essentially the same thing. That's because the buttermilk's acidity helps break down the tough muscles of the gizzard. This lets the muscled organs become tender even before they hit the pan.
Since this recipe is a Southern dish, expect to use all kinds of different spices to add flavor to your meal. If you're not one for heat, you can easily adjust the amount of spices and hot sauce used. Serve them with another Southern classic like Easy Buttermilk Cornbread and you're all set!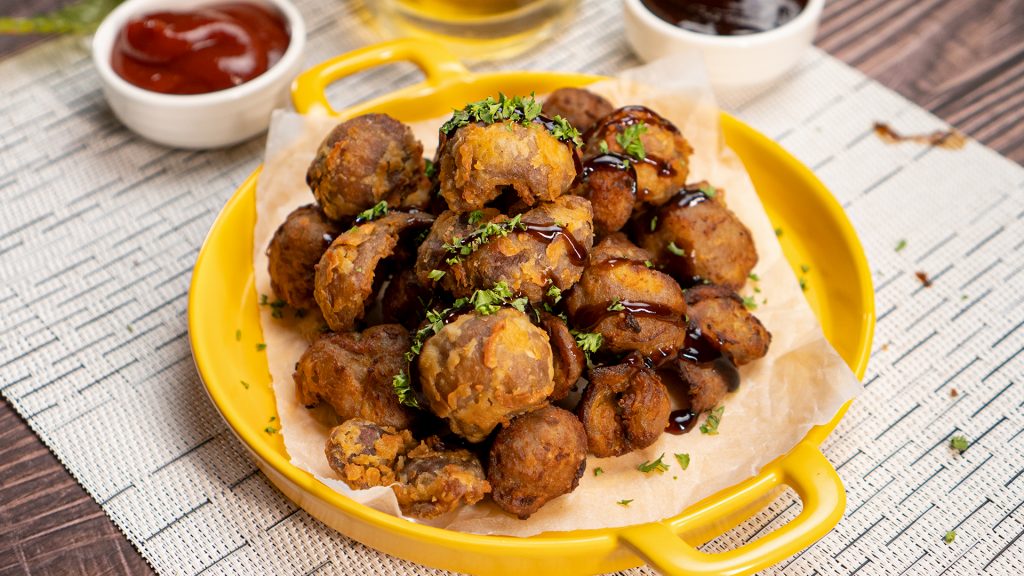 Fried Chicken Gizzard Recipe
How To Make Fried Chicken Gizzard
Chew on incredibly tasty and tender golden-brown chicken gizzards that are seasoned and deep-fried to perfection. Cook gizzards the right way with this amazing recipe!
Ingredients
1

lb

chicken gizzards,

cooked

2

cups

buttermilk

2

tsp

hot sauce

1¼

cup

all-purpose flour,

or self-rising flour

½

tsp

cayenne pepper

½

tsp

paprika

½

tsp

Italian herb seasoning

5

cups

vegetable oil,

(up to 8 cups), for frying

garilc salt,

to taste

ground black pepper,

to taste
For Serving:
¼

cup

tomato sauce

¼

cup

teriyaki sauce
For Garnish:
Instructions
In a mixing bowl, season the chicken gizzards generously with garlic salt and pepper.

Add the buttermilk and hot sauce. Toss to combine and set aside.

In a large bowl, add the flour, cayenne pepper, paprika, and Italian seasoning. Whisk until combined.

Preheat your oil ready for frying. Prepare also a plate lined with paper towels.

Dredge the chicken gizzards in the flour mixture, then deep fry the gizzards in batches until golden brown, then drain excess oil on your lined plate.

Serve crunchy fried chicken gizzard to loved ones together with any dipping sauce. Garnish with parsley.
Recipe Notes
Do not remove or rinse off the buttermilk from the chicken gizzards before dipping them in the flour-and-seasoning mixture, as this gives the gizzards more flavor.

Alternative Gizzard Tenderizing Method:

Aside from the buttermilk bath, there's another way you can soften the gizzards. Boil them in a 1-inch tall water mixture of 2 celery stalks, chopped onions, 2 bay leaves, and salt. After boiling, reduce the heat to low and simmer for 1½ hours to 2 hours, until they turn tender.
Nutrition
Sugar:

7g

:

Calcium:

133mg

Calories:

306kcal

Carbohydrates:

33g

Cholesterol:

225mg

Fat:

8g

Fiber:

1g

Iron:

7mg

Monounsaturated Fat:

2g

Polyunsaturated Fat:

2g

Potassium:

448mg

Protein:

24g

Saturated Fat:

3g

Sodium:

823mg

Vitamin A:

9018IU

Vitamin C:

15mg
Nutrition Disclaimer
Frequently Asked Questions
How do you clean a chicken gizzard?
If the gizzards are still covered with blood and residue rinse them off with water first. Then, cut the gizzard in half, lengthwise. Once you've cut it, you will see some debris inside. Wash it away by placing it under running water. After doing this can you now proceed to trimming the excess fat from the gizzard.
How long do raw or uncooked gizzards last?
Your uncooked gizzards should be used 1 to 2 days after being bought and stored in the refrigerator. When stored in the freezer, they're good for an indefinite amount of time, but using them within 4 months is best. To thaw, remove from the freezer and place in the refrigerator for up to 24 hours.
How to properly store gizzards?
Make sure the gizzards are placed in a disposable plastic bag so any leakage won't affect other food in the refrigerator.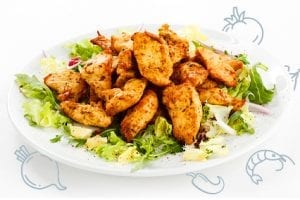 Conclusion
These fried chicken gizzards are a classic Southern dish that tastes amazingly tender when marinated in a buttermilk bath. And when seasoned with spices and hot sauce, they are bound to blow your mind away with a superbly flavorsome kick. Make a plateful of these delicious chicken organs now with this easy recipe.