Summer is here, yet another reason to fill up your fridge with fruits and refreshing booze. Stock up your fridge with vodka watermelon bites! Who wouldn't want to take fruity bites of their favorite drink? It's been a while since the hype of vodka jello shots. So here's a breath of fresh air from the refreshing watermelon fruit and your go-to liquor!
Tips on Making Vodka-Infused Watermelon
Vodka watermelon is tricky to pull off. You either find it hard to combine the two together, or the vodka somehow makes the watermelon slushy. Do not get disappointed with the latter result, as it's how actually it should be. Here are some tips to pull off a revolutionary vodka that doesn't need a cocktail shaker: 
Use a seedless and big watermelon.

This ensures that the fruit is large enough to absorb the amount of booze you'll be pouring in. Also, seedless watermelon makes it easy enough to eat it without having to spit out the seeds.

Use a long-neck bottle

because you'll be tipping your bottle over the watermelon, waiting for the vodka to seep through. A long-neck bottle makes a perfectly balanced position without worrying about it falling off.

Try pouring some triple sec

for additional tropical flavors. In addition to the sweetness of the watermelon, triple sec will give you a zesty taste!

Make enough holes

as pathways for the vodka. This ensures that the liquor seeps into the fruit properly.  

Go for cube cuts

as it's the easiest way to cut a watermelon. Also, just the right size to pop it in easily to our mouths.

Chill the watermelon before serving to ensure supreme flavor in your slices.
This vodka watermelon is perfect for your next summer pool parties. This unusual and fun way to have booze and fruit might become your new favorite way to have vodka!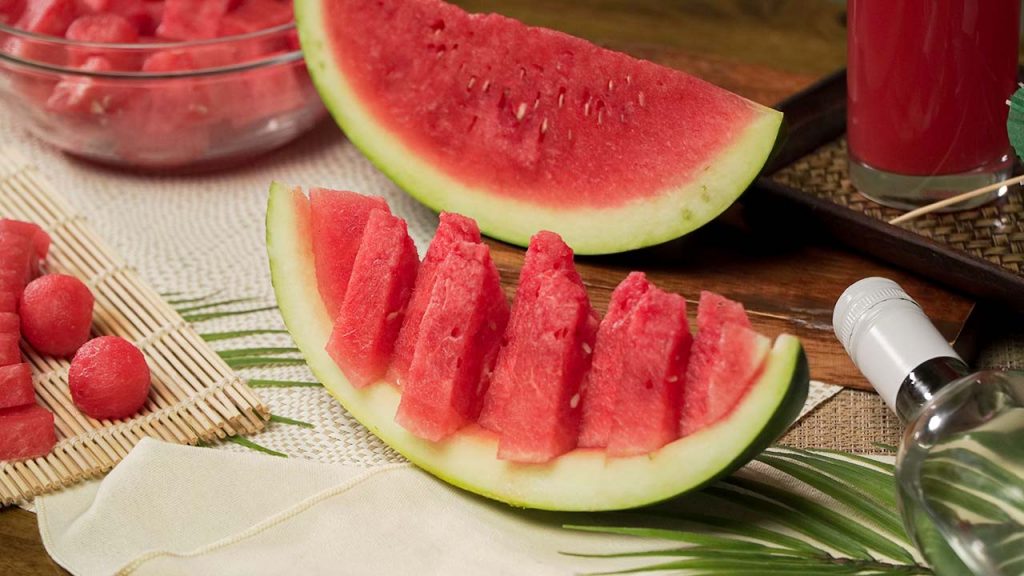 Easy Vodka-Infused Watermelon Recipe
How To Make Easy Vodka-Infused Watermelon
Have a bite of chilled vodka watermelon in the glowering summer heat. With fruit and vodka in a single snack, you get a delicious alcoholic treat in just a jiff!
Ingredients
1

whole watermelon,

seedless

25.4

oz

vodka,

(1 bottle)
Instructions
Place your watermelon on a sturdy surface, preferably if it has a flatter side.

Grab the vodka cap and place it atop the middle of the watermelon. Trace the size of the vodka spout, preferably using a marker.

Use a small, sharp knife and cut a hole about an inch or so deep. Cut no wider than you traced.

Using a long knife or a barbecue skewer, poke as many holes as you can in the hole you just cut. This is to make sure that the vodka seeps into the fruit.

Test if the vodka is actually going inside the watermelon, fill a funnel with vodka, and wait until it seeps into the watermelon. If the funnel is not emptied, you have to poke more holes into it until it's emptied.

Once done, uncap the vodka, and at a slight angle at first, slowly insert the bottle into the hole, making certain it will fit tightly.

Then level the melon and push the bottle down so that the neck is embedded enough to stay upright on its own.

The vodka will slowly drain into the watermelon.

Refrigerate the infused watermelon for at least 8 hours overnight or up to 24 hours before serving for prime flavor.

You can serve it in slices, cubes, or simply cut off the top and stick straws into the fruit. Enjoy!
Recipe Notes
The soaking process could take twenty minutes, or even several hours, depending on the density of your melon.

Use a towel to prevent the vodka from spilling as you turn it upright.
Nutrition
Sugar:

28g

:

Calcium:

32mg

Calories:

301kcal

Carbohydrates:

34g

Fat:

1g

Fiber:

2g

Iron:

1mg

Potassium:

505mg

Protein:

3g

Saturated Fat:

1g

Sodium:

5mg

Vitamin A:

2561IU

Vitamin C:

36mg
Nutrition Disclaimer
Commonly Asked Questions
Does vodka watermelon get you drunk?
If you had too much then, yes. It still contains the alcohol content of the liquor. Eating vodka-infused watermelon is like drinking a watermelon cocktail.
Does vodka go bad?
The probability of vodka going bad is slim and, worst-case scenario, it will just lose its taste and alcohol content. An unopened vodka that has been on your shelf for 30 years will still taste the same as the day you bought it. However, if you're storing opened vodka, you might want to watch out for bad odor, off-taste, or a strange appearance.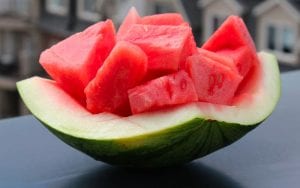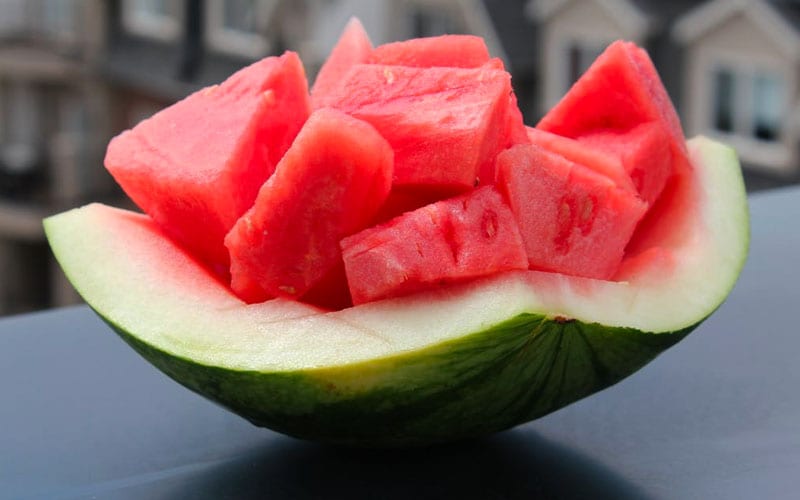 Conclusion
This vodka watermelon recipe is best for any adult looking for a treat with a slight kickback. Each bite comes with sweet and juicy watermelon flavors as the citrusy notes of the vodka melt in your mouth and gives this treat a punch. Go ahead and try it out!