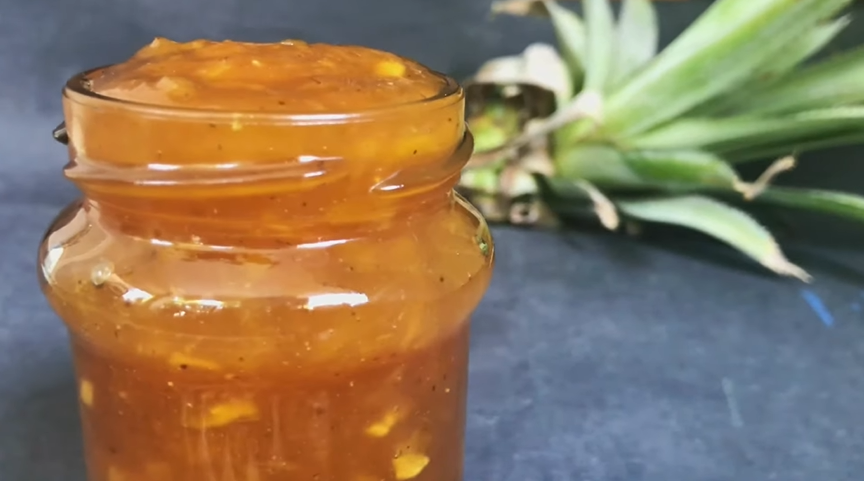 Pineapple-Apple Marmalade Jam Recipe
How To Make Pineapple-Apple Marmalade Jam
Sweet pineapples and slightly tart apples make a great combo in this marmalade jam recipe. The best part is you only need 5 ingredients to make it at home.
Ingredients
1

pineapple,

cored and finely chopped

1

apple,

peeled, cored, and chopped

1¾

cups

white sugar

½

cup

orange juice

1

tsp

lemon zest
Instructions
Combine pineapple, apple, sugar, orange juice, and lemon zest in a pot. Bring to a boil. Reduce heat to medium and cook for 1 to 1½ hours, stirring frequently, until pineapple turns translucent.

Place a few small plates in the freezer.

Inspect 2 or 3 small Mason jars for cracks, discarding any defective ones. Sterilize jars in a pot of boiling water for 10 minutes and leave in hot water until ready for use. Wash new, unused lids and rings in warm soapy water.

Add a tablespoon of marmalade to a frozen plate. Freeze for 1 minute, remove, and nudge marmalade with your finger. If the mixture stays nudged, it is ready to be canned. If it slides back, continue cooking and check for readiness every minute.

Pack marmalade into hot, sterilized jars, filling to within ½ to ¼ inch of the top. Run a clean knife or thin spatula around the insides of the jars to remove any air bubbles.

Wipe rims with a moist paper towel to remove any residue. Top with lids and screw rings on tightly.

Place a rack in the bottom of a large stockpot and fill halfway with water. Bring to a boil and lower jars 2 inches apart into the boiling water using a holder.

Pour in more boiling water to cover jars by at least 1 inch. Bring to a rolling boil, cover, and process for 10 minutes.

Remove the jars from the stockpot and let rest, several inches apart, for 12 to 24 hours. Press the center of each lid with a finger to ensure the lid does not move up or down. Remove the rings for storage and store in a cool, dark area.
Nutrition
Calories: 

326.40kcal

Fat: 

0.27g

Saturated Fat: 

0.03g

Monounsaturated Fat: 

0.03g

Polyunsaturated Fat: 

0.08g

Carbohydrates: 

84.50g

Fiber: 

2.92g

Sugar: 

77.98g

Protein: 

1.04g

Sodium: 

2.62mg

Calcium: 

24.73mg

Potassium: 

239.90mg

Iron: 

0.55mg

Vitamin A: 

7.51µg

Vitamin C: 

84.26mg