A slice of a decadent and deliciously sweet chocolate cake is a great way to cheer yourself up, especially if you're feeling down. Not only is it comforting but it is also a sinful dessert you won't regret eating after a delicious dinner or during an afternoon tea. This Chocolate Cake with Vanilla Sauce, for example, is a perfect snack any time of the day.
If you're worried about all the gluten, don't worry because you can still make a delicious chocolate cake that's free from it. We'll teach you how to make a gluten free chocolate cake that is easy to make, and full of chocolate goodness less the guilt.
What Is A Gluten Free Cake?
It's simply a cake without the ingredients that contain gluten. This is perfect for people who want to enjoy a slice of chocolate cake but can't tolerate gluten or those who follow a gluten free diet. This type of cake uses several alternatives to achieve similar results to glutinous cakes.
There are multiple substitutes you can use, but it can be a tricky process. It takes practice to make the best gluten free chocolate cake. Since you're removing the protein that binds the cake, you need to learn how you can replace gluten properly.
Most gluten free cakes use different gluten free flours, including almond flour, rice flour, and coconut flour, among others. These flours might alter the flavor of your cake so feel free to experiment until you find the right for your recipe. Some gluten free chocolate cakes, however, don't use any type of flour. Instead, you can use more eggs than regular chocolate cakes. Eggs contain a lot of protein that can help in binding gluten-free baked goods.
How To Make Gluten Free Chocolate Cake
Making this kind of cake may seem intimidating, especially if you haven't done it before. It's essential to follow the recipe as is to achieve the right result. One of the mistakes some bakers make when making a gluten free cake for the first time is making substitutions. This can lead to a different outcome. You can use substitutions but make sure to adjust the recipe when necessary. We have a collection of gluten free recipes that can help you understand more about making gluten free treats.
This flourless chocolate cake makes use of three eggs to give the cake structure. In addition, eggs don't only help the cake rise but also give the cake its fudge-like texture that will surely satisfy your chocolate cravings. Plus, it is covered with sour cream chocolate ganache which has the perfect balance of tanginess and rich chocolate flavor.
Since this recipe uses more eggs than a normal chocolate cake, it's crucial to bake it in a water bath. The steam from the bath creates a moist environment that will help prevent the cake from drying out when baking.
You can also bake the cake in a steamy oven. Create steam by placing a roasting pan filled with hot water on the bottom oven rack. Meanwhile, place the cake on the middle rack. Keep the steam inside the oven by keeping it close throughout the baking process.
Another factor to consider when making a tasty chocolate cake is choosing the right chocolate. Does chocolate have gluten? You might wonder. Pure chocolate is generally gluten free as they are made from cocoa beans, cocoa butter, and sugar. All these ingredients are free of gluten.
Not all chocolates have the same ingredients, however. You can find some chocolates in the market that may contain more ingredients, such as vanilla, powdered milk, and soy lecithin. Some bakers use these kinds of chocolate as a substitute for real chocolate because they cost less. Thus, it is essential to check the label when buying a chocolate.
Cocoa powder is another key ingredient in many simple chocolate cake recipes. But is cocoa powder gluten free? If you use pure cocoa powder,  then it should be gluten free. Just like chocolates, however, there are varieties of cocoa powder that contain ingredients that are not gluten free, like malt and other additives. It's better to stay away from hot cocoa mixes and processed cocoa powders.
How to Gluten Free Chocolate Cake with Sour Cream Ganache
This gluten free chocolate cake has a rich chocolate flavor balanced out by the sour cream chocolate ganache. All the flavors come together perfectly and will surely make you grab for one more slice.
Ingredients
8

oz

semi-sweet chocolate

½

cup

salted butter

3

eggs

1

tsp

cocoa powder

1

tsp

vanilla extract
For Ganache:
2

cups

semi-sweet chocolate chips

12

oz

sour cream

1 ½

tsp

vanilla extract
Instructions
Preheat your oven to 325 degrees F.

Grease an 8-inch cake pan (springform works best) and dust it with cocoa powder.

Melt the chocolate and butter in a slow-simmering double boiler. Once melted, remove the pan from heat.

In a separate bowl, lightly beat the eggs, cocoa powder, and vanilla. Add the chocolate-butter mixture and mix until well-incorporated. Pour the batter into the pan.

Place the cake pan in a roasting pan. Fill the roasting pan with boiling water halfway to the sides of the cake pan to create a water bath.

Place the pan on the middle rack of your oven. Bake for 45 to 50 minutes.

Once the cake has finished baking, take it out of the oven and allow it to cool for 15 minutes. Then place it on a serving plate.
Ganache:
Melt the chocolate chips on a double boiler.

Once melted, pour it into a mixing bowl with sour cream and vanilla, then mix.

After mixing, wait for it to cool down.

Cover your cake with the sour cream chocolate ganache and top with your favorite berries.
Recipe Notes
Don't pour hot chocolate into the egg mixture at once. You might end up having a scrambled egg. Instead, scoop some of the egg mixture into the melted chocolate before adding it to the rest of the egg mixture. You may also wait for the chocolate to cool first before adding into the egg mixture.
Nutrition
Sugar:

28g

:

Calcium:

105mg

Calories:

636kcal

Carbohydrates:

40g

Cholesterol:

118mg

Fat:

50g

Fiber:

6g

Iron:

5mg

Potassium:

499mg

Protein:

8g

Saturated Fat:

29g

Sodium:

166mg

Vitamin A:

745IU

Vitamin C:

1mg
Nutrition Disclaimer
Commonly Asked Questions
Do gluten free chocolate cakes taste like regular cake?
Gluten free chocolate cakes don't taste exactly like a regular chocolate cake, especially if you choose to use gluten-free flours. These flours have different flavors, they can be nutty, naturally sweet, or have a strong flavor. The taste of your gluten free chocolate cake depends on the technique you will use. If you're making a flourless chocolate cake like our recipe here, expect it to taste like a fudgy chocolate truffle. We believe that regular and gluten-free chocolate cakes are equally delicious if done right.
Can I make a gluten free dairy free chocolate cake?
Yes, you can make gluten free and dairy free chocolate cake. If you can't have dairy products, you can use non-dairy alternatives. For example, choose chocolate that doesn't contain milk. Real dark chocolates usually don't contain milk and they're perfect for this recipe. You can also find dairy free substitutes for sour cream. They are normally made from coconut cream, non-dairy yogurt, or cashews and lemon juice for its sour flavor.

Is gluten free chocolate cake healthy?
When we see products labeled as gluten free, we often assume they're healthy. Most of the time, they are healthier than conventional products. For gluten free chocolate cakes, however, that's not always the case. Some recipes contain refined sugar, butter, and, of course, tons of chocolates. But you can always make your gluten free chocolate cake healthier. Start with using real, high-quality chocolates that don't contain artificial ingredients. You can also add other healthy ingredients, like banana, avocado, or honey. Take time to research and experiment until you find the right recipe.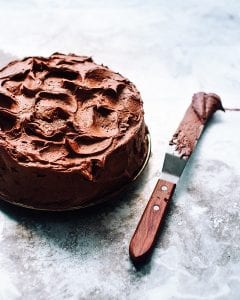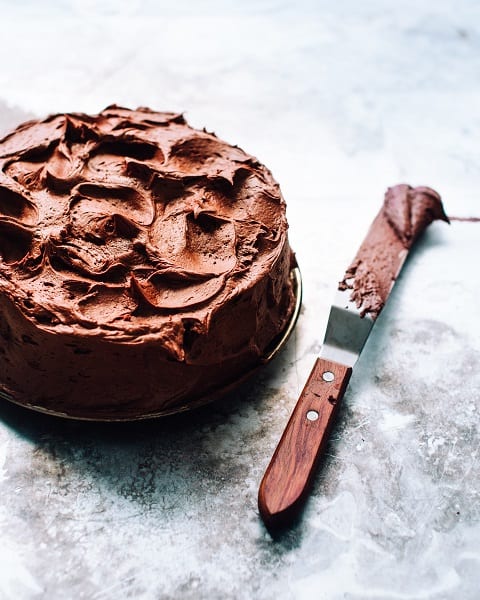 Conclusion
Whether you're diagnosed with Celiac disease or following a gluten-free diet, this gluten free chocolate cake recipe will not deprive you from enjoying a delicious chocolate cake. This gluten free cake has a tempting chocolate flavor as well as tanginess from the sour cream chocolate ganache. You and your guests will surely enjoy this dessert no matter what the occasion is.
Topics: