Celebrate Hanukkah with this classic sweet potato latkes recipe. Also sometimes called sweet potato pancakes, these are shaped into pancakes when fried. It's a traditional and festive dish that's usually made from shredded potatoes, flour, onion, and other seasonings. There are creative ways to upgrade this traditional dish like adding zucchini and lemon juice into the mix. You get a delicious serving of sweet potato zucchini latkes that are bursting with crispy goodness. Complete your Hanukkah meal with other classic Jewish dishes like a passover spinach casserole or matzo ball soup.
Tips on Making Sweet Potato Latkes
Sweet potato latkes are easy to make and fun to prepare. That's why we're here to give you some helpful tips on how to make your latkes extra delicious for the Hanukkah season.
Use a food processor

to make perfect thin potato strips. Using a food processor saves time. It also has a much better and cleaner cut than your manually grated potato strips. Use the shredding disc feature of your food processor, place the sweet potatoes in the feed tube, and then gently push down.
Sprinkle salt before and after frying.

Seasoning your sweet

potato pancakes

with salt is very important. Since it's a fried dish, it needs a lot of salt to bring out the flavor. Make sure that you add the salt when you're ready to fry so that it doesn't water down while you mix the ingredients. Then, sprinkle some more after frying. Adjust accordingly to your taste.
Avoid overcrowding the pan

when frying your latkes. Do it three or four at a time depending on the size of your frying pan. Latkes need to be crisp and golden brown. While shallow frying your latkes, there needs to be at least a 30-second break between batches so that the oil can heat up again. Overcrowding will lower the temperature of the oil which will produce soggy and greasy latkes.
Use a cooling rack

instead of paper towels to remove the excess oil or grease. It's better to let the oil drop rather than placing it on paper towels. Allow the latkes to rest on the

cooling rack

so that the air can circulate and make them crispy.
Substitute flour with matzo or matzah meal.

You can enjoy this sweet potato latkes recipe even during the Passover or Lenten season. Substitute the unbleached flour with matzo or

matzah meal

so that it's more appropriate and healthier for Passover. It also adds a bit of toasted cracker flavoring to the dish.
Serve with sour cream or applesauce.

So,

what to serve with latkes

?

Well, finish off this delicious dish with sour cream on top or an applesauce dip. You can even make a

green avocado

mash dip by combining green avocados with sour cream and lime juice.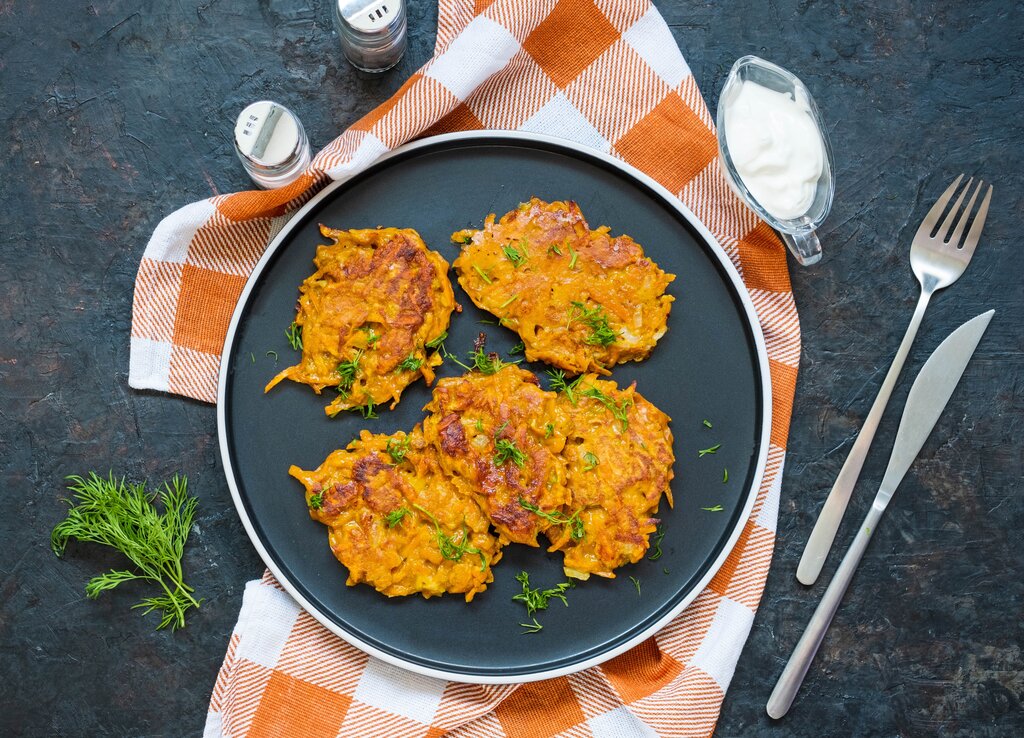 Sweet Potato Latkes Recipe
How To Make Sweet Potato Latkes
This zucchini and sweet potato latkes recipe is a wonderful and creative take on the traditional Hanukkah potato latkes dish. It's an easy recipe that brings out the savory and sweet goodness of these potato pancakes.
Ingredients
6

cup

sweet potatoes,

peeled and finely shredded

2

cup

zucchini,

finely shredded

1

cup

onions,

finely shredded

¼

cup

lemon juice

1

tsp

no-salt herb blend

1½

cup

egg substitute

1⅔

cup

unbleached flour

¼

cup

flat-leaf parsley,

fresh, chopped

6

tsp

canola oil,

divided
Instructions
Using a large bowl, add the sweet potatoes, zucchini, onions, lemon juice, herb blend, egg, flour, and parsley. Mix well.

In a large non-stick frying pan, warm 2 teaspoons of oil over medium-high heat.

Scoop at least 2 tablespoons of the batter then carefully place into the pan. Form thin pancakes into the pan. Use a spatula to spread it out.

Add more batter to the pan. Make sure they're not touching each other.

Cook for 2 minutes on each side, or until golden brown and crispy.

Remove from the pan and transfer to a cooling rack. Keep warm.

Repeat the process until the batter is all used. Add in the remaining oil, if needed.
Nutrition
Sugar:

9g

:

Calcium:

107mg

Calories:

331kcal

Carbohydrates:

58g

Fat:

5g

Fiber:

6g

Iron:

3mg

Potassium:

788mg

Protein:

13g

Saturated Fat:

1g

Sodium:

205mg

Vitamin A:

19303IU

Vitamin C:

20mg
Nutrition Disclaimer
Frequently Asked Questions
Why are my latkes falling apart?
Many factors can affect the structure of your sweet potato latkes. They might be falling apart because they don't have enough flour which is an essential for binding. Another reason can also be that your mixture is too wet and needs to be wrung out properly. Too much moisture won't make the latkes hold together.
Can sweet potato latkes be made ahead of time?
Yes, you can make these delicious sweet potato latkes ahead of time especially when you're preparing them for the holiday season. You can start combining the ingredients and then shaping them. Line them up on a cookie sheet, and then place them inside the refrigerator until you're ready to fry them.
Can you freeze latkes?
Yes, you can freeze cooked latkes but they won't be as fresh. If you have some leftover latkes, arrange them on a cookie sheet with parchment paper and cover them with foil. Place inside the freezer until they are frozen. Then, transfer each latke into a freezer-safe zipper bag. Stack them up and store them again in the freezer. When ready to consume, bake them for about 20 minutes in the oven.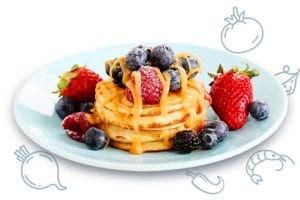 Conclusion
This sweet potato latkes recipe is a wonderful sweet and savory dish to serve during Hanukkah or even throughout the year. Serve with other delicious Jewish dishes for a full gastronomical experience.