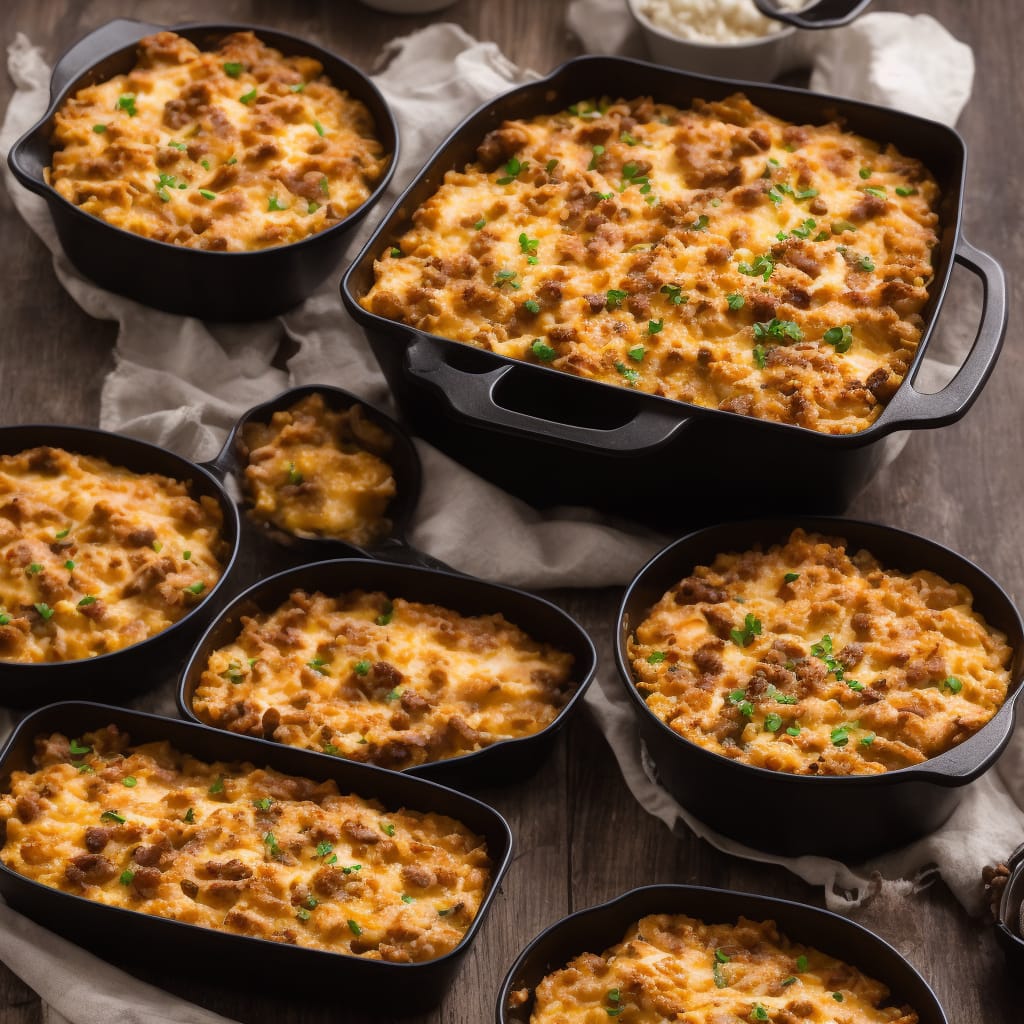 John Wayne Casserole Recipe
How To Make John Wayne Casserole
Easy, cheesy, and meaty are the three best words to describe a good casserole dish. It's quick to make since you can easily throw together the ingredients in a deep piece of cookware. Then, simply bake until they meld together beautifully to form a delicious homemade meal. And even though you're free to use other types of protein for this dish, there's no denying that beef reigns supreme. Browse this collection for easy beef casserole recipes that you can make for dinners with the family!
Ingredients
1 lb ground beef
1 small onion, diced
1 bell pepper, diced
1 can (14.5 oz) diced tomatoes, drained
1 can (4.5 oz) green chilies, diced
1 cup corn, frozen or canned
1 cup sour cream
1 cup cheddar cheese, shredded
1 package (8.5 oz) cornbread mix
1/2 cup milk
2 eggs
Instructions
Preheat the oven to 375°F (190°C).

In a skillet, cook the ground beef, onion, and bell pepper until the beef is browned and the vegetables are softened. Drain any excess grease.

Stir in the diced tomatoes, green chilies, and corn. Cook for an additional 5 minutes.

In a separate bowl, mix together the sour cream and half of the shredded cheese. Set aside.

In another bowl, prepare the cornbread mix according to the package instructions, using the milk and eggs.

Spread the ground beef mixture evenly into a greased casserole dish.

Spread the sour cream mixture on top of the ground beef.

Pour the cornbread batter over the casserole, spreading it evenly.

Sprinkle the remaining shredded cheese on top.

Bake in the preheated oven for 30-35 minutes, or until the cornbread is golden brown.

Allow the casserole to cool for a few minutes before serving.
Nutrition
Calories :

580kcal

Total Fat :

26g

Saturated Fat :

12g

Cholesterol :

163mg

Sodium :

1122mg

Total Carbohydrates :

49g

Dietary Fiber :

4g

Sugar :

9g

Protein :

37g