It's a slow afternoon and you're craving for something to munch on. You don't really want something heavy, you just want something for a snack. Don't worry. We got you covered. Even though you just want to mindlessly chew on something, it doesn't mean that it has to be bland. So, gear up – we are making this spiced nuts recipe.
We are using pecans, almonds, and cashews for this spiced nuts recipe, but you can use any nut combination you fancy. It's up to your personal preference and creativity! You can use fresh almonds, walnuts, nutmeg, or simply have a mix of all the nuts. And you can also switch up the spices by using your favorite spice mix. Rosemary and thyme will add a wonderful earthy fragrance to the nuts. This snack is going to be absolutely delicious and addictive. Big plus: you can make it easily in a slow cooker without risking the nuts getting burned unlike if you use an oven!
Of course, if you want a bit more of a kick to the spiced nuts recipe, you can consider adding a pinch of chili powder or cayenne pepper. If you're interested in making more snacks, we recommend making some Apple Doughnuts. It's flavorful and filling!
Spiced Nuts Recipe Video
The perfect holiday snack. Make a big batch and serve when you've got guests over.
Ingredients
½

cup

butter,

unsalted

1

lb

mixed nuts

½

cup

powdered sugar
For Spice Blend:
½

tsp

ground cardamom

1 ½

tsp

ground cinnamon

¼

tsp

ground ginger

¼

tsp

ground nutmeg

⅛

tsp

ground cloves
Instructions
Preheat crockpot on high for 15 minutes.

Melt the butter and add the nuts.

Add powdered sugar and coat the nuts evenly.

Slow cook the nuts on high for 15 minutes.

In a bowl, mix together cardamom, cinnamon, ginger, nutmeg, and cloves to make the spice blend.

Sprinkle spice blend onto nuts. Mix to coat everything evenly and continue to slow-cook for an additional 5 minutes.

Let cool before serving.
Commonly Asked Questions
What else can I add to these spiced nuts?
If you want to have a more savory flavor, you can always add some kosher salt to the nuts. To balance out the sweetness of the honey, we recommend 1½ teaspoons of salt. And for some added spicy kick, add a pinch of cayenne pepper and smoked paprika.
What else can I use as a spice for the nuts?
If you are leaning towards a spicy flavor, you can use chili powder. Feel free to gauge the spiciness according to your tastes. Adding a bit of garlic powder can give your nuts a strong, smoky flavor.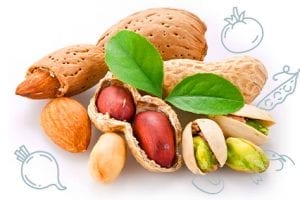 Conclusion
Store these in an airtight container and take them out when you have guests over. These are great with cocktails or predinner drinks.
Topics: