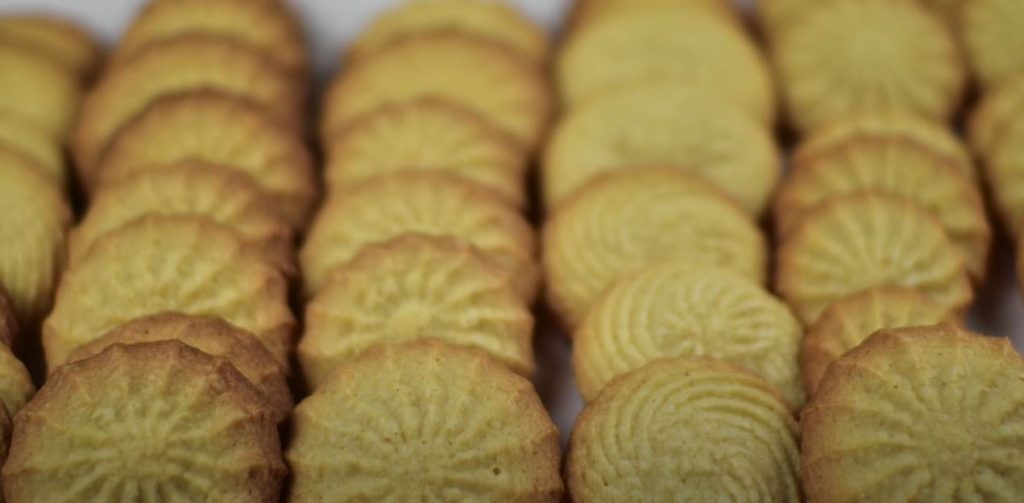 Gluten-Free Biscuits Recipe
How To Make Gluten-Free Biscuits
Serve some delightful appetizers or snacks with these gluten-free biscuits. Made with buttermilk, these biscuits bake into golden, flaky treats.
Ingredients
2

cups

gluten free flour mix,

preferably Bob's Red Mill 1-to-1 gluten free baking blend or another flour blend with xanthan gum

1

tbsp

baking powder

¾

tsp

baking soda

2

tbsp

sugar

½

tsp

salt

½

cup

very cold butter,

(8 tbsp), cut into tbsp and then cut in half, plus more to grease the pan

1

cup

cup cold buttermilk

1

tbsp

unsalted butter,

melted
Instructions
Mix flour, baking powder, baking soda, sugar, and salt in the bowl of a stand mixer fitted with a paddle attachment. 

At a low speed, let the mixer break up the butter into smaller pieces. This should take about 1 minute. Stop the mixer and check, there should still be visible pieces of butter about the size of marbles or even a little bigger. They will look like they are starting to flatten.

If some of the pieces haven't flattened, just press them between fingertips to break them up a little bit—dime-sized pieces are fine.

Remove the bowl from the stand mixer and add 2 tablespoons of buttermilk. Using a fork, quickly mix the buttermilk into the flour to hydrate it.

Then, slowly mix in a scant ¾ cup of buttermilk and combine with a fork until no streaks of flour remain. If the dough seems dry, add more buttermilk 1 tablespoon at a time and incorporate before adding more to keep it from being wet.

On a floured surface, turn out the dough, which will look like a crumbly mess. It will come together shaped into a ball. If for some reason (ambient humidity, variations in buttermilk thickness) the dough feels dry, add 2 tablespoons of buttermilk to hydrate those dry bits.

Lightly press the dough (or roll it with a floured rolling pin) into a thick rectangular shape about 4×6 inches. Fold one of the short ends of the dough toward the middle, and then the other, like a letter.

Rotate the dough ¼ turn and roll it out, and fold it again into thirds. Repeat this process one more time, then wrap the dough in plastic wrap and refrigerate for ½ hour to 1 hour. (This process creates flaky layers; if skipped, the biscuits will bake flat, like hockey pucks.) 

Preheat the oven to 425 degrees F and prep a 9- or 10-inch cast-iron pan or an 8×8-inch glass baking dish with either spray oil or grease with butter.

Remove the dough from the fridge and, using a rolling pin, gently roll it out to a rectangle about 6×9 inches and 1-inch thick.

Using a 2½-inch biscuit cutter that's been lightly floured (this dough can be sticky), cut out about 6 biscuits by pressing the cutter straight down into the dough. Do not twist when removing to avoid stunting the rise.

Reroll the scraps, re-flouring the biscuit cutter if needed, and make more biscuits until all the dough is used up.

Transfer to the pan. Nestle them close to each other, touching in order for them to rise better. Brush the tops with the melted butter.

Bake the biscuits for 20 to 25 minutes until the tops look lightly brown around the edges. Check frequently to avoid burning.

Remove from the oven and brush the tops with melted butter. Let the biscuits cool in the pan for about 5 to 10 minutes before removing them from the pan to a wire rack to cool completely.

Wait 10 minutes before consuming. They will continue to cook a little, firm up a little while cooling.

These biscuits are best eaten warm out of the oven, but they do okay reheated in a toaster or low oven (300 degrees F) for up to 2 days. They get dried out pretty fast.
Nutrition
Calories: 

287.25kcal

Fat: 

13.38g

Saturated Fat: 

7.90g

Trans Fat: 

0.42g

Monounsaturated Fat: 

3.31g

Polyunsaturated Fat: 

0.47g

Carbohydrates: 

33.75g

Fiber: 

2.61g

Sugar: 

15.11g

Protein: 

10.83g

Cholesterol: 

37.26mg

Sodium: 

672.52mg

Calcium: 

406.35mg

Potassium: 

373.13mg

Iron: 

1.33mg

Vitamin A: 

121.65µg

Vitamin C: 

2.45mg