Enjoy rich, sweet, and creamy sugar-free chocolate ice cream for any situation. From casual hangouts to special occasions, no one would say no to a bowl of ice cream! Especially one that's decadent chocolate flavor and without all the sugar! It's the perfect casual dessert that we're all guilty of loving. We're going sugarless for our delicious cold and sweet treat. And it tastes just like your regular dairy-based ice cream.
We used easy-to-find ingredients that will give you a luscious chocolate ice cream. Rich and creamy in texture, it will take you only 10 minutes to prepare your delicious homemade ice cream. Proper freezing and churning give your ice cream the perfect texture.
For more sugar-free chocolate dessert ideas, try out our Sugar-Free Chocolate Pecan Cookies and Dark Chocolate Nut Fudge. Chocolate ice cream is the perfect cold and sweet treat to stand out in your next party or family gathering. Seeing how little the carbs and sugar are in this sweet treat will surprise you! This sugar-free ice cream recipe will become a hit in your home and be a great addition to your cookbooks. Enjoy soft and creamy sugar-free chocolate ice cream topped with crushed dark chocolate! Follow this easy and simple recipe and check out our top sugar-free dessert recipes.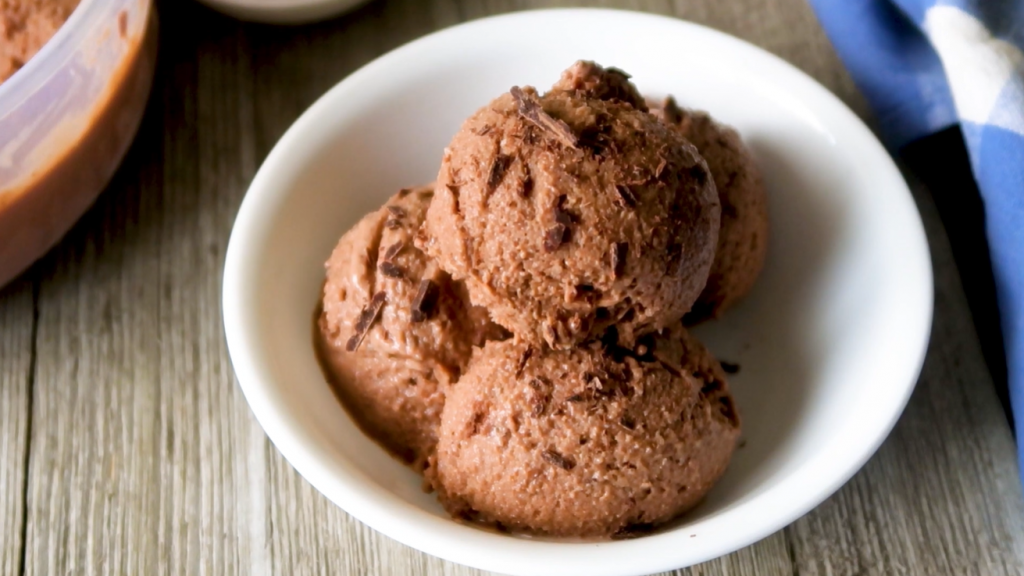 Sugar-Free Chocolate Ice Cream Recipe
How To Make Sugar-Free Chocolate Ice Cream
Get your chocolate fix without the guilt in this sugar-free chocolate ice cream recipe that serves rich, creamy, and delicious chocolate ice cream, less the sugar.
Ingredients
30

oz

yogurt,

plain

1

tsp

gelatin powder,

plain

1

tsp

vanilla extract

½

cup

Nestle Quik sugar-free chocolate drink mix

2½

cups

milk,

low-fat

4

egg yolks

dark chocolate,

sugar-free, crushed for toppings
Instructions
Bloom the gelatin in ½ cup of milk.

In a small saucepan over medium heat, bring the remaining milk and yogurt to a light simmer. Remove it from the heat.

Pour the heated milk mixture and gelatin mixture into a blender or food processor and blend until well combined. Add in the egg yolks, chocolate mix, yogurt, vanilla, and salt.

Blend the ingredients until they form a smooth mixture. Cover the mixture and let it sit in the freezer for at least 2 hours.

After letting the mixture sit in the freezer, blend it for a few seconds before pouring it into the ice cream maker. Once done, freeze it - guided accordingly by the ice cream maker manufacturer's instructions.

Remove your ice cream from the freezer 15 minutes before serving. Once your ice cream is ready, top it with your crushed dark chocolate and enjoy!
Recipe Notes
Drop the egg yolks one at a time into the blender while blending the hot milk mixture to make sure that it gets cooked but not scrambled to avoid raw eggs or an eggy taste to your ice cream!
Nutrition
Sugar:

18g

:

Calcium:

453mg

Calories:

296kcal

Carbohydrates:

20g

Cholesterol:

238mg

Fat:

17g

Iron:

1mg

Potassium:

550mg

Protein:

16g

Saturated Fat:

9g

Sodium:

174mg

Vitamin A:

717IU

Vitamin C:

1mg
Nutrition Disclaimer
Commonly Asked Questions
Can I make this cream without using an ice cream maker?
Absolutely! Your ice cream might have a different texture but it should still work. You can use a freeze-and-stir method. We do it by freezing our ice cream mixture for an hour then stirring it until smooth using a fork. We freeze it for another 3 hours, repeat the stirring, freeze again and stir for every hour. Once your entire mixture is frozen you can already enjoy soft-serve style ice cream, or freeze it for 2 more hours for a firmer ice cream that you can scoop out.

What can I use to top my ice cream?
You can go double chocolate with sugar-free chocolate chips or crushed dark chocolate to top your chocolate ice cream. You can also sprinkle it with cinnamon, fruit bits, sugar-free fudge, or hardened chocolate. The intense chocolate flavor of our chocolate ice cream is great to pair with almost anything!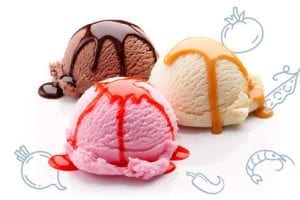 Conclusion
Make this deliciously rich and creamy chocolate ice cream and be guilt-free from all the sugar you can get. In this recipe, we're making a luscious cold treat that's easy to make. It's a dessert recipe that you'll love making with the kids. Watch them enjoy waiting for the soft and creamy mixture to firm up. All the prep will be worth it once you get a scoop of your perfectly rich and silky sugar-free chocolate ice cream.