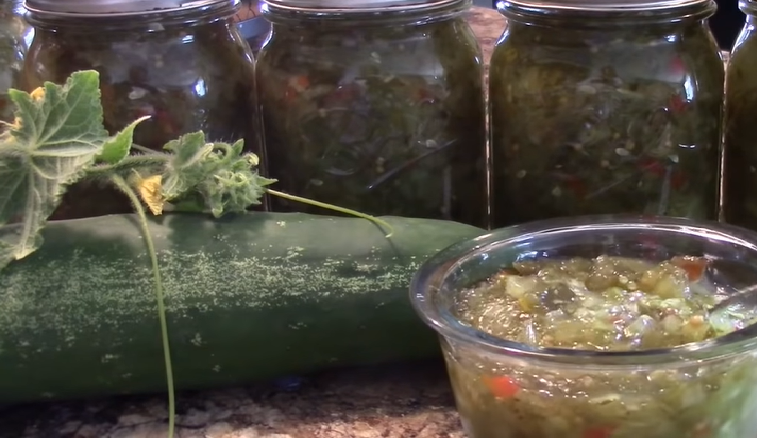 Sweet Pickle Relish Recipe
How To Make Sweet Pickle Relish
Try whipping up your own tasteful sweet pickle relish to use on your favorite meals! It's made with just a couple of ingredients for a tangy condiment.
Total:
2 hours 35 minutes
Ingredients
8

cucumbers,

chopped

2

onions,

chopped

1

red bell pepper,

chopped

1

green bell pepper,

chopped

½

cup

pickling salt

cold water,

to cover

2

cups

cider vinegar

1

tbsp

celery seed

1

tbsp

mustard seed

3½

cups

white sugar
Instructions
Combine the cucumbers, onions, red bell pepper, and green bell pepper in a large bowl.

Add the salt, then pour in enough cold water to cover.

Allow to soak for 2 hours. Afterwards, thoroughly drain the liquid in a colander.

Pour the vinegar into a large, heavy stainless steel pot, then add the celery seed and mustard seed.

Stir the sugar into the mixture, then bring to a boil, stirring for 2 to 3 minutes until the sugar is dissolved.

Add the drained vegetable mixture, then return to a boil for 10 minutes. Remove the pot from the heat.

Sterilize the jars and lids in boiling water for at least 5 minutes.

Pack the relish into hot, sterilized jars, filling to within ¼ inch of the top.

Run a clean knife or thin spatula around the insides of the jars after they have been filled to remove any air bubbles.

Wipe the rims of the jars with a moist paper towel to remove food residue. Top with the lids, then screw on the rings.

Place a rack in the bottom of a large stockpot and fill halfway with water.

Bring to a boil, then lower the jars into the boiling water using a holder. Leave a 2-inch space between the jars.

Pour in more boiling water, if necessary, to bring the water level to at least 1 inch above the tops of the jars.

Bring the water to a rolling boil, cover the pot, then process for 10 minutes.

Remove the jars from the stockpot, then place them onto a cloth-covered or wood surface, several inches apart, until cool.

Press the top of each lid with a finger, ensuring that the seal is tight.

Serve relish on burgers or other dishes, and enjoy!
Nutrition
Calories: 

282.35kcal

Fat: 

0.61g

Saturated Fat: 

0.11g

Monounsaturated Fat: 

0.22g

Polyunsaturated Fat: 

0.15g

Carbohydrates: 

69.34g

Fiber: 

1.86g

Sugar: 

63.30g

Protein: 

1.95g

Sodium: 

791.46mg

Calcium: 

53.39mg

Potassium: 

405.14mg

Iron: 

1.09mg

Vitamin A: 

27.37µg

Vitamin C: 

27.75mg