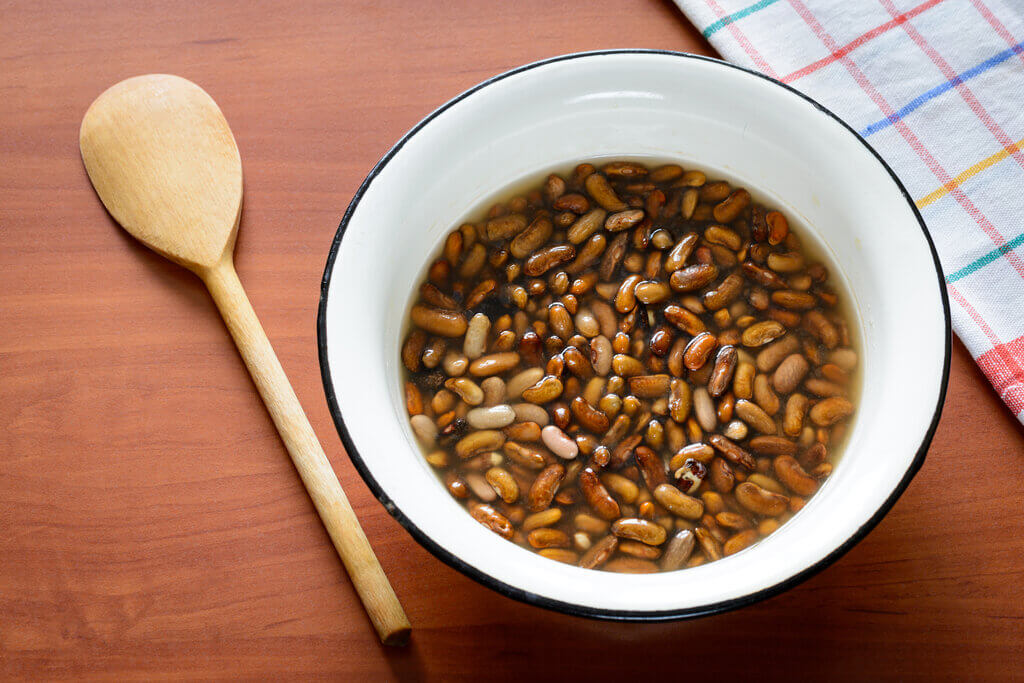 Quick Soak Beans Recipe
Soaking beans overnight in cool water is the standard for preparing dry beans before cooking them. However, this can be quite a chore for people like me who often forget to do it. There was this one time I was really craving a creamy bowl of Great Northern beans soup, but I didn't get to make it because I forgot to prepare my dried beans the night before. I almost resorted to using canned beans for the dish, but decided against it. That's why I came up with this quick soak beans recipe that lets me enjoy my beans in just an hour! This recipe is perfect for individuals who are forgetful like me, or simply rushing to make a delicious meal with their dried beans.
It's important to soak beans before cooking them. Cooking dried beans without soaking them in water for a few hours will create undercooked and unevenly cooked beans with an unappetizing mushy appearance. It will also increase the cooking time of whatever bean dish you're making. The purpose of soaking beans in water is to allow the beans to soften and break some of its complex sugars, which is difficult for some people to digest. Additionally, it also hydrates the beans and gives them a delicious creamy texture.
For this quick soak beans recipe, you don't have to worry about getting a specific type of bean for it to work. This recipe applies for many types of beans such as large pinto beans, black beans, or red kidney beans. On the other hand, the kind of beans that don't need pre-soaking are legumes like lentils, split peas, or black eyed peas. You can simply start cooking with them. So, once you have your beans, start washing and rinsing them first under running water using a colander. This is an essential step to getting rid of the unnecessary dirt or debris present on the dried beans.
After I washed my beans, I filled up the large pot (or saucepan) with water. You can also do this recipe using a pressure cooker or instant pot. I boiled it for a few minutes, and let it rest for an hour. Letting the beans rest and sit is the key to softening the beans fast. After this step, you're ready to cook the beans! Honestly, I was so happy when my beans were soft and tender for cooking that I made some smoked baked beans immediately. I had some leftover soaked beans the next day so I made a bowl of red bean soup as well. Both dishes were so incredibly delicious thanks to the pre-soaked beans! If you did this quick soak with black beans, then you can also try making a black bean soup variation which is also really tasty.
How To Make Quick Soak Beans
With this quick soak beans recipe, you get to cook dried beans without having to wait 24 hours. This recipe is a quick way to enjoy your beans fast!
Ingredients
1 lb

dried beans

, or desired amount

water

1½ tbsp salt, optional
Instructions
Rinse beans

with

cold water

w

ell and sort through to remove any debris.

Place beans in a

large pot

or saucepan.

If desired, add salt.

Add water to cover 2 inches above the beans. Bring to a boil over medium high heat. Boil for 2

minutes

.

Remove from heat, cover and let sit

in

hot water

for

60 minutes.

Drain and discard water.
Nutrition
Calories: 

377.62kcal

Fat: 

0.96g

Saturated Fat: 

0.25g

Monounsaturated Fat: 

0.08g

Polyunsaturated Fat: 

0.41g

Carbohydrates: 

68.35g

Fiber: 

17.24g

Sugar: 

2.39g

Protein: 

26.49g

Sodium: 

18.14mg

Calcium: 

272.16mg

Potassium: 

2035.50mg

Iron: 

11.84mg