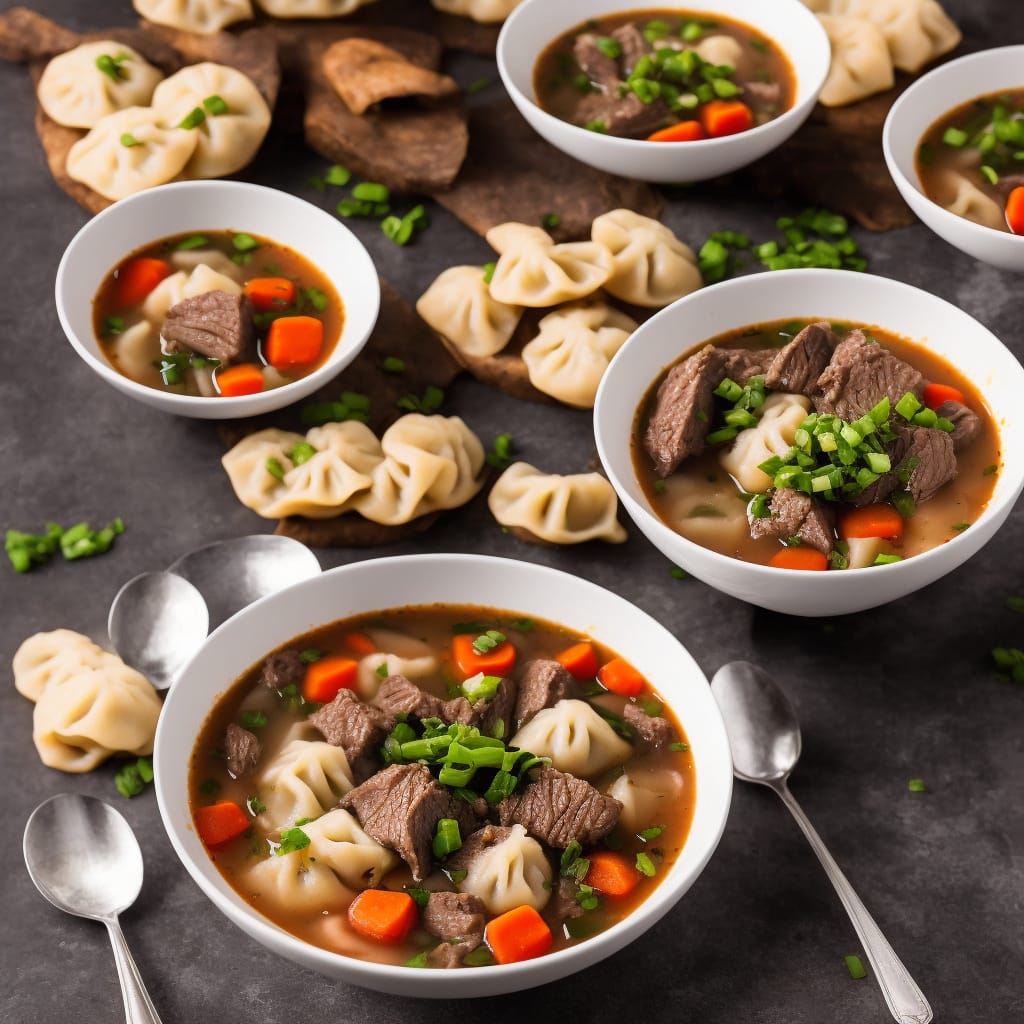 Beef and Wine Soup with Dumplings Recipe
How To Make Beef and Wine Soup with Dumplings
Once the cold season comes around again, our stew recipes will be your sure life-saver! Cook up a hearty stew if you want something warm and flavorful to combat the cold weather. Our comfortingly delicious stew recipes will make sure that you end up with a rich and tasty dish that can win over even the coldest of hearts.
Total:
2 hours 15 minutes
Ingredients
1.5 lbs beef stew meat, cubed
1 onion, diced
2 carrots, sliced
2 celery stalks, sliced
4 cloves of garlic, minced
1 cup red wine
4 cups beef broth
2 bay leaves
1 tsp dried thyme
Salt and pepper, to taste
For the dumplings:
1 cup all-purpose flour
2 tsp baking powder
1/2 tsp salt
1/2 cup milk
2 tbsp melted butter
Instructions
In a large pot, brown the beef cubes over medium heat. Remove from pot and set aside.

In the same pot, sauté the onion, carrots, celery, and garlic until softened.

Add the beef back to the pot, along with the red wine. Cook for 5 minutes to reduce the wine.

Stir in the beef broth, bay leaves, thyme, salt, and pepper. Bring to a boil, then reduce heat to low and simmer for 1.5 hours, covered.

In a mixing bowl, combine the flour, baking powder, and salt for the dumplings. Stir in the milk and melted butter until just combined.

Drop spoonfuls of the dumpling batter onto the simmering soup. Cover and cook for an additional 15 minutes, or until the dumplings are cooked through.

Serve the soup hot, with the tender beef, flavorful broth, and fluffy dumplings.
Nutrition
Calories :

520kcal

Total Fat :

14g

Saturated Fat :

6g

Cholesterol :

100mg

Sodium :

1460mg

Total Carbohydrates :

51g

Dietary Fiber :

6g

Sugar :

7g

Protein :

40g