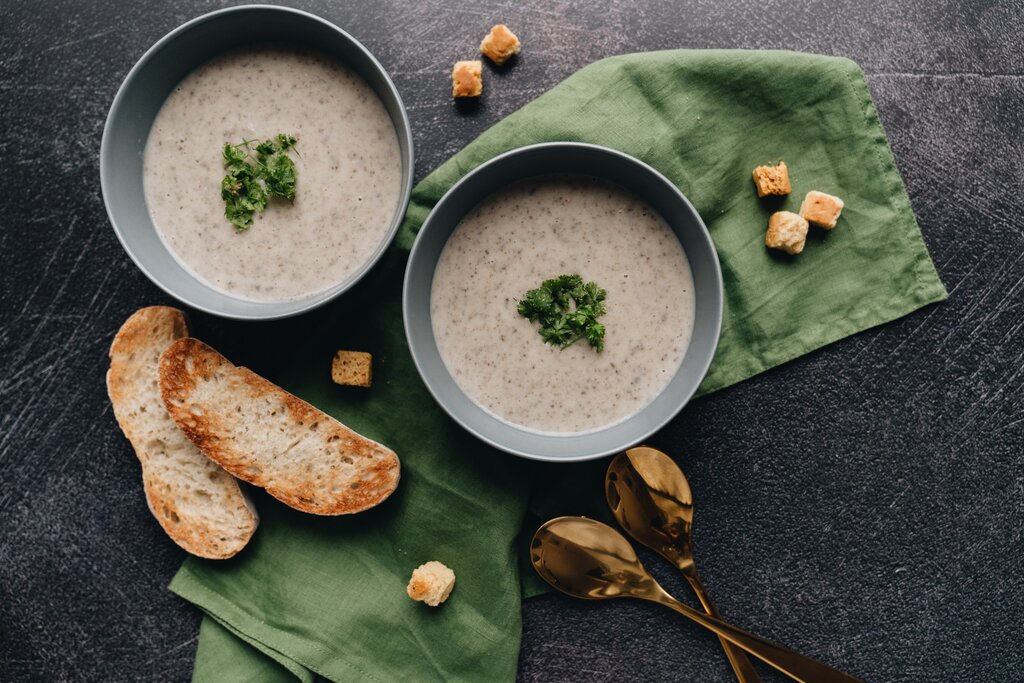 35 Easy Winter Dinner Ideas To Keep You Warm and Cozy
When it gets chilly, we all seek comfort in hearty and warming food. We all know that wintertime is about steaming soups, cozy stews, and meaty entreés. However, at this point, you're probably tired of whipping up the same-old sweet potato soup you usually make during the winter season. So, try to explore some new flavors with these 35 easy winter dinner ideas that you can try while you curl up by the fire.
---
Cozy Winter Dinner Ideas For Cold Nights
Are you feeling the bite of the cold weather? These winter dinner ideas will keep you warm and cozy on chilly evenings!
Chicken Pot Pie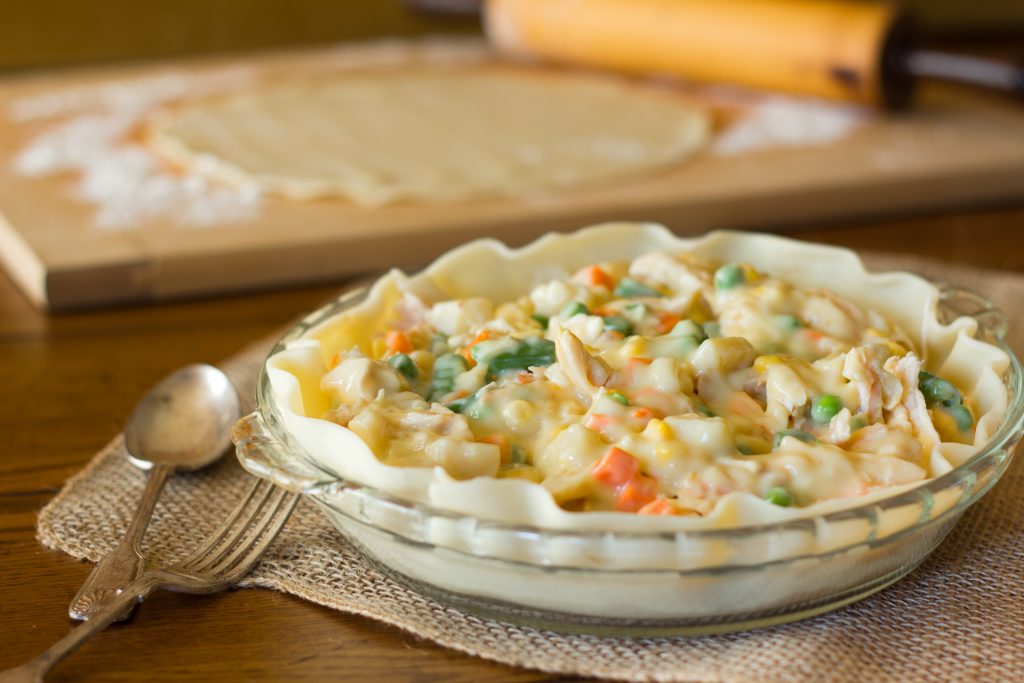 With a creamy broth and oh-so-tender chicken and vegetables, you would think that this filling dish has been simmered all day. But what if we told you that this cozy winter meal is all done in just 15 minutes? Not to mention, you can easily prepare it with minimal effort. 
Trust us: this simple no-crust chicken pot pie is already a complete meal on its own! Moreover, this winter food also makes for a tasty filling for your favorite pie. Crispy biscuits and fresh fruits will also be a yummy companion for this chicken pot pie. Easy and delicious, you can whip up this recipe on cold, busy weeknights! 
Recipe for Inspiration: Instant Pot Chicken Pot Pie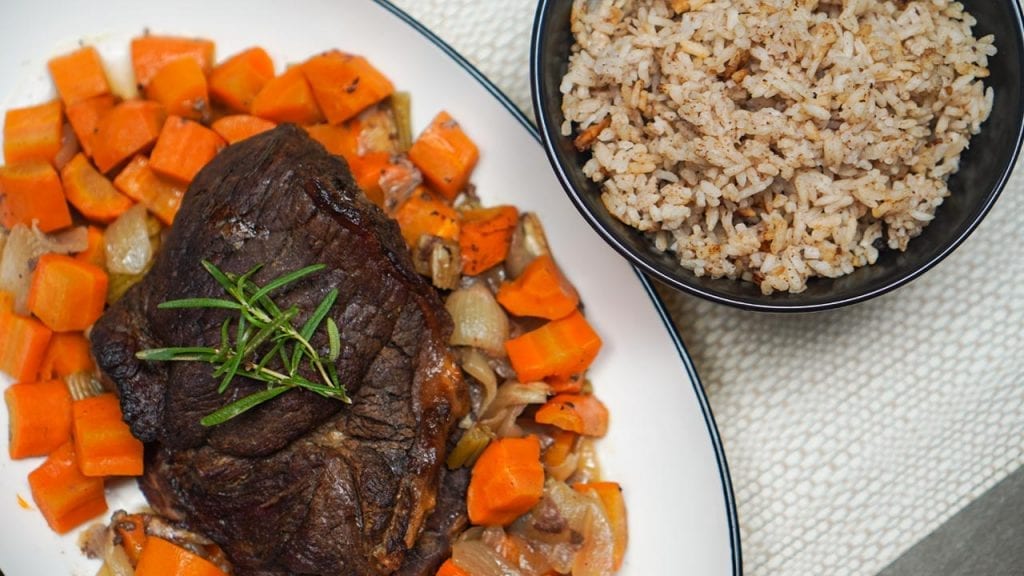 A big slab of tender meat that's cooked with colorful veggies and slathered with rich gravy is a real winner. It's comforting, easy to prepare, and it'll leave you feeling full for hours. Presenting this classic pot roast recipe that's slow-cooked to absolute deliciousness! One bite is all it takes to know that it's all worth the effort. 
The trick to its goodness is seasoning the beef roast with salt and pepper before searing the meat. Then, all you have to do is throw in the ingredients in the slow cooker. After a few hours, you will have melt-in-your-mouth cold-weather comfort food on your hands! 
Recipe for Inspiration: Slow Cooker Classic Pot Roast & Rice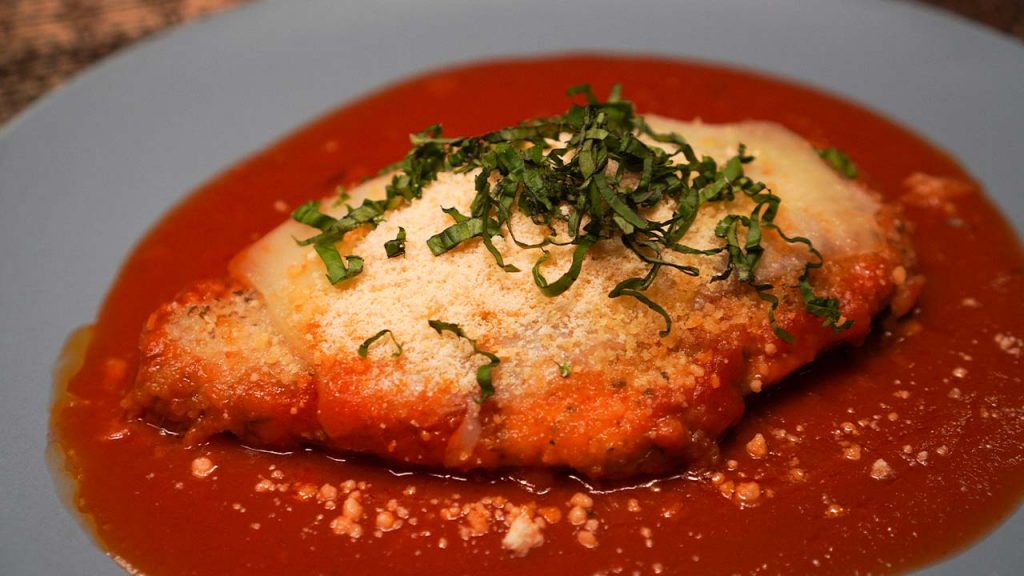 Thinking of a way to transform a plain piece of boneless chicken into a delightful winter comfort food? We don't know about you, but we love it crispy and tender, all while covered with rich and tangy marinara sauce. Yes, we're talking about the classic chicken parmesan. 
This Carrabba's-inspired recipe is downright creamy and delicious. Best of all, it's topped with grated Parmesan cheese. We mean, melted cheese makes everything taste so much better. And all that only takes 35 minutes to prepare. 
Recipe for Inspiration: Carrabba's Chicken Parmesan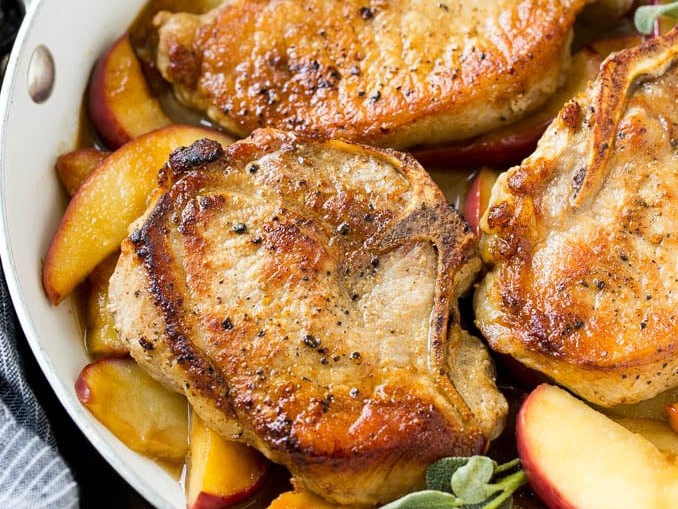 There's another succulent dish that we have our eyes on for cold, winter nights: apple pork chops slathered with flavorful cider sauce. This pork chop recipe brings absolute comfort to your dinner tables. And you only need a short list of ingredients that are probably in your pantry already, like fresh sage, mustard, and apple cider.
Recipe for Inspiration: Apple Pork Chops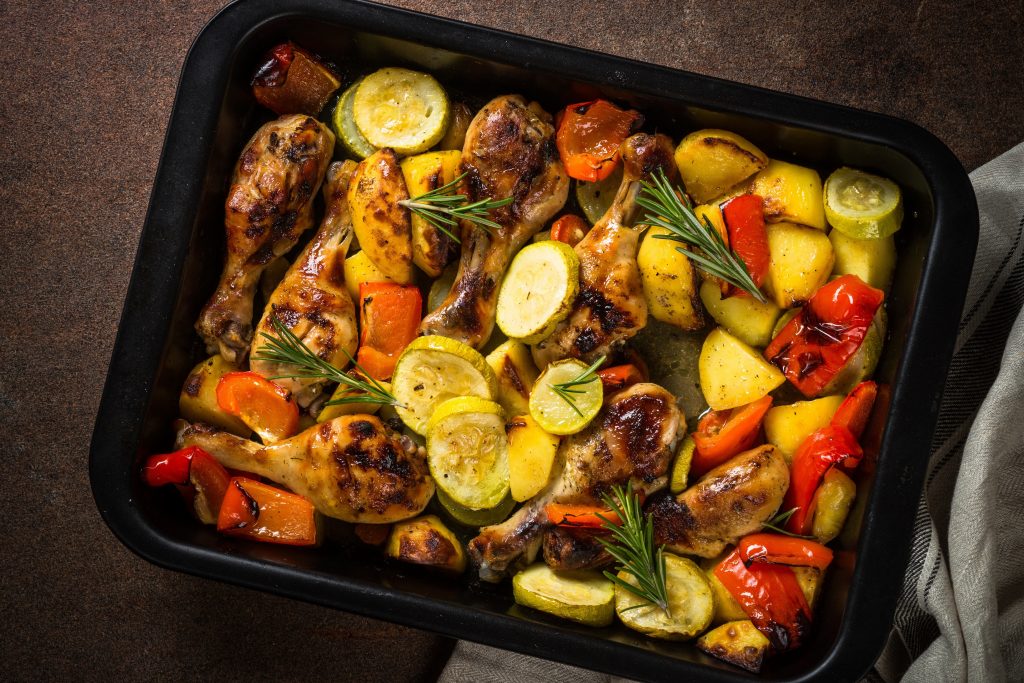 You really can't go wrong with any winter chicken recipes, especially when it's cooked alongside fresh asparagus and potatoes. So it's no surprise that this sheet pan chicken is a family favorite. We assure you, this dish may be short on effort, but it's definitely big on delicious flavors! 
Recipe for Inspiration: Sheet Pan Chicken with Asparagus and Potatoes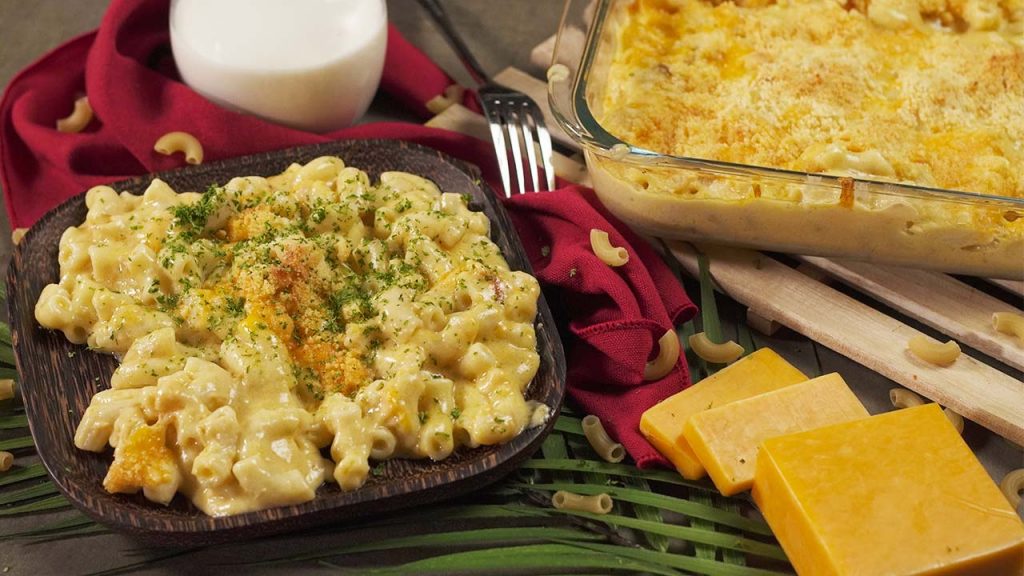 Everybody loves mac and cheese, and it's a fact. And there are probably many ways to eat this classic comfort food. We all love each version (because who wouldn't?), but try covering your pasta in cream of chicken soup to get yourself a bowl of creamy goodness. As for the cheese, incorporate two types (cheddar and Parmesan). Well, you can make use of which best suits your palate. Shredded or powdered, it's guaranteed to satisfy your cheesy cravings! 
Recipe for Inspiration: Cream of Chicken Mac and Cheese Casserole
Glazed Honey Balsamic Chicken with Potatoes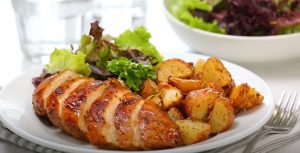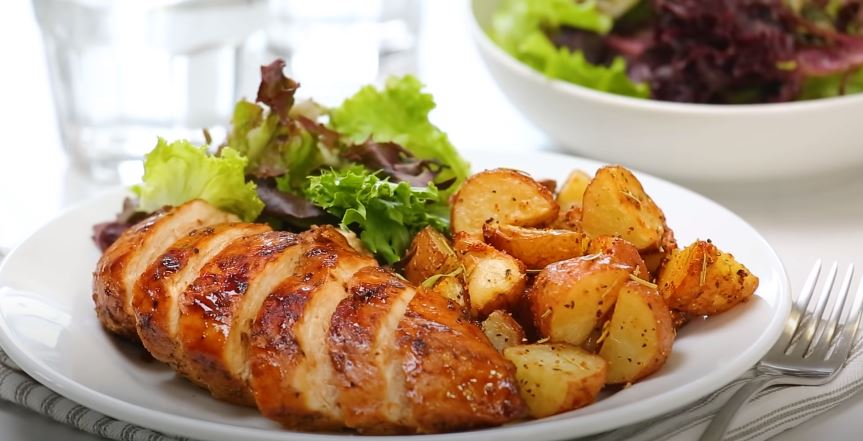 It's easy to see why this honey and balsamic glazed chicken is often the star of dinner tables come winter season. This hearty one-pot dinner overflows with sweetness from the honey and tanginess from the balsamic vinegar. Season the chicken thighs with flavorful sauce, and they will come out of the oven all with that deliciously browned exterior, brimming with inviting flavors. Meanwhile, the potatoes, which are crisp outside and soft inside, complete the meal nicely. 
Recipe for Inspiration: Glazed Honey Balsamic Chicken with Potatoes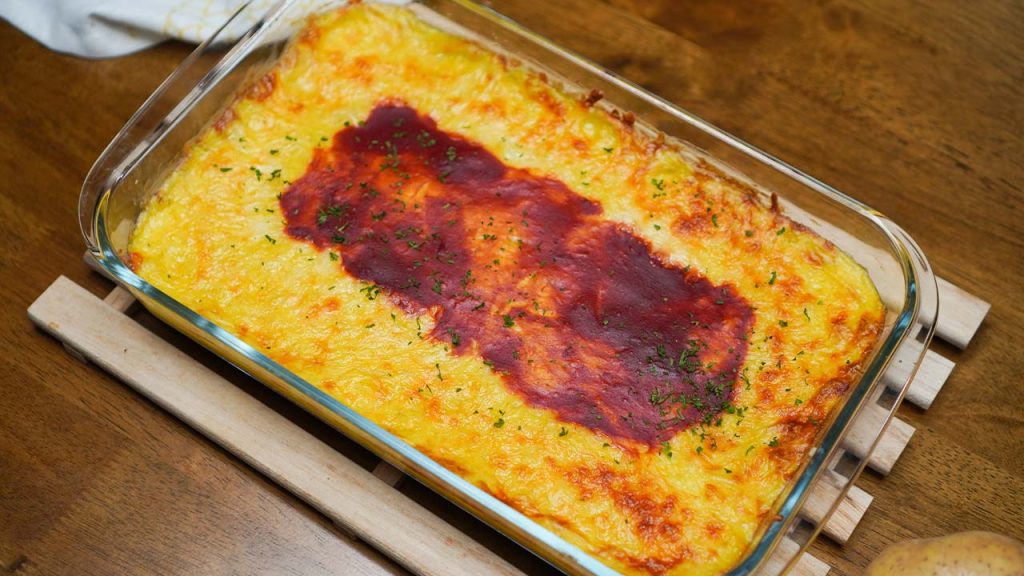 Mashed potatoes are hands down the best side dish ever, don't you agree? And just when you thought it's already a satisfying meal in itself, you will (mostly from this list) that you could take this dish to a whole new level. Enter this mashed potato casserole recipe.
In this easy recipe, we combine creamy mashed potatoes with fluffy white rice. And the results are glorious! Plenty of cheese also gives this comfort meal yummy flavors and the marinara sauce multiplies the richness of this casserole. Whether serving it during special occasions or ordinary winter nights, this recipe will be an instant hit! 
Recipe for Inspiration: Mashed Potato Casserole With Rice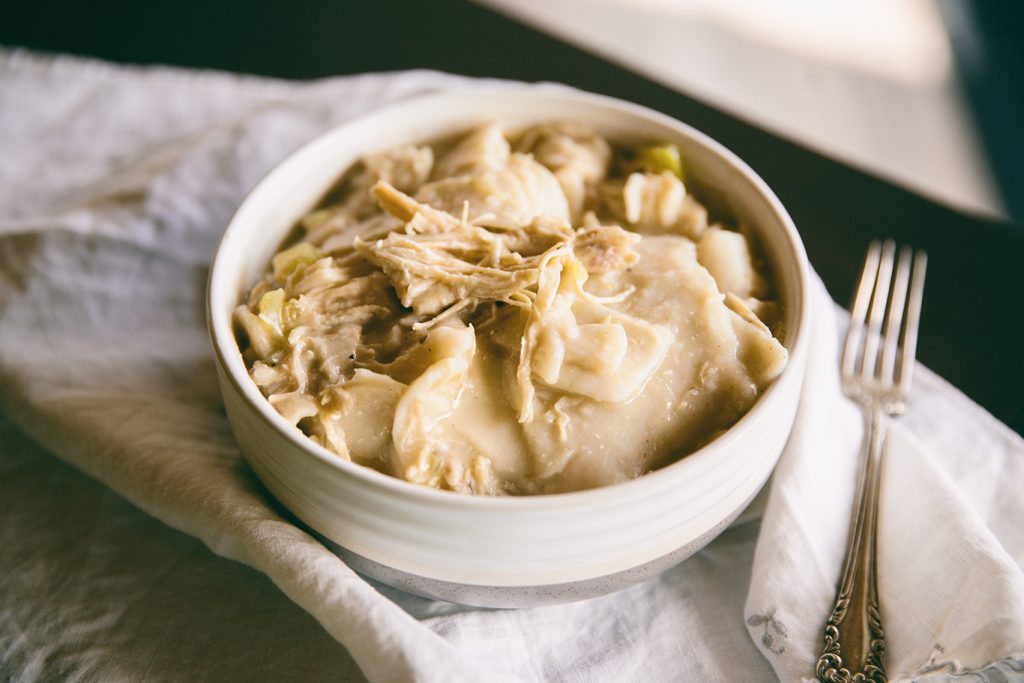 When you're in a time crunch, it's convenient to just throw in the ingredients in the crockpot and wait until it's done. That's why we're all about this crockpot chicken and dumplings recipe! After hours of waiting, you'll have a big bowl of a comforting meal all ready for you.
This recipe starts with a leftover roasted chicken, that is, if you have one that's been sitting in your fridge since last night's dinner party. The rich broth, flavorful veggies, wine, and more amplifies the flavor of this satiating winter meal. 
Recipe for Inspiration: Crockpot Chicken N Dumplings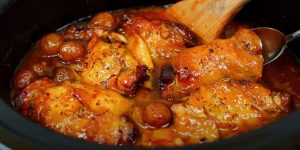 Maybe you'll agree when we say that chicken recipes are arguably the easiest way to save you from a dinner rut. So, here's a fantastic crockpot chicken thighs recipe that delivers Asian flavors right off the bat!
Sure, we're all for chicken breasts, but chicken thighs also pull it off when it comes to flavor and juiciness. And it gets even better when it's smothered with a flavorful sauce and slow-cooked to perfection! We guarantee you, after having a taste of this sumptuous chicken meal, you will have it on repeat! Whip this up during busy weeknights or lazy cold nights. 
Recipe for Inspiration: Crockpot Chicken Thighs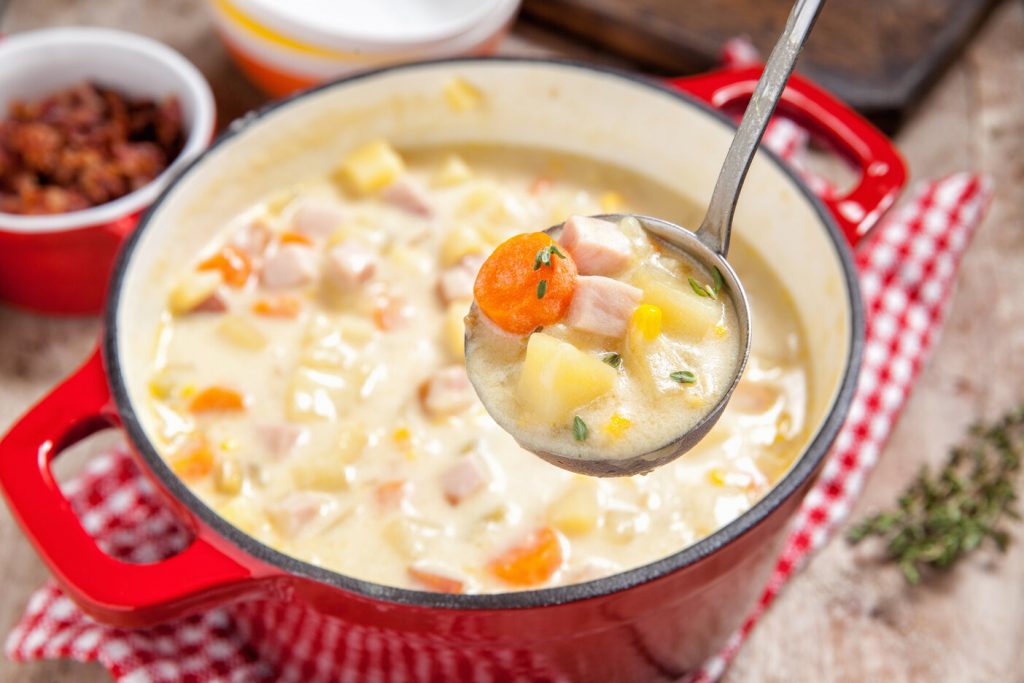 This super easy ham pot pie recipe is a tasty twist on the usual pot pies. Unlike other meat pies, this Pennsylvania Dutch ham pot pie has a soupy quality to it. We cook the ham bone in a large Dutch pot until it's easy to pull off the meat. By adding pie dough and veggies, this cozy food transforms into a delightsome family meal. We also love to pair this hearty dish with a glass of lemongrass iced tea. 
Recipe for Inspiration: Pennsylvania Dutch Ham Pot Pie
---
Easy Winter Dinner Ideas
Try these easy winter dinner ideas while you cuddle up indoors. They're perfect for cold and busy weeknights! 
Beef Stew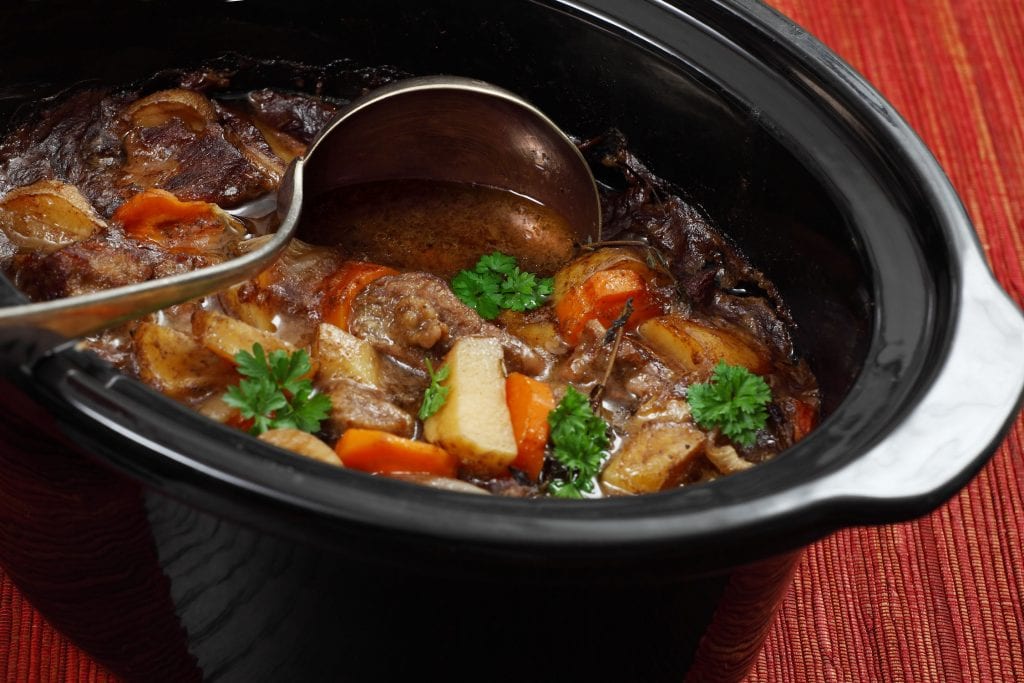 We all got a soft spot for beef stews, especially the one that's slow-cooked to tender perfection. This slow cooker beef stew recipe will take hours, overnight even, to get melt-in-your-mouth meat. Nonetheless, it's the kind of meal that you'll go back to over and over again. Not to mention, it's among the simplest dinners out there!
Recipe for Inspiration: Easy Overnight Slow Cooker Beef Stew
Beef Stroganoff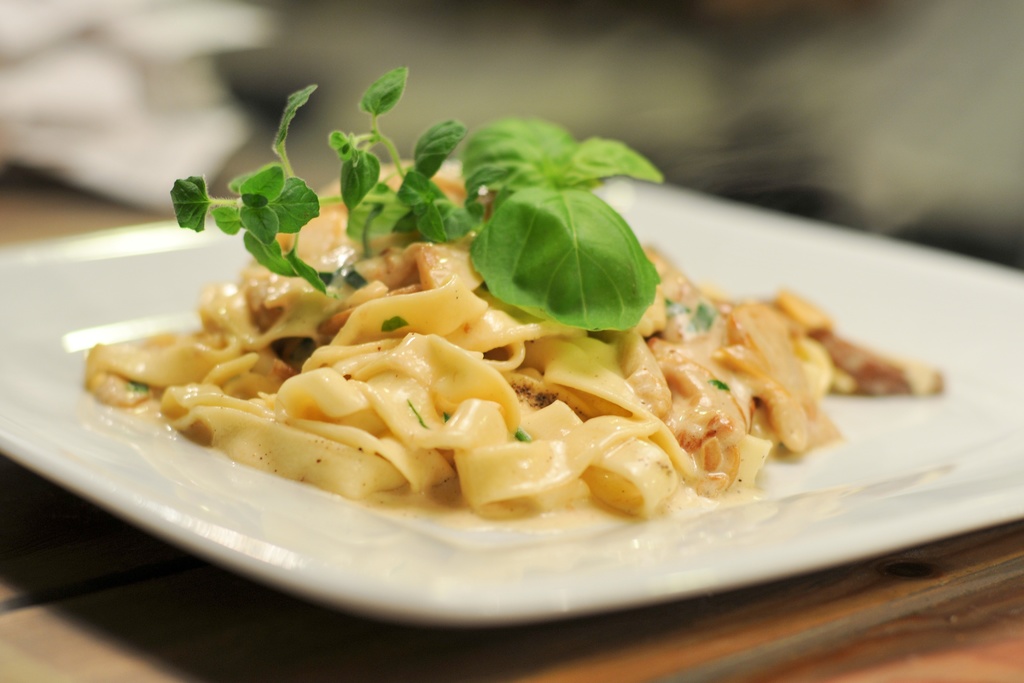 Melt-in-your-mouth meat served over a bed of delicious noodles will surely elevate your weeknights. And looking at it, you might assume it's going to be taxing making such a sumptuous meal. Well, great news! This impressive meal is easy to prepare. You can even use pre-made mushroom soup and it'll taste divine just the same!
Recipe for Inspiration: Quick and Easy Beef Stroganoff
Potato Risotto
Winter nights inspire filling comfort food recipes like this potato risotto recipe. Using Russet potatoes gives this classic dish a smooth and buttery texture. Not to mention, when these mashed potatoes are combined with creamy risotto, you will have a special meal right off the bat. You also only need a handful of ingredients. Don't forget about the onion, parmesan, and white wine for that indulging aroma.
Recipe for Inspiration: Potato Risotto
Mashed Potatoes and Gravy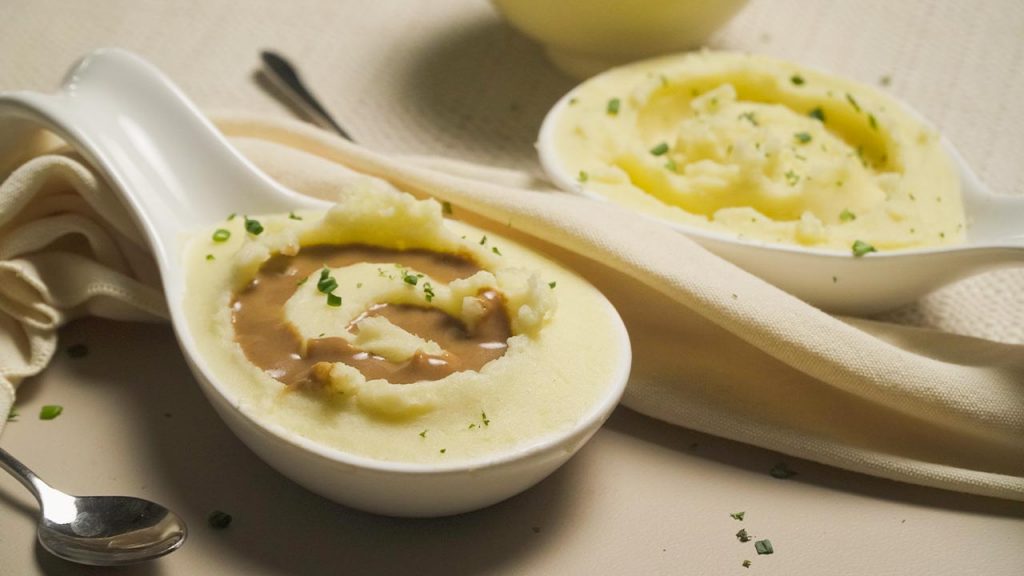 Complete your winter meal with rich homemade mashed potatoes on the side! This filling side dish will surely make your winter feast a lot more enjoyable. It's a potato dish that will taste so much better if you pour some creamy homemade gravy on it. Let this simple recipe prove to you that all potato recipes are completely tummy-filling!
Recipe for Inspiration: Homemade Mashed Potatoes and Gravy
Sausage Casserole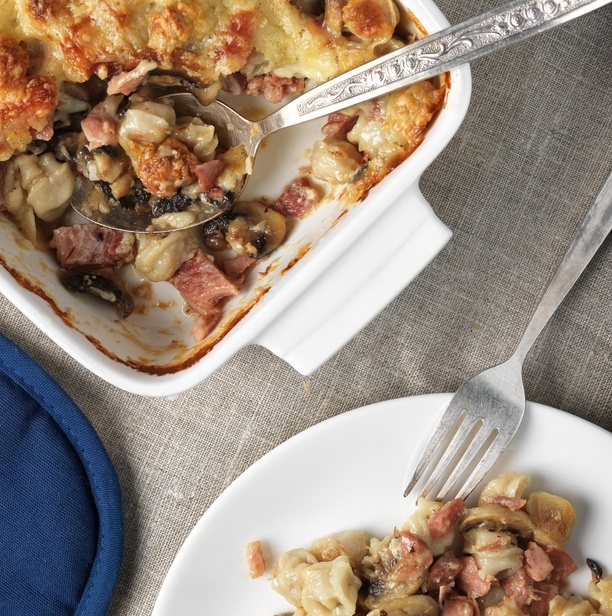 Tender slices of Italian sausage plus shredded parmesan and mozzarella are equal to the best sausage casserole ever! You will also be amazed at how few ingredients, when combined, create delicious flavors just like in this easy recipe. And talk about easy, this special casserole comes together quickly and requires little effort! It's the perfect comfort food on a busy cold winter's night if you ask us. 
Recipe for Inspiration: Creamy and Cheesy Sausage Casserole
Bacon Stuffed Mushrooms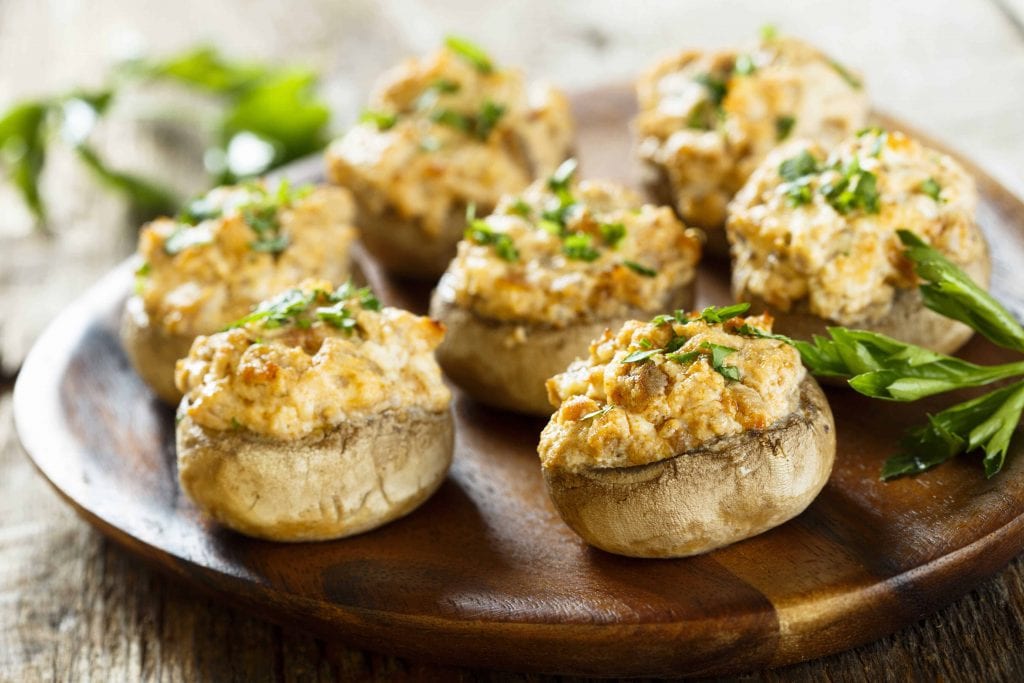 With only four ingredients, less than an hour of preparation, and exquisite results, it's no wonder that bacon-stuffed mushrooms are among the best dinner ideas for cold nights. These heavenly bites are filled with onions, cream cheese, and crispy bacon slices. Pro-tip: make batches of these appetizers because we know your guests will surely ask for seconds! 
Recipe for Inspiration: Bacon Stuffed Mushrooms
Beef & Bean Chili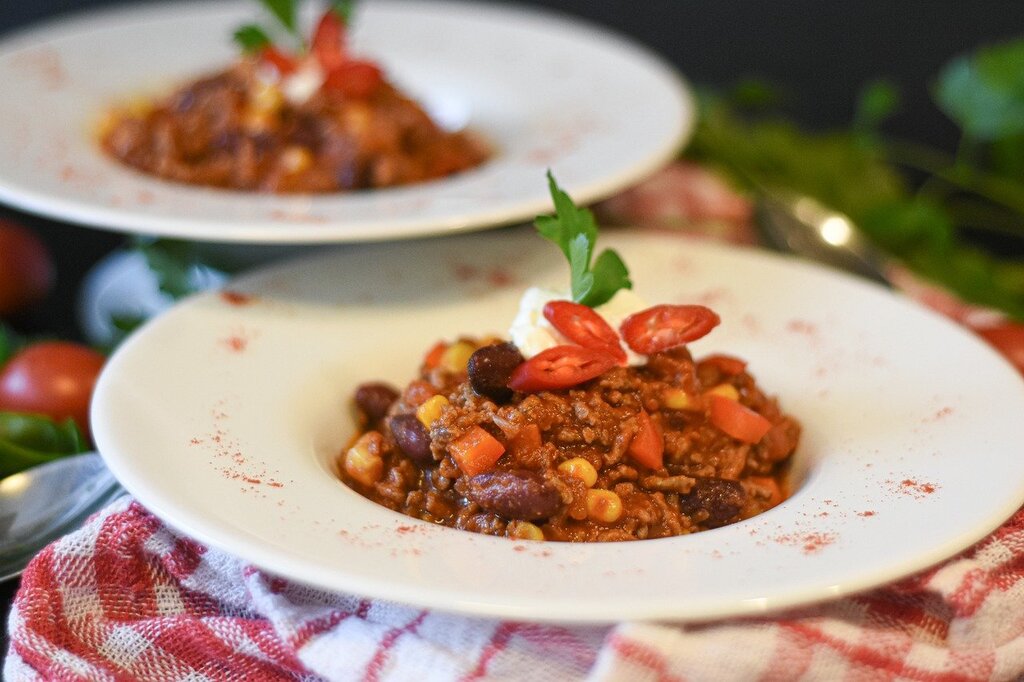 Think of a hearty chili recipe slowly simmered all day long. No doubt that such a comforting meal will be downright delicious. Now, you can whip up this dish with no fuss! In this recipe, ground beef and beans are slow-cooked with tomatoes, tomato soup, chili powder, and other flavorful seasonings. The result is amazingly good!
Recipe for Inspiration: Slow Cooker Hearty Beef & Bean Chili
---
Comforting Winter Soup Recipes
We think this list wouldn't be complete without some delicious soup recipes. So, here are a few warming soups that'll get you through the cold season. 
Butternut Squash Soup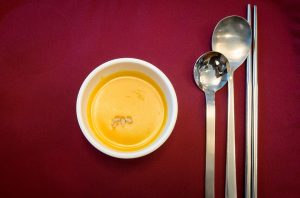 All we want is to cozy up with a hot bowl of butternut squash soup when the cold weather is upon us. This classic winter soup is creamy, hearty, and a cinch to prepare. It only calls for a handful of ingredients to achieve the glorious winter flavor it gives. The blend of spices only amps up the natural sweetness of butternut squash. While it's already perfect on its own, we love pairing this soup with grilled cheese sandwiches.
Recipe for Inspiration: Thick and Hearty Butternut Squash Soup
French Onion Soup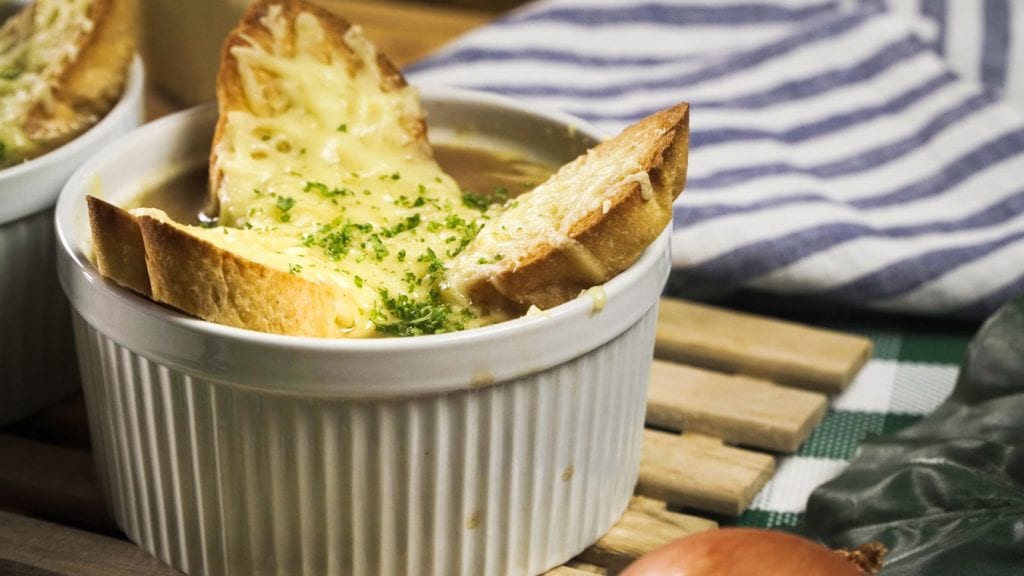 We're obsessed with this Panera-inspired french onion soup. It's flavor-packed and super easy to make! But what makes it extra special? For one thing, it's a delicious combination of caramelized yellow onions, red wine, beef stock, and cognac. Should you wish to take it up a notch, bring on some Gruyere cheese! It'll make your ultimate comfort food creamier, not to mention burst with savory flavors.
Recipe for Inspiration: Panera French Onion Soup Recipe (Copycat)
Tomato Basil Soup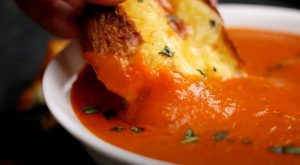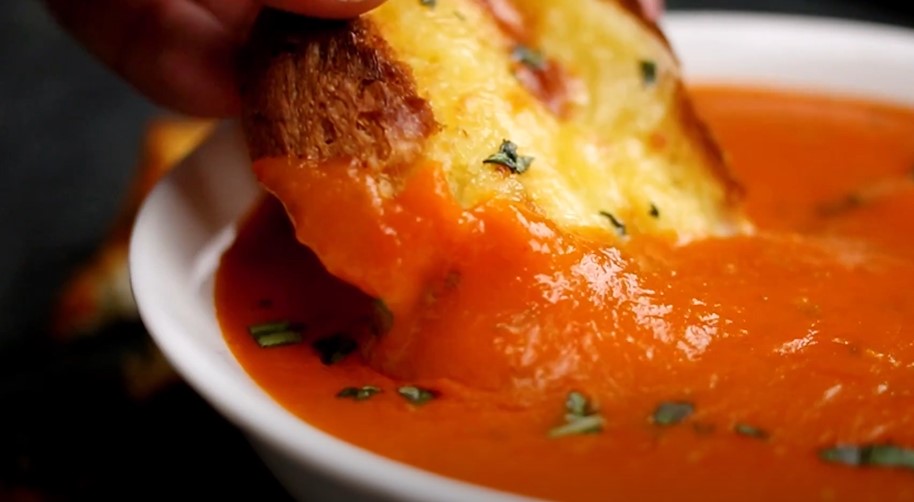 This soup brims with comforting flavors from the roasted tomatoes, fresh basil, and flavorful seasonings. Even better is it's all ready to grace your dinner tables in just one hour! All in all, we know it's bound to bring some excitement to your winter nights. 
Recipe for Inspiration: Creamy Roasted Tomato Basil Soup
Chicken Noodle Soup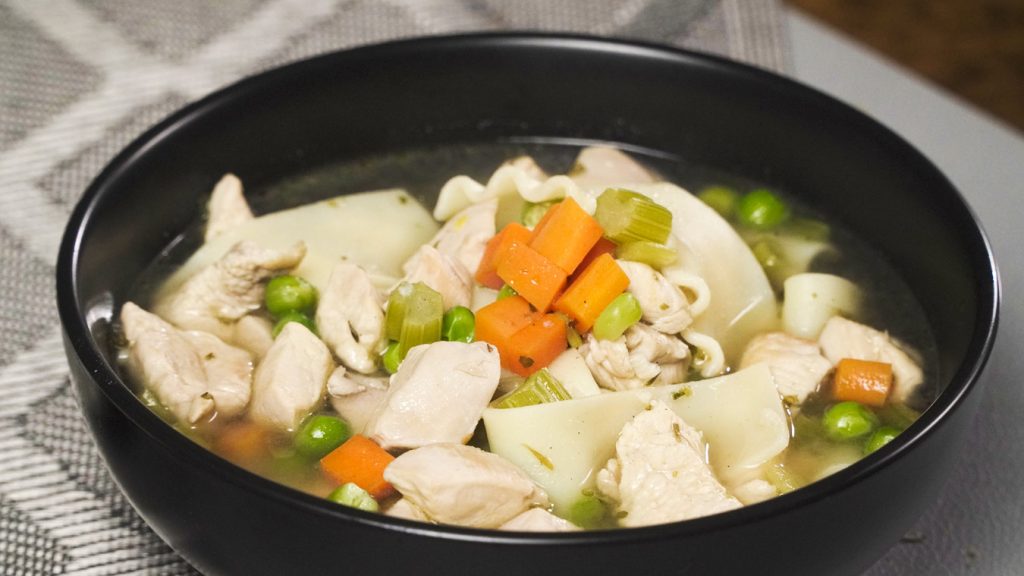 There are seemingly endless versions of the classic chicken noodle soup, but we have already set our eyes and hearts on the one from Panera. First, let's talk about how filling it is, all with those healthy veggies and lean chicken breasts. Those ingredients combine with flavorful seasonings like thyme and parsley, and the result is one satisfying meal with depths of flavors. Want to give it a spicy spin? Try adding chili powder!
Recipe for Inspiration: Copycat Panera Chicken Noodle Soup
Corn Chowder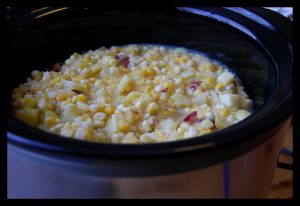 Creamy and velvety, every spoonful of this corn chowder recipe screams winter! Not to mention, by adding bacon slices, this good food will instantly elicit oomph from your guests. Meanwhile, tender potatoes and sweet onions make sure that this recipe finishes with delicious flavors. And the best part? It's a dump-and-go kind of meal. Meaning, you only throw in the ingredients in the crockpot and wait until it's dinner time!
Recipe for Inspiration: Corn Chowder in the Crockpot
Split Pea Soup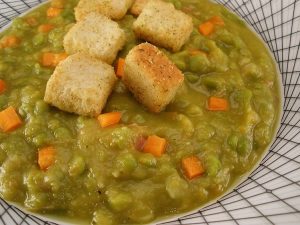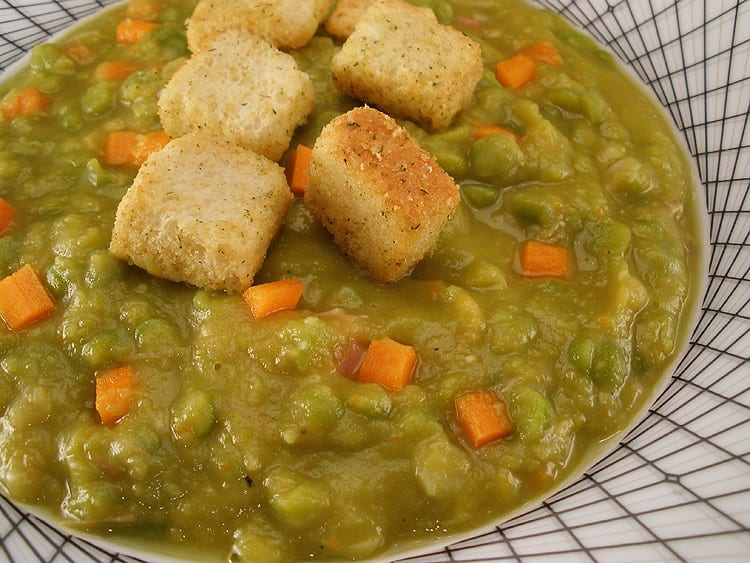 There are two things we love in this split pea soup recipe: its scrummy flavors and its healthful benefits! When it comes to the flavors, various spices balance out the meaty taste of the ham bone. Meanwhile, to make sure that this soup is as nutritious as it's tasty, we incorporated veggies that are excellent sources of fiber and antioxidants. Of course, the main star of this cold-weather soup, split pea, also boasts plant-based protein. Any bread is a surefire way to round out this cozy meal.
Recipe for Inspiration: Old Fashioned Split Pea Soup
Chicken Tortilla Soup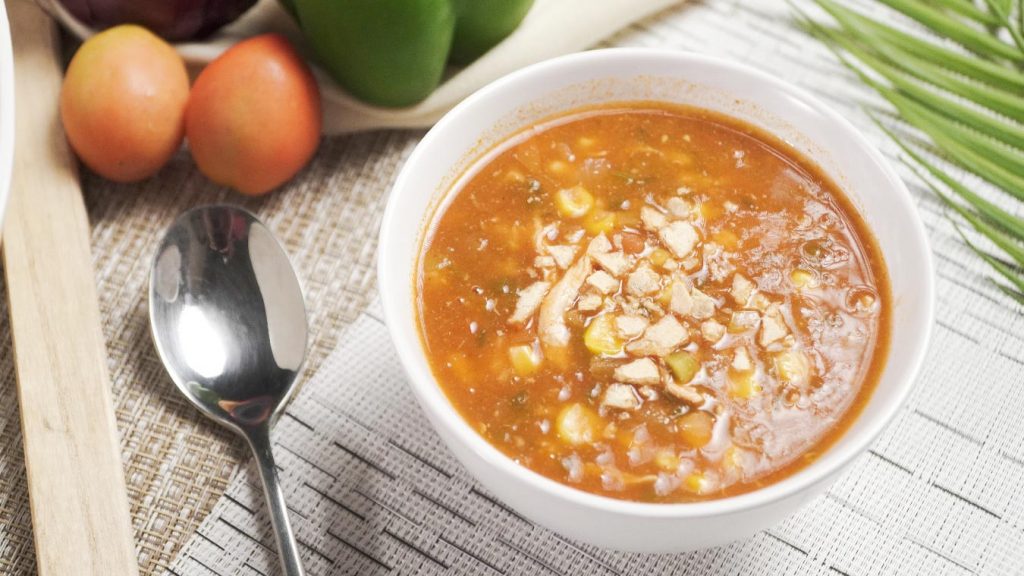 On the prowl for delightful winter dinner ideas? Make sure to include this Pollo Loco-inspired chicken tortilla soup in your dinner menu tonight. The beauty of this easy recipe is that it tastes just like the real thing! So, there's no need to drive to the nearest Pollo Loco restaurant to enjoy such an appetizing soup. With this copycat recipe, you can recreate this soup recipe straight away. Easy yet full of flavors, you're only 40 minutes away from having the best-tasting chicken tortilla soup ever.
Recipe for Inspiration: Copycat Pollo Loco Chicken Tortilla Soup
Winter Squash Soup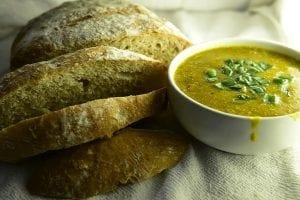 With its creamy goodness, this list of the easiest and tastiest winter dinner ideas won't be complete without the classic winter squash soup. Why, this comforting soup has all the vibrant flavors that make gloomy days brighter! Ready in less than an hour, this cozy recipe is easy to make. 
Recipe for Inspiration: Winter Squash Soup
Bean Soup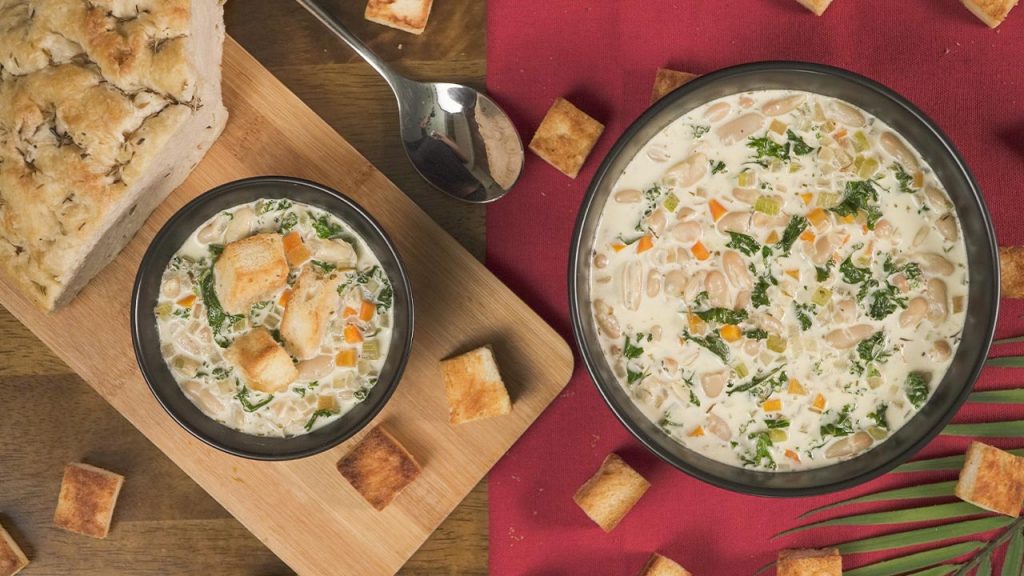 Believe us when we say this white bean soup is more than just an ordinary winter dish. First off, with this simple recipe, you can instantly bring Italian flavors to your dinner tables. This recipe also offers a hearty and nutrient-filled soup, thanks to the various veggies that make it up. This soup is best enjoyed with garlic bread or sourdough on the side.
Recipe for Inspiration: Tuscan Bean Soup
---
Healthy Winter Dinner Ideas
When the temperature starts to drop, some of us want something lighter and healthier. If you're one of those people, feel free to check out these healthy winter dinner ideas.
Chicken Meatloaf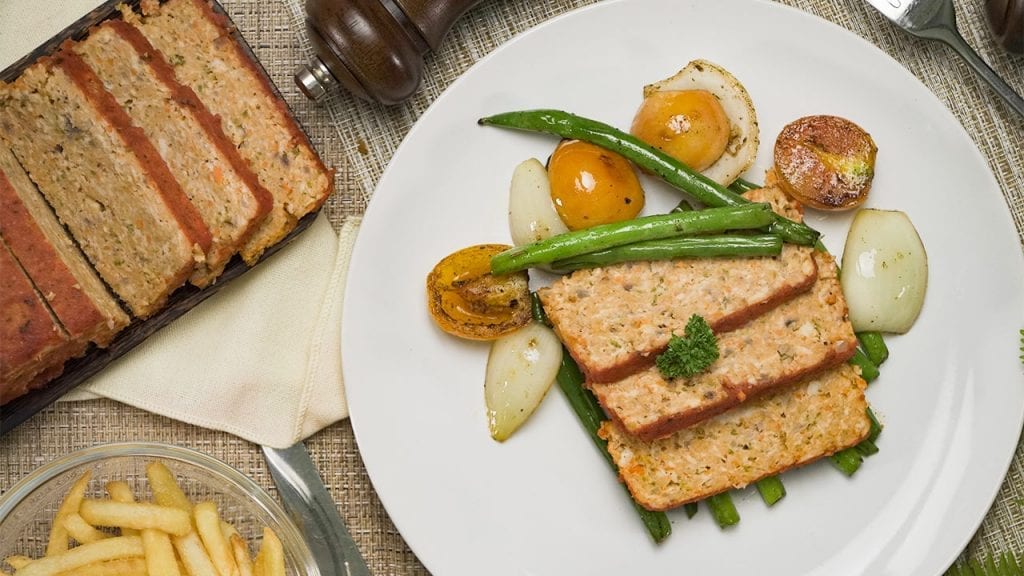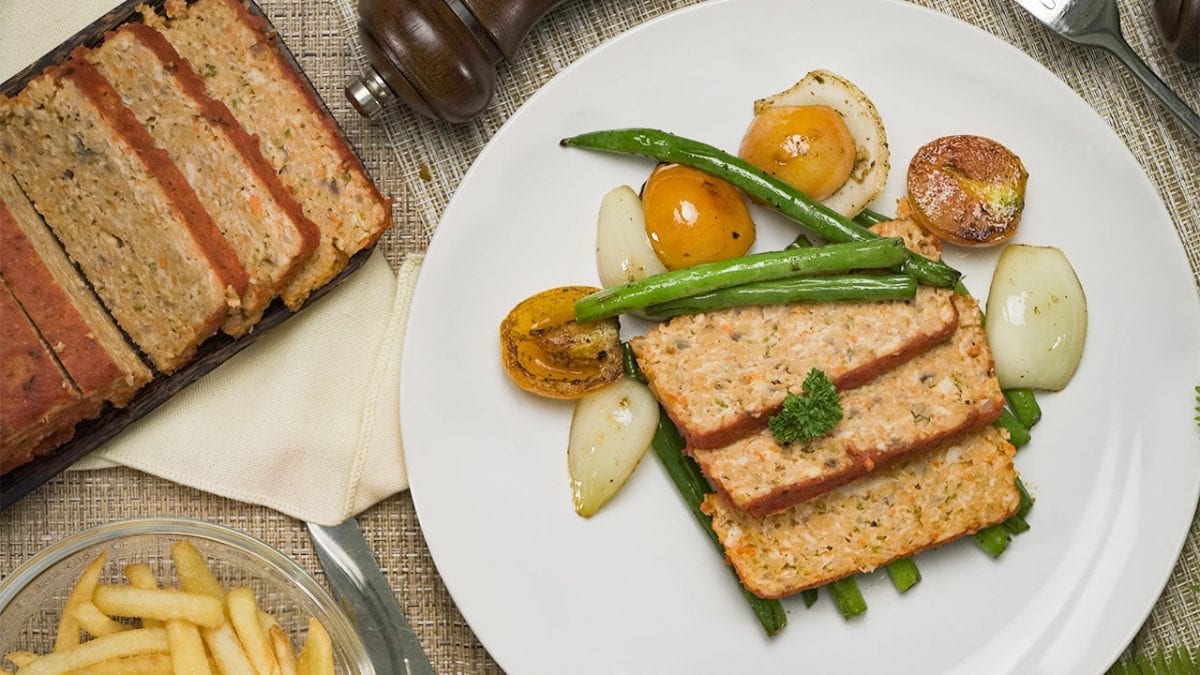 Healthy meals aren't exactly devoid of delicious flavors. For instance, this chicken meatloaf recipe packs a punch of flavor. We mean, it's just as tasty as it's nutritious! And you can make it even more pleasant-tasting by topping it with marinara sauce. Off the bat, this meatloaf recipe might just be your new go-to winter recipe! 
Recipe for Inspiration: Low Cholesterol Chicken Meatloaf
Diabetic-Friendly Chicken Pot Pie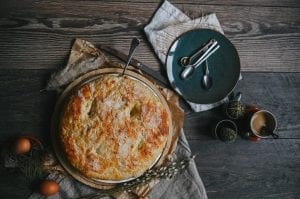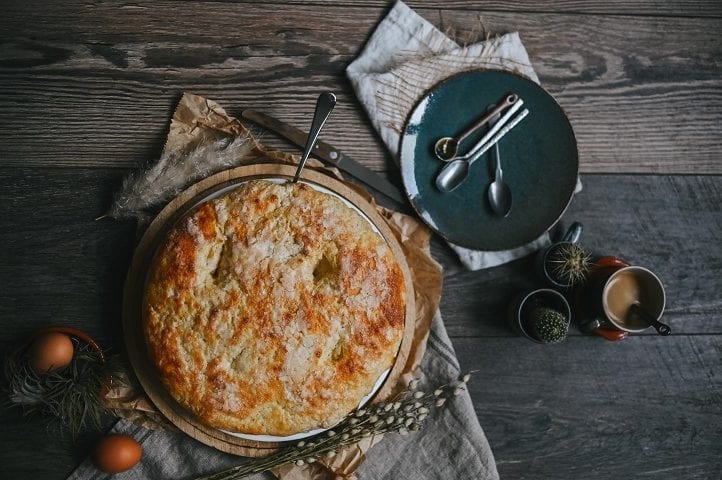 We'll never get tired of saying this: you can eat healthy without compromising the taste. Proof? This healthy chicken pot pie recipe! This no-fuss recipe lets you savor the deliciousness of the traditional chicken pot pie, but without excessive salt and fat. Simply skip the regular chicken broth and go for the fat-free and low-sodium one. Although, it's the protein-filled chicken breast and fiber-rich veggies that really seal the deal. 
Recipe for Inspiration: Healthy Diabetic-Friendly Chicken Pot Pie
Creamy Risotto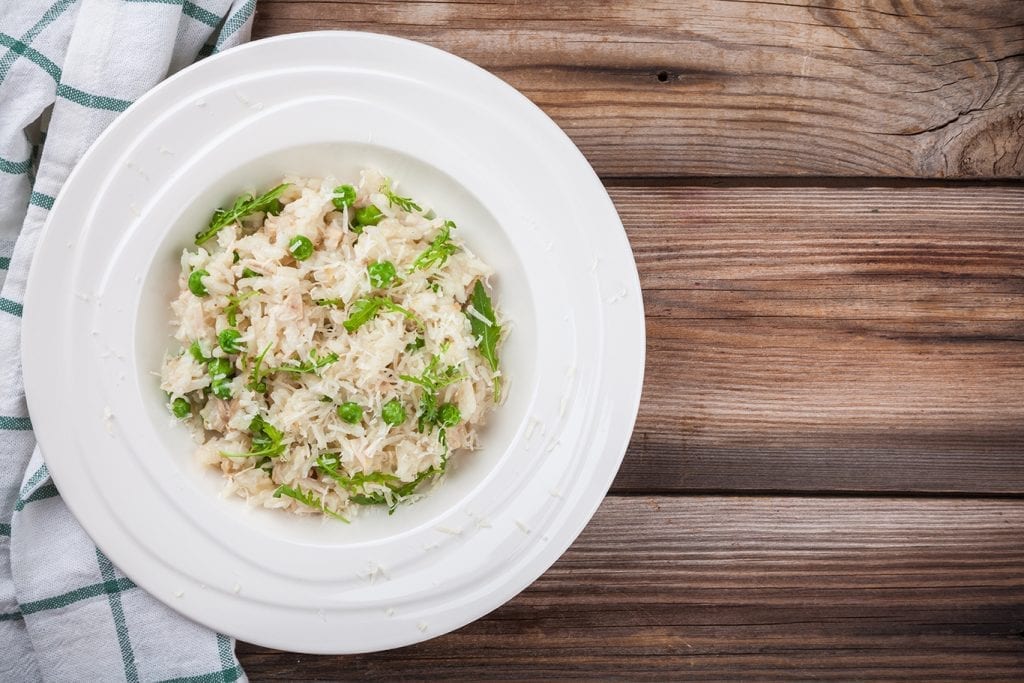 When you're running out of cooking ideas during those cold winter nights, try whipping up this hearty risotto recipe. Seriously, you can't go wrong with such a hearty dish. This tummy-filling dish gets its deep flavors from vegetable broth, fresh arugula, and peas. After 30 minutes of cooking, you will experience a satisfying dinner that's a winter winner.
Recipe for Inspiration: Creamy Risotto with Arugula and Peas
Roasted Brussels Sprouts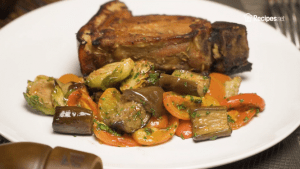 We crave good food that's both satisfying and warming when everything is cold. Good thing there's this heavily seasoned vegetable recipe. It's brimming with flavors that even your vegetable-averse kid will love it. What's even better is that this meal cooks in just 40 minutes!
Recipe for Inspiration: Roasted Brussels Sprouts, Eggplant, and Tomatoes
Italian Wedding Soup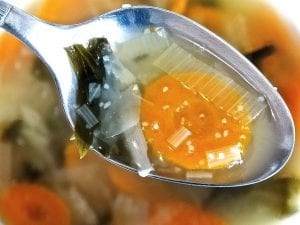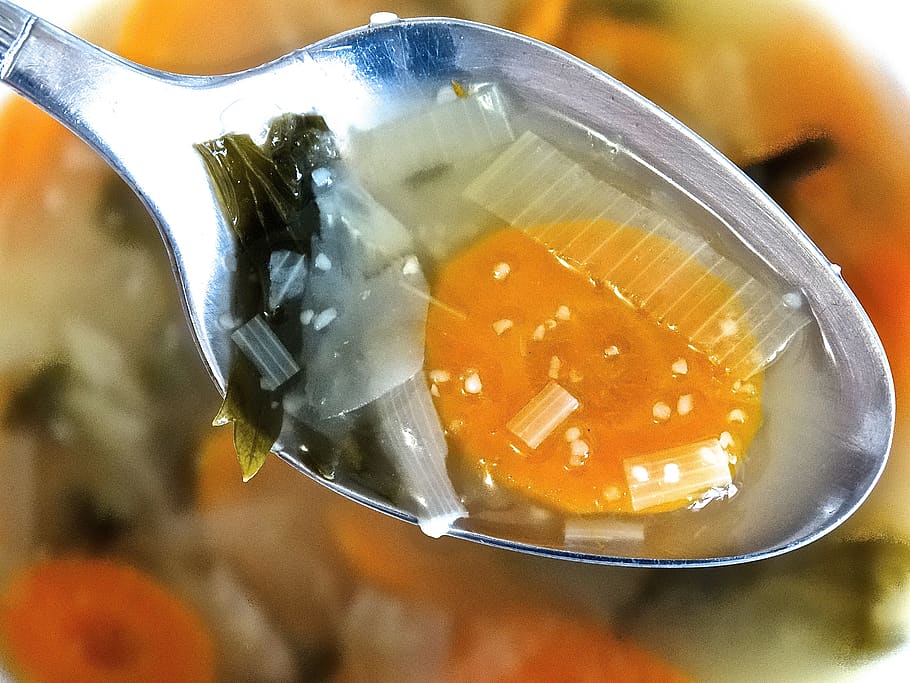 Looking for healthy winter dinner ideas? Then this healthy Italian wedding soup is for you! It's delicious, easy to make, and healthy, so what's not to love about this winter soup? Brothy and packed full of nutrients, it's everything you need on a cold night. As it's made in less than two hours, it's an absolute winter night dream. 
Recipe for Inspiration: Healthy Italian Wedding Soup
Winter Vegetable Salad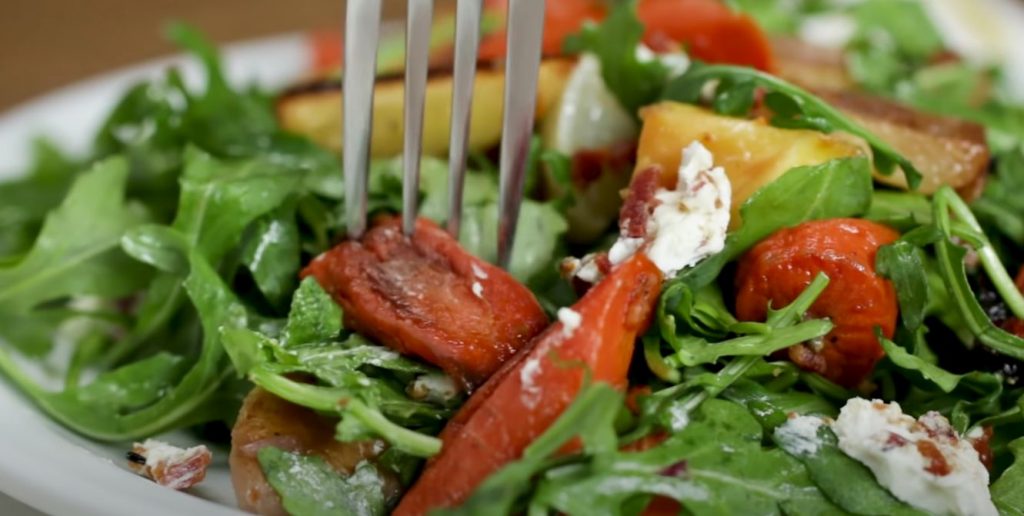 This healthy salad recipe will keep you feeling satisfied during those cold nights. For one, it's made with hearty vegetables. We also love how the black onion seed vinaigrette brings about a savory richness to this light meal. Flavorful and healthy, this winter salad will fill up your tummy all afternoon. 
Recipe for Inspiration: Hearty Winter Vegetable Salad With Black Onion Seed Vinaigrette
Shepherd's Pie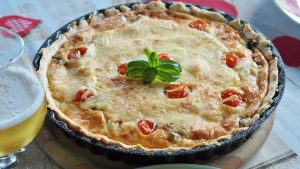 Meet another healthy comfort food: a delightful low-fat shepherd's pie. It's made with tender turkey, celery, and mushrooms, so you can rest assured it's downright filling! Now, the savory garlic sweet potato topping makes this winter dinner more exciting than it already is. It's hard to believe that such a delightsome winter food only takes less than two hours to prepare.
Recipe for Inspiration: Turkey Sweet Potato Shepherd's Pie
Pesto Spaghetti Squash
We can see why spaghetti squash is a family favorite during the winter season. Besides being a healthier version of a pasta dish, this recipe is downright flavorful at the same time. We make it a little extra delicious by layering the pasta strands with pesto sauce. This gluten-free finishes off with a generous amount of Mozzarella and Parmesan cheese that deliciously melts.
Recipe for Inspiration: Pesto Spaghetti Squash with Mozzarella