This wholesome black-eyed peas and bacon recipe is flavored with briny bacon, caramelized white onions and creamy soft potatoes. So tasty and flavorful, you will want to have this dish all year long! Black-eyed peas, also known as cowpeas, are a common legume cultivated around the globe.
Despite their name, black-eyed peas are not peas but rather a type of beans. They're generally very pale in color and feature a large black, brown, or red spot that resembles an eye. Black-eyed peas have a strong, savory flavor and are often considered a staple in both Indian and traditional Southern cuisine.
 Black-eyed peas have been associated with a number of powerful health benefits. Black-eyed peas are full of fiber and a great source of potassium, iron and protein. Like most legumes, black-eyed peas help lower cholesterol and are full of beneficial fats. This recipe is a great way to introduce nutritional eating habits to the family. 
And if that fact doesn't make you a fan of black-eyed peas? Then, you are sure to fall in love with it for it's, distinct nutty, earthy flavor. Like most beans, black eyed peas have that familiar starchy, beany taste, though they're also pretty earthy. Even though they're called peas, black eyed peas aren't sweet like green peas. They're savory! So, they are a perfect accompaniment to bacon. Bacon, it's got to be the most popular cured meat in the world.
There's something about bacon that makes it loved by many! The meat is positioned on a pedestal, and Americans eat an average of 18 lbs. of it each year. It is made from pork belly, which is part of the loin. Fresh pork belly can be cooked in a variety of ways, but bacon is brined and smoked and often cured with sweet things like brown sugar or molasses. The most popular cured meat in the world, bacon is indeed a versatile ingredient! It's not just perfect for breakfast, the salty, crunchy, fatty food goes well with just about anything, any time of day. Especially in a soup with black-eyed peas, potatoes and sweet onions!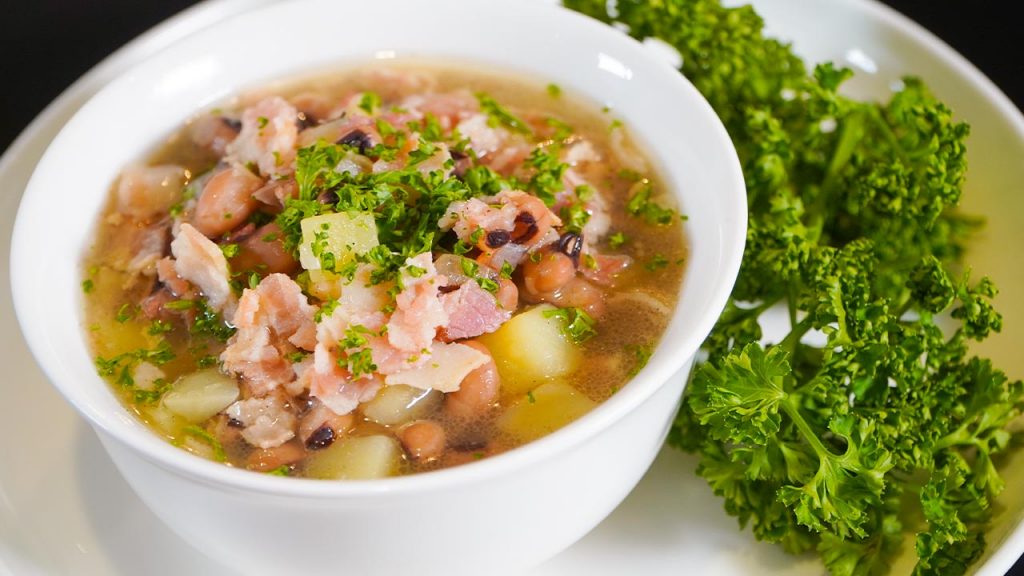 Black-Eyed Peas and Bacon Soup Recipe
How To Make Black-Eyed Peas and Bacon Soup
This wholesome black-eyed peas and bacon recipe is flavored with briny bacon, caramelized white onions and creamy soft potatoes. So tasty and flavorful, you will want to have this dish all year long!
Ingredients
½

lb

bacon,

diced

1

onion,

chopped

5

cups

water

1½

chicken bouillon cubes

2

cups

black-eyed peas,

drained

½

tsp

salt

½

tsp

pepper

6

potatoes,

small, diced
Instructions
Cook bacon over medium heat until brown.

Set the bacon aside and drain excess oil.

Using the same pot and remaining oil, saute onion until translucent.

Add the potatoes and continue sauteing.

Add the water and simmer for 15 minutes minimum or until the potatoes are tender.

Add the bacon back, and the chicken bouillon.

Season with salt and pepper to taste.

Lastly, add the peas and continue simmering for 15 minutes minimum or until beans are tender.

Garnish with parsley and serve while hot!
Recipe Notes
Instead of water, you can also use any stock you have in your kitchen. Chicken broth will add more depth of flavor to your soup. 
Nutrition
Sugar:

1g

:

Calcium:

24mg

Calories:

161kcal

Carbohydrates:

7g

Cholesterol:

19mg

Fat:

12g

Fiber:

2g

Iron:

1mg

Potassium:

152mg

Protein:

6g

Saturated Fat:

4g

Sodium:

684mg

Vitamin A:

53IU

Vitamin C:

1mg
Nutrition Disclaimer
Frequently Asked Questions
How to prep black eyed peas?
Soak legumes overnight – sort through your 1 ½ cups of black-eyed peas, making sure to remove any stones and shriveled or broken pieces. Add the black-eyed peas to a large mixing bowl and cover with a few inches of cool water. Allow to soak for 8 hours or overnight. Drain and set aside to make your soup.
How to store black eyed peas?
Store dry black-eyed peas in an airtight container and keep them in a cool, dry place. For best taste, use them within 1 year of receiving them. Cooked peas can be frozen or refrigerated. Freeze cooked black-eyed peas in a shallow (no more than 3 inches deep) airtight container and use them within 6 months.
How long do cooked black-eyed peas last in the freezer?
To further extend the shelf life of cooked black-eyed peas, freeze them; freeze in covered airtight containers or heavy-duty freezer bags. Properly stored, they will maintain best quality for about 6 months, but will remain safe beyond that time.
Do black eyed peas come in a can?
Purchasing canned black-eyed peas will help reduce cooking time over the dried version of the legume, but usually have much more added sodium than the frozen version.

Can I make a vegetarian version of this dish?
Go ahead and omit the bacon. Use vegetable stock in place of water or chicken stock. You can also use mushrooms in place of the bacon.

What seasonings go well with black eyed peas?
The most common herbs used with black-eyed peas include parsley, rosemary, thyme, sage and savory. They can be used fresh often, they're chopped fine and tossed with salad. They also add flavor to black-eyed peas in stew, soups and casseroles.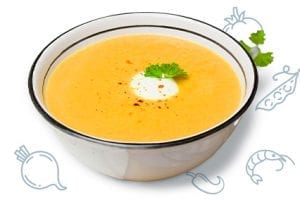 Conclusion
A recipe that uses dried beans, bacon, potatoes, onions, seasonings and a stock pot to cook simple ingredients and bring out all their wonderful, earthy flavors. Perfect for cold winter days when you have family and friends to feed, simply place all of the ingredients in the pot to simmer and you have a wonderful hearty dinner. With simple steps to create such an amazing dish, this is a great recipe for busy days, and it's also an ideal meal for a large family or gathering. Leftovers freeze beautifully and can be kept for up to 3 months, or bring some leftover soup to work in a thermos the next day; the flavors only get better with day-old soup. Southern Black-eyed Peas! Simmered in Chicken bouillon and spices, loaded with smoked bacon, onions, and potatoes! Easy Recipe that's full of Flavor!