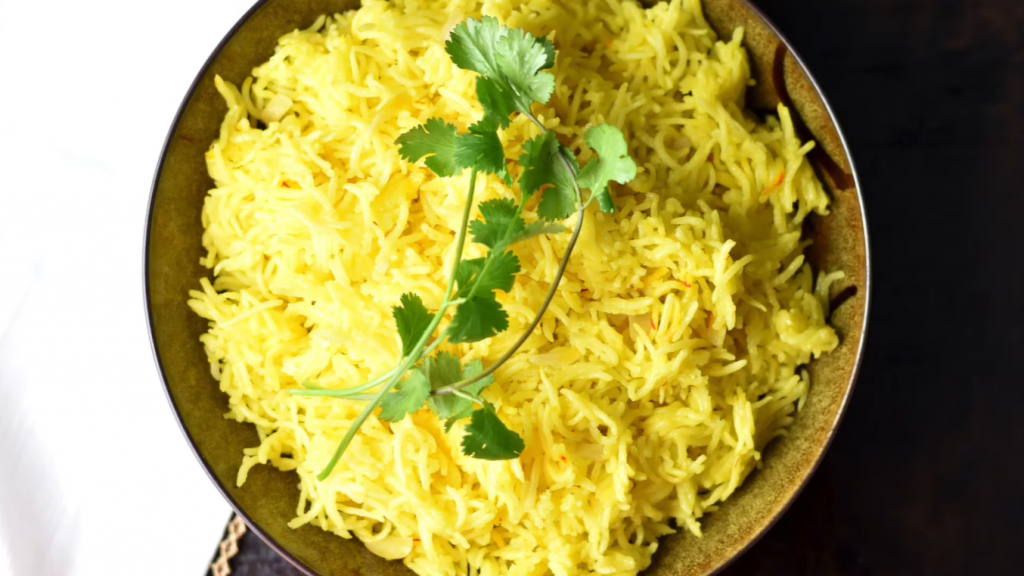 Saffron Rice Pilaf Recipe
How To Make Saffron Rice Pilaf
Make your meals more colorful with this bright and fluffy saffron rice pilaf, made flavorful with saffron, orange zest, and cloves, for a spiced side!
Ingredients
½

tsp

saffron threads

2

tbsp

ghee,

or clarified butter

4

cardamom pods

1

small cinnamon stick,

(2-inch)

4

whole cloves

10

black peppercorns

2½

cups

long-grain white rice

2

tsp

kosher salt

1½

tsp

orange zest,

(from 1 orange), packed

2

tbsp

pistachios

2

tbsp

almonds,

blanched, slivered, or sliced

2

tbsp

golden raisins
Instructions
Heat a large kettle of water, that's a little more than 1-quart, to boiling.

Place the saffron in a small bowl, cover with 2 tablespoons of the hot water, set aside.

Heat 2 tablespoons of ghee or clarified butter in a 2-quart, thick-bottomed saucepan on medium-high heat until hot.

Add the cardamom pods, cinnamon stick, cloves, and peppercorns to the pan. Gently fry the spices for 2 minutes.

Add rice, and fry for 3 more minutes, stirring after 1 to 2 minutes. Some of the rice should brown at the bottom of the pan.

Remove the pan from heat. Add 4 cups of the hot water prepared in step one to the pan, taking care to add slowly as it may bubble up and splatter.

Add 2 teaspoons of salt. Add the saffron threads and their soaking liquid. Add the orange zest. Stir, bring quickly to a boil, reduce the heat to the lowest setting.

Cover tightly and cook for 20 minutes.

In a small frying pan, heat on medium-high heat and add the pistachios and slivered almonds. Toast for about 3 or 4 minutes until lightly browned, then remove from the pan into a bowl.

After 20 minutes, remove the lid from the rice. Pick out the spices that have floated to the top of the rice – the cinnamon stick, any whole cardamom pods, black peppercorns, or cloves.

Scatter the golden raisins over the top of the rice. Replace the lid and cook for 5 more minutes.

Stir in the toasted almonds and pistachios and serve. Enjoy!
Recipe Notes
To make clarified butter for this recipe, melt 4 tablespoons of sliced unsalted butter in a small saucepan on medium heat. Let the butter foam up, which releases its moisture. When the foaming subsides a bit, solids may be seen in the melted butter beginning to brown, remove from heat and pour through a fine-mesh sieve lined with cheesecloth or a paper towel (to strain out the solids) into a bowl.

Sometimes depending on how the rice was packed, it will need to be rinsed before cooking, especially rice that bought in large bulk bags. If there is powdery stuff around the rice, rinse it. If this is the case with one's rice, rinse it until the rinsing water runs clear, and spread the rice out to dry on a large baking sheet. Make sure it is completely dry before frying.
Nutrition
Calories: 

449.00kcal

Fat: 

8.91g

Saturated Fat: 

3.65g

Trans Fat: 

0.00g

Monounsaturated Fat: 

3.52g

Polyunsaturated Fat: 

1.22g

Carbohydrates: 

82.96g

Fiber: 

1.43g

Sugar: 

2.55g

Protein: 

8.08g

Cholesterol: 

13.11mg

Sodium: 

267.14mg

Calcium: 

33.04mg

Potassium: 

184.52mg

Iron: 

1.25mg

Vitamin A: 

44.03µg

Vitamin C: 

1.22mg