First off, when making the patties for this Fennel and Apple Slaw Pork Burger recipe, it is key to choose the right meat. Seeing the name on the recipe, you would know what meat it is we're recommending. That's right, pork! In general, it is easy to achieve a tender and succulent patty with pork meat without fear of overcooking, unlike if you use beef. 
Secondly, pork and apples go hand in hand. In fact, there is something special about the sweet taste of apples and the full flavor of pork that work so well together in a dish. For instance, an apple can be the perfect complement to cut the salt from any pork dish. Furthermore, if you're entertaining, it can be a nice little surprise when your guests dig in!
Meanwhile, the other hero to the slaw: the fennel, is a vegetable that has a faint flavor of licorice. Also, it's crunchy and sweet when tossed raw into a salad. This, accompanied by the crisp and mild flavors of the iceberg lettuce and sweetness of the carrots is a marriage of interesting layers of flavor perfect for this dish. Try out our Perfect Panko Crusted Onion Rings Recipe, it's a great accompaniment to this delicious Fennel and Apple Slaw Pork Burger recipe!
How To Make Fennel and Apple Slaw Pork Burger
This healthy Fennel and Apple Slaw Pork Burger is the perfect twist to your BBQ cookout.
Ingredients
2

tbsp

vegetable oil

4

pieces

ground pork patty

sea salt

for taste

4

slices

cheddar cheese

4

sesame burger buns
For Onion and Tomato Relish:
1

cup

red onion

medium

1

cup

tomatoes

½

cup

brown sugar

½

cup

balsamic vinegar

½

cup

red wine

1 ½

tbsp

freshly ground black pepper and sea salt
For Fennel and Apple Slaw:
½

cup

fennel

thinly sliced

½

cup

red apple

thinly sliced

½

cup

carrot

thinly sliced

½

cup

iceberg lettuce

thinly sliced

2

tbsp

aioli
Instructions
Begin by adding one cup of sliced red onion into a large pot.

Using a silicone spatula, stir on medium heat until onion is translucent.

Next, add one cup of tomatoes to the pot and cook until tomatoes are soft and translucent.

Add brown sugar to your pot and stir well. The caramelized sugar will add a wonderful balance to the sour tomatoes.

Now, add balsamic vinegar and red wine into your onion mixture.

Throw in 1 ½ tablespoons of black pepper and salt. Allow mixture to boil until soft and pulpy. Simmer at low heat to make sure your relish doesn't burn. Stir occasionally.

Add vegetable oil to a heated skillet. Place 4 pork patties into your skillet and sear. Tip: cover the pork patties with a lid to make sure they cook well internally.

Season with sea salt and sear each side for 3 to 5 minutes. Check the doneness of your patty by placing a kitchen thermometer into the center part of your patty. The internal heat of the pork patty should be at 145 degrees F.

Place a slice of cheddar cheese on each patty and cover with a lid. This will help the cheese melt.

Remove the cheesy pork patties from the skillet and set aside.

Check on the onion relish, it should have reduced to ⅓ of its original consistency.

Now time to assemble your pork burger. Toast the burger buns on a heated pan.

Next, add a generous spoonful of the onion and tomato relish and spread evenly.

Layer your cheesy pork patty atop the relish.

To make the fennel and apple slaw: Mix aioli with ½ cup each of thinly sliced fennel, red apple, carrot, and iceberg lettuce.

Top the burgers with a generous amount of slaw and serve.
Nutrition Facts
Calories:
485
kcal
|
Carbohydrates:
67
g
|
Protein:
10
g
|
Fat:
17
g
|
Saturated Fat:
10
g
|
Cholesterol:
21
mg
|
Sodium:
421
mg
|
Potassium:
445
mg
|
Fiber:
4
g
|
Sugar:
39
g
|
Vitamin A:
3213
IU
|
Vitamin C:
12
mg
|
Calcium:
261
mg
|
Iron:
3
mg
Commonly Asked Questions
How do I make healthy home-made aioli?
You can make healthy homemade aioli with just a few ingredients and a blender. Combine one cup of fat-free Greek yogurt, 1 clove of garlic, 1 teaspoon of lemon juice, ¾ teaspoon of chopped dill (optional) and salt & pepper to taste. There you have it, it's so easy to make aioli.

How to thinly slice the ingredients for the slaw?
You can either use a sharp knife to thinly slice into ribbons or opt for a mandolin. Be sure to use the safety attachment for an even shredding of the fennel, apple, carrot and lettuce.

What if I don't have red wine and balsamic vinegar in the pantry?
You can substitute red wine with ½ a cup of water or vegetable stock. If you don't have balsamic vinegar, use apple cider vinegar instead.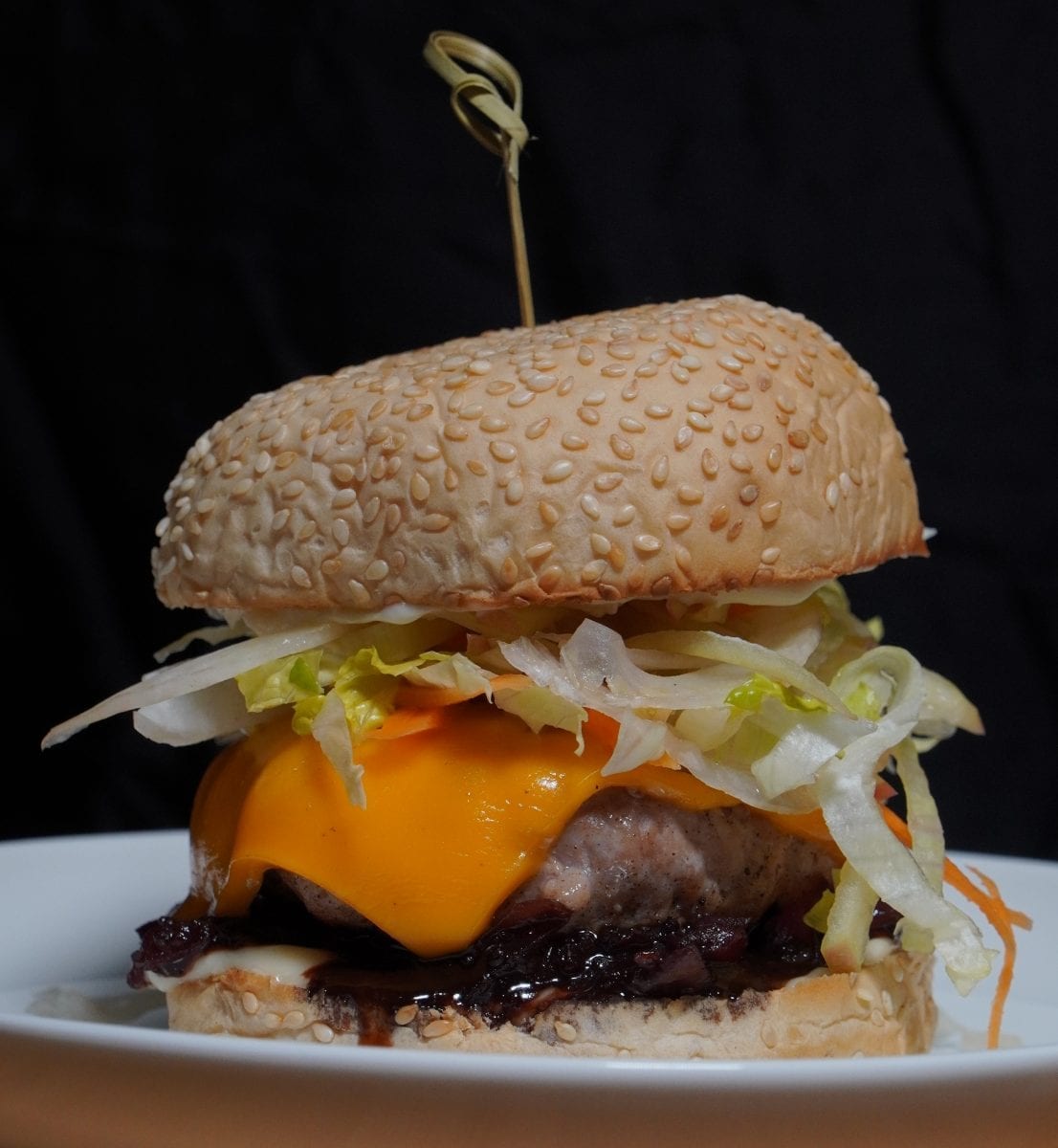 Conclusion
Finally, the versatility of this dish allows for many variations the whole family is sure to enjoy, just switch up the meat with beef, chicken or turkey. Go ahead and fire up the grill for this super easy Fennel & Apple Slaw Pork Burger! It's sure to be a summer favorite your family and friends would remember!