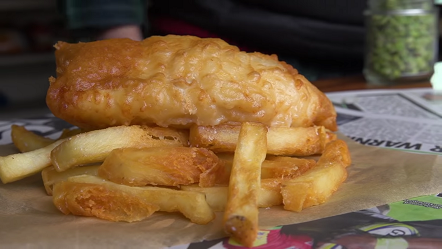 Sheet Pan Fish and Chips Recipe
How To Make Sheet Pan Fish and Chips
For a healthier version of fish and chips, this recipe is your best bet. Everything is baked instead of deep-fried, so you're sure to get a lower fat dish.
Ingredients
6

tbsp

olive oil,

(or more if needed)

2½

lb

yukon gold,

(3 large or 6 medium), or other yellow potatoes, unpeeled

1

tsp

salt

1

cup

panko,

or other unseasoned dry white breadcrumbs

½

tsp

ground black pepper

2

lbs

white fish fillets,

firm-fleshed, skins removed, (such as haddock, halibut, pollock, flounder, whiting, redfish, cod, or other fish)

1

tbsp

fresh parsley,

chopped

1

lemon,

cut into wedges, to serve

tartar sauce,

to serve
Instructions
Heat the oven to 450 degrees F. Arrange 2 oven racks in the top and bottom third of the oven.

Line 2 baking sheets with foil and coat with olive oil (about 1 tablespoon per baking sheet) or with nonstick cooking spray.

Quarter the potatoes lengthwise, then cut each quarter in half again so there are 8 spears from each potato. In a bowl, toss the potatoes with 2 tablespoons of the oil and ½ teaspoon salt. Spread the potatoes on one of the baking sheets with their wedges pointing up, if possible, so the cut sides are exposed.

Roast the spears on the lower rack in the oven for 40 minutes. Rotate the pan partway through (after 20 minutes of cooking) and use a wide metal spatula to stir the potatoes.

Once the potatoes are in the oven, start on the panko and the fish. To toast the panko, warm a heavy skillet over medium high heat. Add the panko (no oil needed), and lower the heat to medium.

Slowly toast the panko, stirring frequently, for 10 to 15 minutes or until a deep golden brown. Remove the skillet from heat.

Stir 1 tablespoon of olive oil, salt, and black pepper into the panko breadcrumbs until they are well coated. Transfer the crumbs to a shallow bowl.

Cut the fish into large strips ("fingers") or big 3-inch pieces. Rub all the pieces with the remaining tablespoon of olive oil.

Press the fish into the panko so the pieces are coated all over. Set the fish on the second baking sheet, spaced slightly apart.

When the potatoes are 15 to 20 minutes away from being done, bake the fish. Cook thick (2-inch) fish fillets for 15 to 18 minutes and thinner fillets for 10 to 13 minutes, or until the fish is firm and the coating is starting to brown. Err on the side of caution and do not over-bake.

Arrange fish and potato spears on plates, sprinkle with parsley, serve with lemon and tartar sauce.
Nutrition
Calories: 

448.53kcal

Fat: 

16.60g

Saturated Fat: 

2.80g

Monounsaturated Fat: 

10.61g

Polyunsaturated Fat: 

2.06g

Carbohydrates: 

41.08g

Fiber: 

4.82g

Sugar: 

2.04g

Protein: 

35.27g

Cholesterol: 

75.60mg

Sodium: 

492.70mg

Calcium: 

61.52mg

Potassium: 

1271.90mg

Iron: 

2.63mg

Vitamin A: 

2.81µg

Vitamin C: 

43.20mg