If you're planning to go the extra mile for a fancy homemade dish, then this salmon ceviche is just the dish for you. It's an easy homemade recipe that uses simple ingredients and a food processor for a faster preparation process. We're completing this ceviche de salmón with an accompanying corn salad vinaigrette dressing for added crunch and flavoring. Pair this South American seafood dish with other delicious appetizers like crunchy tortilla chips or refried beans tostadas to enhance your flavorful experience.
What is Ceviche?
Ceviche recipes are prepared by marinating diced cubes of raw fish (shrimp, tuna, or salmon) in an acidic mixture (orange, lemon, or lime juice). This will "cook" the fish, and give it a white and opaque color with a firm texture. In terms of taste, this salmon ceviche recipe adds another delicious flavor into the mix.
The secret of this recipe lies in marinating the salmon in a simple yet flavorful citrus marinade. Then, finishing it off with a sweet corn salad vinaigrette dressing. As a result, you'll get a combination of a light and refreshing seafood dish bursting with savory and citrus flavors.
Tips on Making Salmon Ceviche
A ceviche recipe needs extra attention to keep it flavorful and fresh. Since it's raw fish, the preparation process is different from the usual. That's why we listed a couple of tips and reminders to help you keep the dish extra flavorful.
Use good quality and fresh salmon fish.

Choose those with firm flesh and unclouded eyes. Remember to also properly store it with ice inside the refrigerator to ensure its freshness.

Keep the vegetables small and diced.

When cutting the onions and tomatoes, make sure to keep it small and diced so that it doesn't overpower the salmon. Lastly, smaller-sized vegetables will also soften more quickly with the marinated mixture.

Try adding some spice.

If you want to add spice to the sour and subtly sweet flavor, then try adding a few drops of tabasco into the mix. You can also try cutting some small red chili peppers to add more flavor to the vinegar and other seasonings.

Remember the oil to vinegar ratio for the vinaigrette. For the sweet corn vinaigrette dressing, it's also important to stick to the recipe's oil to vinegar measurement. Sometimes, vinaigrettes have the tendency to not combine well which can affect the taste. In using the food processor, make sure to keep it slow and steady when mixing for the flavors to meld and emulsify properly at room temperature.
Avoid marinating raw fish for more than 30 minutes to prevent "overcooking" the raw salmon. Long exposure to the acidic mixture would affect the overall texture of the dish.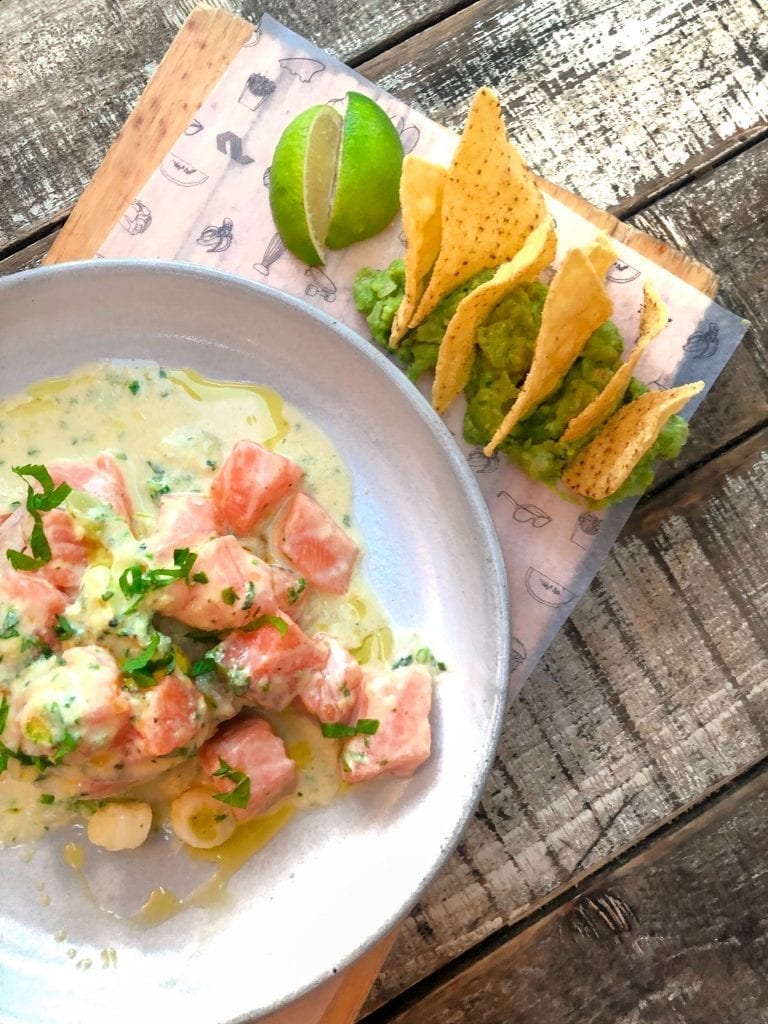 Salmon Ceviche with Sweet Corn Vinaigrette Recipe
How To Make Salmon Ceviche with Sweet Corn Vinaigrette
The best salmon ceviche is made with a citrus marinade to give the raw salmon fish a delicious light and acidic taste. In this recipe, we topped it off with a sweet corn vinaigrette dressing to add a layer of crunch.
Ingredients
For Salmon:
1½

lb

salmon,

fresh, raw

1

cup

lime juice,

fresh

1

white onion,

diced

1

tbsp

kosher salt

1

tbsp

ground coriander seed,

toasted

¼

cup

fresh cilantro,

chopped
For Corn Vinaigrette Dressing:
1½

cups

sweet corn,

fresh and blanched

2

tbsp

sherry vinegar

2

tbsp

fino

½

cup

olive oil

salt and pepper,

to taste
To Serve:
2

roma tomatoes,

diced

2

green onions,

chopped
Instructions
Cut salmon into ½-inch cubes. Place inside a non-reactive container. Add in the fresh lime juice, white onion, kosher salt, coriander seed, and cilantro into the mix.

Marinade salmon fish for at least 10 to 15 minutes. Then, remove from the marinade.

To make the corn vinaigrette, in a food processor, add the corn, vinegar, and fino to the bowl.

While the motor is running, add the olive oil in a slow, steady stream until the mixture emulsifies.

Season dressing to taste with salt and pepper.

Toss salmon with the dressing, tomatoes, green onions, and the remaining corn. Serve and enjoy!
Nutrition
Sugar:

4g

:

Calcium:

34mg

Calories:

387kcal

Carbohydrates:

15g

Cholesterol:

62mg

Fat:

26g

Fiber:

2g

Iron:

2mg

Potassium:

784mg

Protein:

25g

Saturated Fat:

4g

Sodium:

1218mg

Vitamin A:

379IU

Vitamin C:

19mg
Nutrition Disclaimer
Frequently Asked Questions
Is salmon ceviche safe to eat?
Eating raw salmon in the ceviche recipe is completely safe. This is because the lime juice used during the marinating process denatures the proteins of the fish and changes its texture similar to a traditional cooked fish. The longer it's drenched in the acidic marinade the longer it's "cooked." It won't smell fishy, but rather a bit citrusy and sweet.
Can you overcook ceviche?
Yes. It is possible to "overcook" the raw salmon ceviche. When making ceviche recipes, it is a general rule not to marinate the raw fish meat for more than 30 minutes. This is because the acid from the citrus used will change the structure of the meat, making it flaky and mushy. Lastly, it's best to marinate in small batches or quantities to avoid "overcooking" the whole salmon meat. Make sure to only use the necessary amount of raw salmon fish for your desired amount of servings.
Conclusion
This salmon ceviche is a wonderful addition to your classic afternoon appetizers. It's easy to make and requires no direct heat to cook. After marinating, you're ready to serve it with some diced onions and tomatoes on the side. Enjoy this refreshing seafood dish with your family and friends!