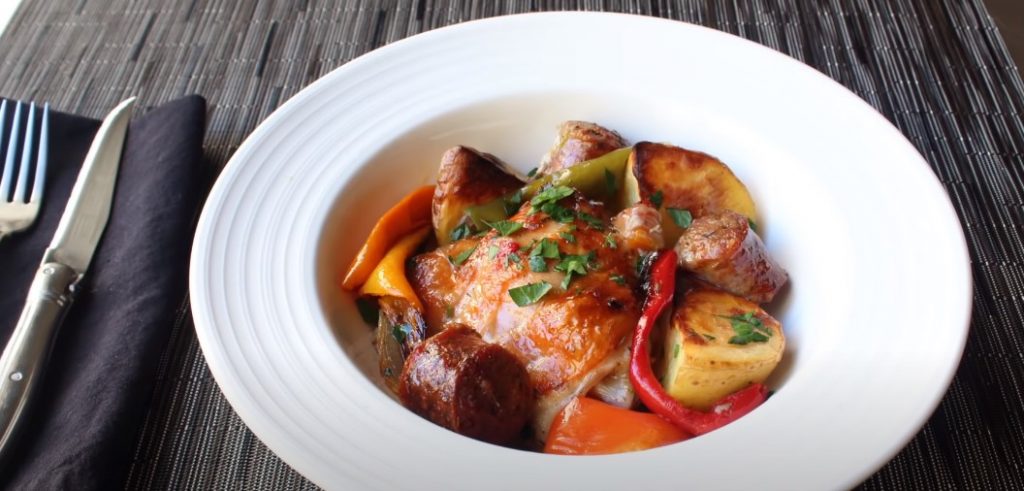 Sausage, Pepper, and Potato Bake Recipe
How To Make Sausage, Pepper, and Potato Bake
Enjoy the delicious layers of this loaded potato bake topped with a rosemary honey mustard vinaigrette to a depth of flavor to this simple dish.
Instructions
Preheat the oven to 400 degrees F and prep the pan. Pour 1 tablespoon of the olive oil into a 9×13-inch baking dish and use a hand, or a brush, to grease the bottom and sides of the dish. This oil will help create a crisp crust on the bottom of the baked potatoes.
Thinly slice the potatoes to about ⅛-inch thick; use a mandoline if needed. Try to keep the potato slices together to make it easier to assemble them in the dish.
Fan the potatoes slightly in the dish, overlapping them like a fallen set of dominoes in the pan and creating four rows of potatoes. Sprinkle with½ teaspoon of kosher salt and ⅛ teaspoon of black pepper.
Bake the potatoes for 30 minutes.
Combine the vinegar, 2 tablespoons olive oil, both mustards, rosemary, garlic, and the remaining salt and pepper in a glass jar with a tight-fitting lid (or in a bowl).
Shake the ingredients together vigorously until combined. If making the dressing in a bowl, use a whisk or an immersion blender to combine. Set this aside.
Carefully remove the dish of potatoes from the oven and evenly arrange the peppers, then the onions, and lastly, the sausage, on top of the potatoes.
Give the dressing another vigorous shake and pour evenly over the top of the casserole.
Return the dish to the oven and bake for an additional 30 minutes, or until a knife inserted into the middle of a potato offers no resistance.
Remove the dish from the oven and cool for 5 minutes before serving. Leftovers will keep in a covered container for up to 2 xdays in the fridge.
Nutrition
Monounsaturated Fat: 

19.19g
Polyunsaturated Fat: 

5.05g