Craving that extra-fluffy and creamy butter from the restaurant? No need to eat out or buy restaurant butter from the grocery. Here's an easy and fast whipped butter recipe for you and your family to enjoy during a weekend breakfast or brunch meal! Smear it on some fresh homemade Italian bread or top a scoop of it on a stack of pancakes.
Tips on Making Whipped Butter
Whipped butter is simply pure butter that's been incorporated with air by beating to make it fluffy. Making it is pretty straightforward and easy. You will only need 2 ingredients — milk and a good butter! And it will take just a few minutes of time. The great thing about making it at home is that you can build your own signature flavors in it – like garlic butter, for starters. Here are helpful tips on how to make whipped butter:
Use good quality butter and full cream milk.

Good butter is quite expensive, but it's far superior in flavor and texture. Plus, it has less water content than regular table butters and butter-flavored margarine, which means you get more pure butter. Similarly, full fat milk gives the creamiest taste.
Salted or unsalted butter?

The choice is yours, but salted butter will give you extra flavor!
Work on softened butter, not solid and not melted.

In case you forgot to thaw it at room temperature, here's how you can quickly

soften butter

: cut them into cubes. Place boiling water in a ceramic container with a lid for 5 minutes. Discard the water, then place the butter in. The butter shall soften in 10 minutes.
Flavor your butter!

For a sweet flavored butter, vanilla bean seeds, brown sugar, honey, and lemon juice are great options to add. For savory, you can add pureed

roasted garlic

, red pepper flakes, worcestershire sauce, and some dried herbs. Do note that for flavored butter, you need to lessen the amount of milk or omit it entirely if you're going to add other liquid ingredients.
Store your whipped butter in a plastic container or wrap logs of it in plastic wrap. Refrigerated, it'll stay good for 10 days.
How to Make Homemade Whipped Butter
Spruce up your white bread with some fast and simple homemade whipped butter. All you need are a slice of butter and some milk for a creamy, buttery spread.
Ingredients
½

cup

butter,

room temperature

2

tbsp

milk
Instructions
Put the softened butter and milk in the mixing bowl of a stand mixer. Mix manually or on low speed until the butter is creamy, about 1 minute.

Scrape the sides and mix at high speed for another 2 to 3 minutes.

Serve with homemade bread or dinner rolls. Enjoy!
Nutrition
Sugar:

1g

:

Calcium:

8mg

Calories:

104kcal

Carbohydrates:

1g

Cholesterol:

1mg

Fat:

12g

Iron:

1mg

Monounsaturated Fat:

6g

Polyunsaturated Fat:

3g

Potassium:

11mg

Protein:

1g

Saturated Fat:

2g

Sodium:

135mg

Vitamin A:

514IU

Vitamin C:

1mg
Nutrition Disclaimer
Frequently Asked Questions
How much butter is in whipped butter?
We say there's less butter in whipped butter than in its regular variant, because the volume of whipped butter is not purely butter. Almost half of it is air. So between the same amount of regular and whipped, you consume less fat with the latter.

Can whipped butter be substituted for stick butter?
This fluffy butter is a good alternative for smearing in homemade bread, but will not do as a substitute for regular butter for making baked goods. It's because there are not enough butterfat in it.

How long does whipped butter last?
It stays good for 10 days when kept in the refrigerator. Bringing it to room temperature then refrigerating it repetitively can cause spoilage because it has milk, so we recommend taking out only the portion that you will consume.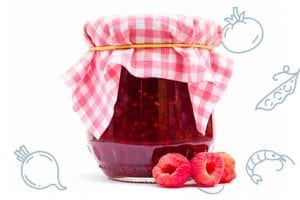 Conclusion
It takes only 2 ingredients and a few minutes to make this whipped butter, but it will surely level up any breakfast or brunch meal! Enjoy your very own homemade creamy, fluffy butter, and flavor it sweet or savory, according to how you like it.
Topics: