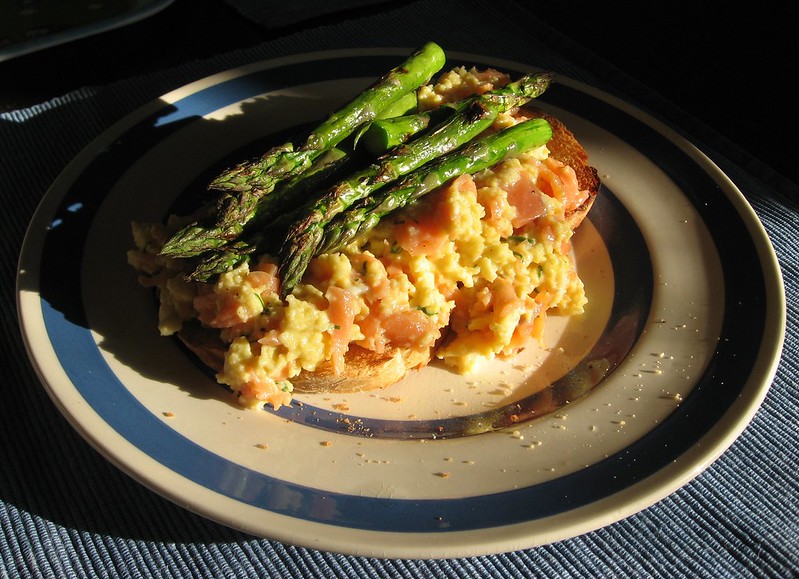 Jon Nagl | Flickr.com
How To Make Scrambled Eggs in Baby Brioches with Smoked Salmon and Asparagus
Breakfast can't just be a bowl of cereals, sometimes we just have to treat ourselves even for the first meal of the day. This amazing scrambled eggs in baby brioche buns are the perfect solution, and better yet, add a few pieces of smoked salmon and asparagus and what you've got there is a decadent feast.
Ingredients
4

brioches,

small, bakery-bought

4

asparagus spears

4

tbsp

unsalted butter

4

tbsp

shallots,

minced

4

oz

smoked salmon,

thinly sliced

8

eggs

¼

cup

heavy cream

freshly ground white pepper
Instructions
Preheat the oven to 450 degrees F.

With a small serrated knife, cut off enough of the top of each brioche to enable you easily to scoop out most of the crumb inside, using a tsp. and your fingertips, leaving a shell about ⅓-inch thick.

Set aside the hollowed out brioches and their tops on a baking sheet.

Bring a small saucepan of salted water to a boil.

Fill a mixing bowl with ice cubes and water.

Snap off and discard the tough stem ends of the asparagus spears.

With a sharp knife, cut off the tip of each spear and reserve.

Cut the remainder of each spear at a 45-degree angle into pieces about ¼ inch thick.

Boil the asparagus tips and pieces until tender-crisp, 3 to 4 minutes; then, drain them and immediately plunge the pieces into the ice water.

Drain and set aside.

In a saute pan over medium-low heat, melt 2 tablespoons of the butter.

Add the shallots and saute them until translucent, 1 to 2 minutes.

Remove from the heat.

With a sharp knife, cut the smoked salmon slices into thin strips.

Set them aside.

Break the eggs into a mixing bowl.

With a whisk, beat them until the whites and yolks are well mixed.

Whisking continuously, pour in the cream.

Season with a little pepper and stir in the sauteed shallots.

In a heavy saute pan over low heat, melt 4 teaspoons of the remaining butter.

Add the egg mixture and cook, stirring and scraping constantly with a whisk or a rubber spatula, until the eggs begin to thicken to a custard-like consistency, about 5 minutes.

Put the brioches in the oven to warm.

Stir the salmon and the asparagus into the eggs, reserving the 4 asparagus tips.

Continue to cook the eggs, stirring constantly, until they are thick but still soft and creamy, about 3 minutes more.

Remove the brioches from the oven and place each one on a warm serving plate.

Divide up the egg mixture among the brioches, filling up each one.

Garnish the top of the eggs with the asparagus tips and place the lids at a slight angle on top of each brioche.

Serve immediately.
Nutrition
Sugar:

1g

:

Calcium:

73mg

Calories:

327kcal

Carbohydrates:

4g

Cholesterol:

387mg

Fat:

27g

Fiber:

1g

Iron:

2mg

Potassium:

248mg

Protein:

17g

Saturated Fat:

14g

Sodium:

361mg

Vitamin A:

1194IU

Vitamin C:

2mg
Nutrition Disclaimer